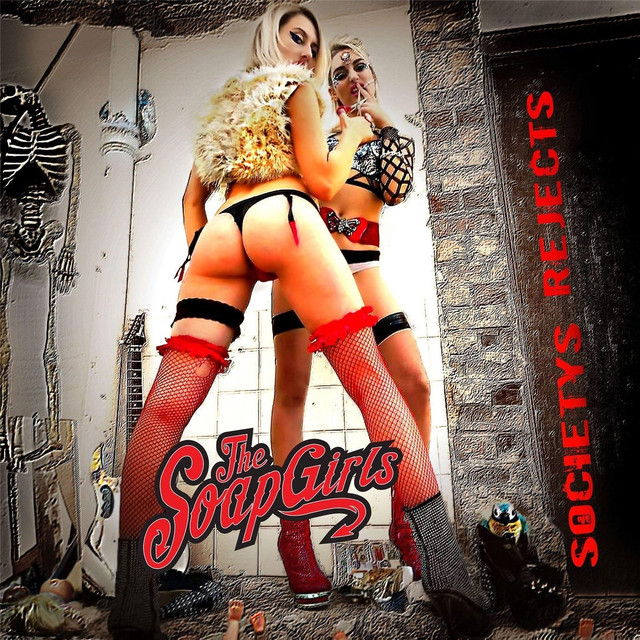 The Soapgirls – Societys Rejects
10th July 2017
Controversial pop punk act The SoapGirls are back with a vengeance with a brand new album. Following on from where they left off with the singles (Rather B Dead & Bad Bitch) which are both included as bonus tracks, the Societys Rejects is full of more deadly venom than a Belchers Sea Snake.

The music is fun, especially the track Party In Hell, with its rockabilly beat & politically charged lyrics, shows that the girls still have a serious side. 
Whoever has pissed on these girls chips to make them mildly miffed better watch out if the track Break You is anything to go by. Opening with "Hey you fucking asshole, You know what? I'm gonna find you & peel your banana. You're going to choke on your ballsack", this is the kind of track that you'd play on a battle ground & watch your enemy retreat. Who needs the Haka of the New Zealand All Stars to strke fear into the hearts of men when you can have Mille & Mie
There's a particular shocker on this album. THERE'S A BALLAD. You Hate Losing is brilliant & it does tug at the ol heart-strings.
Although the album is full of expletive deletive lyrical content. It's not there just for the hell of it, it adds to the spit & pure hate that the girls at time feel. The title track is a prime example of this. 
If you know anything about the SoapGirls then you'll be aware of their history. They've put up with,  not just physical abuse, but also the mental abuse that has gone along with it.  Millie & Mie where their battle scars loud & proud & aren't afraid to show it. 

This is an entertaining & really catchy album. A worthy purchase.
For fans of Fuzzbox, The Runaways
Score 7/10
Track List

01. Societys Rejects 
02. Jonny Rotten
03. Waters Edge
04. Party In Hell
05. Air
06. Step Outside
07. Original Sin 4:00
08. Sams on Crack
09. You hate Losing
10. Drag You down
11. Play with Fire
12. Break You
13. Bury Me
Bonus tracks:
14. Rather Be Dead
15. Bad Bitch 
Label
Independent
Release Date
August 25th
Check out The SoapGirls HERE & purchase the album HERE