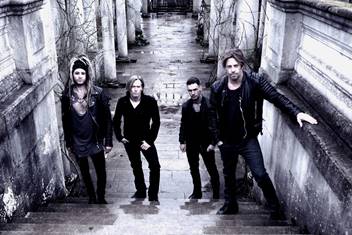 SULPHER – New Single TAKE A LONG HARD LOOK Released March 16th On Oblivion / SPV
23rd February 2018
Celebrated British Industrial Alternative Rock quartet Sulpher, the band fronted by former Marylin Manson / Gary Numan / The Prodigy guitarist Rob Holliday, have inked with Oblivion / SPV to release their new album 'No One Will Ever Know', late in August 2018. 'Take A Long Hard Look', the first single to be taken from the album, is set for release on March 16th, followed by second single 'Used' on May 18th, and third single 'No One Will Ever Know' on July 13th.
Sulpher were formed in 2000 by guitarist / multi-instrumentalist Rob Holliday and drummer / programmer / producer Steve Monti, who played together in alternative rock / electronica act Curve in the 1990's. Their debut album 'Spray', released in 2002, was hailed in many rock magazines as an utterly phenomenal LP, leading to Sulpher being voted 'Best British Heavy Metal Band' in Metal Hammer.
'Spray' exuded a distinctly gritty style of industrial alternative rock, paying homage to the legendary Nine Inch Nails and Marilyn Manson, while mixing in the experimental sounds of such groups as Curve and The Prodigy's. One track on the album, 'Fear Me' was used for the USA 2002 Winter Olympic Games promo adverts throughout movie theatres and primetime TV in the States, raising the band's profile even further. Marylin Manson was so impressed that he invited Sulpher to support him in Germany, where they wowed the totally knocked-out 14,000 plus crowd.
However, having had their profile hugely lifted by the massive buzz around Sulpher, both Rob and Steve were then catapulted on to major stages as touring and recording musicians in a variety of supercool stellar acts. Rob went on to become guitarist in The Mission, Gary Numan, Marylin Manson (!) and The Prodigy. Steve went on to work with Gary Numan, The Jesus and Mary Chain, Gang Of Four, Wilco Johnson and Pop Will Eat Itself as either drummer, producer, or both.
Then, having been diverted from his beloved Sulpher for many years, Rob hooked back up with Steve, recruited guitarist Andy Spillane plus bassist Davey Bennet and in 2016 set about writing and extensively demoing songs for the successor to 'Spray'. 'No One Will Ever Know' was then painstakingly and lovingly recorded at London's Winch Studios during 2017.
Sulpher have dusted off and modernized their unmistakable signature sound on 'No One Will Ever Know', melding massive doses of rock, metal, a little electronica and neo-psychedelic shoegaze elements, to create a monumental album. Passionate, unconstrained anger morphs into melancholy toughness, and atmospheric mental images meet a metallic dirtiness. Rob Holliday states; "Fantastic to be signing to a label that for many years we have had so much respect for; exciting times ahead with the SPV crew!