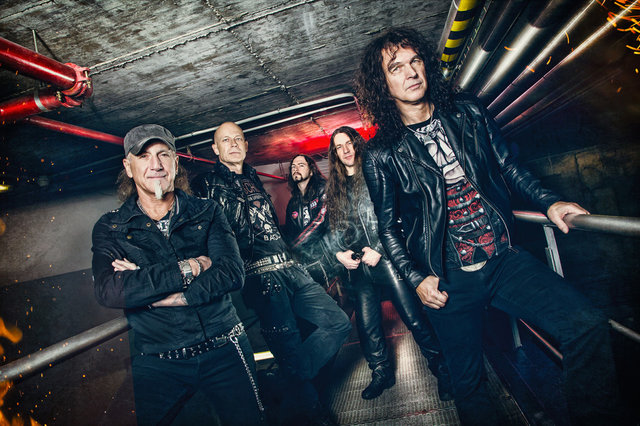 ACCEPT | WOLF DISCUSSES SONG WRITING AND RECORDING IN NEW ALBUM TRAILER
12th July 2017
ACCEPT's 4th studio album to be released through Nuclear Blast, The Rise Of Chaos, will be in stores on August 4th. In anticipation of their new offering, the band have started rolling out some album trailers. Today sees the release of the second trailer, in which Wolf Hoffmann discusses songwriting and working with Andy Sneap when recording.
"The sound is always a combination of several different elements, it's not just the sound engineer who turns it up. Also the band has a certain sound, the riffs have a certain sound and the combination of all that turns into ACCEPT!", explains Wolf Hoffmann. "My goal is to get better at what we are already doing without becoming any different because we have found our style, we've got a great singer, we've got a great producer, we've got a great team – there's really no need to change anything!"
PRE-ORDER 'THE RISE OF CHAOS':
Limited Mail Order Edition, Framed Gold Disc, Splatter Vinyl, Green Vinyl:  http://bit.ly/ChaosNB 
CD or Vinyl from Amazon UK:  http://bit.ly/AMZAccept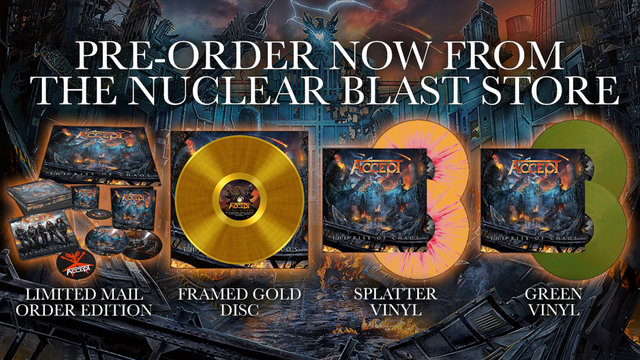 The Rise Of Chaos track list:
01. Die By The Sword
02. Hole In The Head
03. The Rise Of Chaos
04. Koolaid
05. No Regrets
06. Analog Man
07. What's Done Is Done
08. Worlds Colliding
09. Carry The Weight
10. Race To Extinction
"The Rise Of Chaos is something I have been thinking about often. Wherever we go – there is some hidden as well as some visible destruction and it kind of changes the world we know. What was there today – can be gone tomorrow and it's somehow irritating, because it happens on so many levels and no one knows what comes next. The cover portrays our last stage set-up – but now clearly "destroyed" – like… after a catastrophe", explains Wolf Hoffmann.
The cover artwork of the new record was created by the Hungarian artist Gyula Havancsák.
ACCEPT will celebrate the album's live premiere exclusively on August 3rd, on the day before its release, as a part of a special show at Wacken Open Air, Germany. The set will consist of three parts, which represent the band's creative power:
Part 1 will bring fans a classic ACCEPT set, packed with new and old hits. Whilst part 2 will present another premiere: Wolf Hoffmann will be playing tracks from his solo album Headbangers Symphony with the Czech National Symphony Orchestra for the very first time. The finale and part 3 will see ACCEPT sharing the stage with the orchestra and supported by a complex multimedia show.
This unique concert experience will take place on this year's Night To Remember which makes it even more special. The Night To Remember is a celebrated, long-lasting Wacken tradition and allows for a selection of established bands to perform something unique and special for their fans.
Wolf Hoffmann stated: "It's always impressive to see how bands take this evening seriously and how much love the artists and the organising team put into their work to get a varied result. It's a great tradition which underlines and documents the top-notch level of the international rock community like nothing else. We also want to present something that ACCEPT has never done before, we hope we can give something really special to the fans."

ICYMI:
Watch 'The Rise Of Chaos', which was shot in Nashville's famous rehearsal centre Soundcheck – the video consists of 81,127 still images that were later transformed into video sequences: