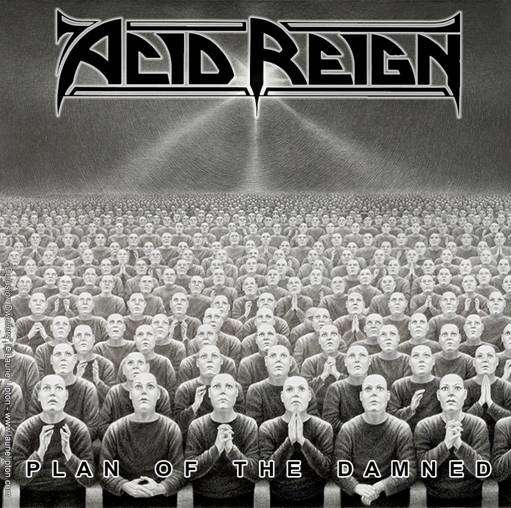 ACID REIGN UNVEIL COVER ART FOR THEIR FIRST SINGLE IN 25 YEARS!
10th June 2015
Rebooted UK thrash legends Acid Reign are thrilled to unveil the cover art for 'Plan Of The Damned', their first single in 25 years!
Featuring the image 'Delusion Dwellers' by acclaimed artist Laurie Lipton, 'Plan Of The Damned' will be launched in July 2015.
Acid Reign will be announcing a 'classic back catalogue' tour in the near future, although 'Plan Of The Damned' will definitely be included, that will keep the band busy until late 2016!
Front man H had this to say about 'Plan Of The Damned' and the honour of having Laurie Lipton cover art;
"I have been a fan of Laurie's for years and I thought I'd fire off an email to her manager to see if there was any way she would even consider letting us use one of her pieces. Half an hour and three emails later from Laurie herself and she had given us permission! To say that we are happy with this would be a huge understatement; it captures the spirit of the song perfectly and is a stunning piece of art, as all of her works are. I know it sounds corny but for me this really is one of those "wow this is actually happening" moments. We couldn't be happier with the way 'Plan Of The Damned' has turned out. We recorded it in Wales at Not In Pill Studios with the awesome team of Martyn "Ginge" Ford & Matt Bond (Slipknot, Trivium, Bullet For My Valentine, Axewound etc…)  The studio is under a boxing gym and the smell of sweat, aggression and metal is in the walls! We had a blast, it was a great experience."
For more about Laurie Lipton's amazing art visit www.laurielipton.com
Remember to check out the first Acid Reign Rebooted interview here