AIRBOURNE – BREAKIN' OUTTA HELL – ALBUM REVIEW
19th October 2016
Breakin' Outta Hell is the fourth studio album from Australian rock band Airbourne and if you liked the first three then you'll probably enjoy this one. 
Since the release of their debut studio album Runnin' Wild in 2007, Airbourne have been filling international venues with sweat, beer and fist pumping anthems. Their latest offering to the gods of Bourdon and Ale is Breakin' Outta Hell and it's pretty much business as usual for the guys.
The album kicks off in fine form with the title track, with its road rage inspiring crunching guitar riffs and screaming lyrics followed by Rivalry and Get Back Up, which firmly pushes the band in the front of the 'Who will replace AC/DC' queue.
The rest of the album follows a similar vain with the fast paced Thin The Blood and the romantic Down On You.
A particular favourite track from this album is When I Drink I Go Crazy, which conjures up images of many beers being thrown across a festival crowd on a warm summers day.
Is it sophisticated, meaningful and life changing music? Well No, but bloody hell it's good fun and if you need a soundtrack to a crazy night you'd do a lot worse than cranking this up, after all It's All for Rock and Roll.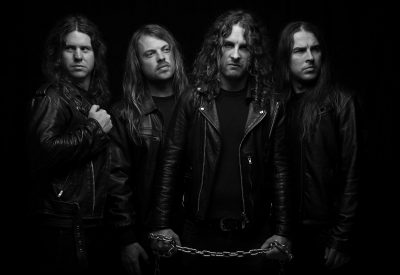 Score 7/10
Tracklist:
Breakin' Outta Hell 
Rivalry
Get Back up
It's Never Too Loud For Me
Thin The Blood
I'm Going To Hell For This
Down On You
Never Been Rocked Like This
When I Drink I Go Crazy
Do Me Like You Do Yourself
It's All For Rock n' Roll
Members:
Lead Vocal/Guitar: Joel O'Keeffe | Drums: Ryan O'Keeffe | Guitar / Vocal: David Roads | Bass Guitar / Vocal: Justin Street
Breakin Outta Hell is out now on Spinefarm Records