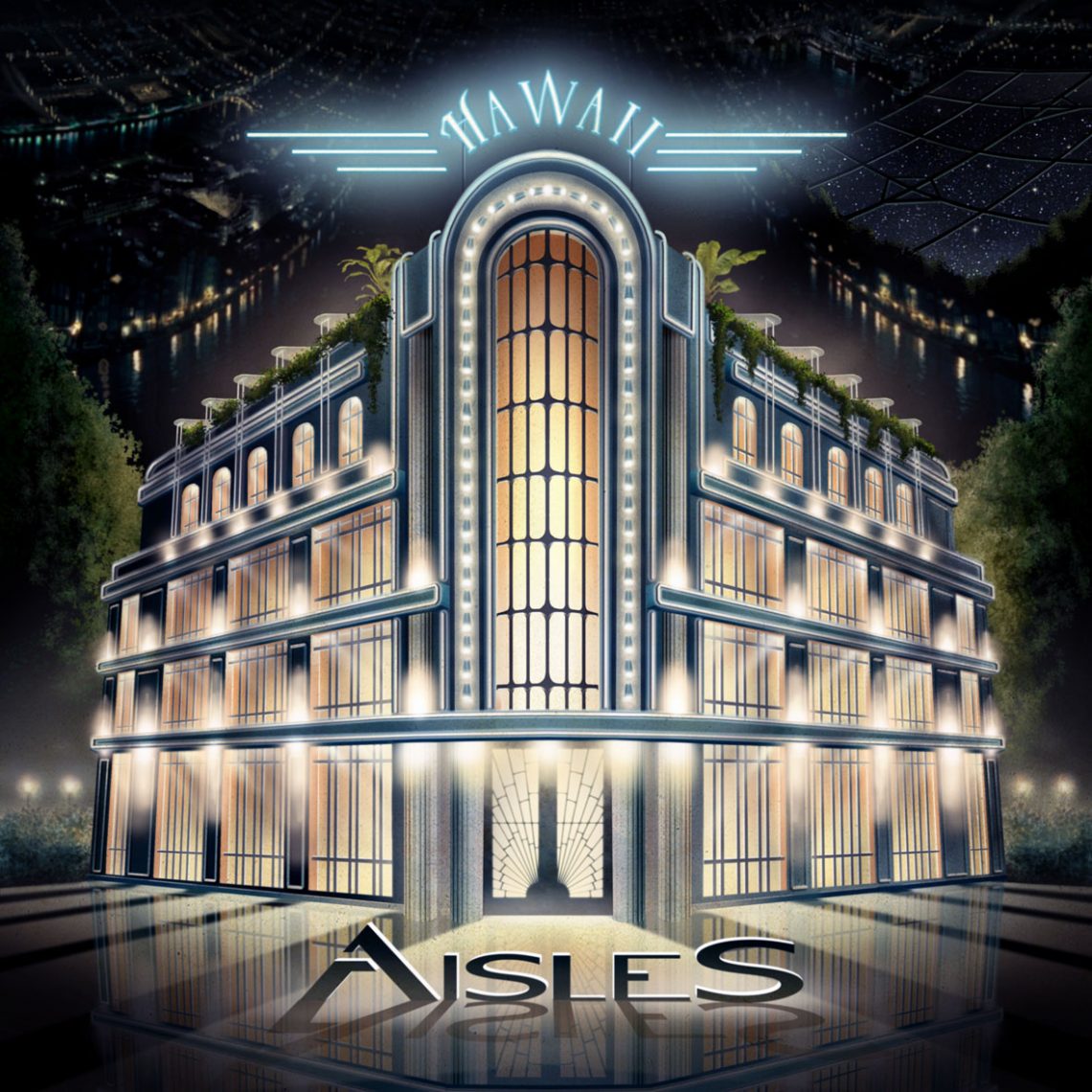 AISLES TOUR INTERVIEW
17th October 2016
The very lovely & talented band Aisles took time out of their incredibly busy tour schedue to answer a few questions. Here's what they had to say.
You guys have just released your album 'Hawaii' how has this been received by your fans?
We are very happy with the way our fans are reacting to our new album. It's one thing when reviewers have praising words about our music, which is great, but when fans from many parts of the world tell you how a certain song has touched them or that they feel really identified with the lyrics or that it is your best work so far, or the most original music they've heard in a while, we as a band feel really rewarded and happy. That is the way Hawaii has been received by our fans.
Can you tell us a little bit about the production of the album?
As the producer of the album I can tell you that without any doubt it is our most ambitious work to date. We rehearsed for a couple of months after something like six months of writing. Then we got in the studio where we stayed for 10 days, we recorded this album almost as a live album,  almost always the six of us playing together in the recording room.
The the mixing process took something like 2 months, in that part of the process we incorporated SFX, dialogues and other sounds that helped telling the story of Hawaii.
Did you enjoy your time in the studio?
Very much, it is the moment when your mind and heart should focus on the right performance, the one that will convey the right feeling. So for us it is a very emotional process. We all discuss the lyrics, what the songs are about, only if we connect with that we feel that we're ready to record.
Personally I really enjoy spending time in the studio, the place where every decision that you make will determine the sound or the spirit of a song.
How do you come up with the ideas for the music?
Luckily in Aisles we are all songwriters. In many cases one of us presents an idea to the others and we all start developing that idea and contribute a section, a chorus, a melody line, etc… Sometimes one of us comes up with a whole song and then we all work on the arrangements.
In the case of Hawaii it was more collaborative than our previous albums, everyone contributed at least with one main idea for a song to the album. We all were very involved in the arranging process. Important sections in the album were born from improvisations and the interaction in the rehearsal room.
For this album we took a retreat in a beach house where we spent a whole week together in a very secluded place, away from the city where our only purpose was to write music. We always look for ways to work in a very inspiring atmosphere.
4:45am & Hawaii are unusual titles for albums, how did you come up with these titles and what are the stories behind them?
4:45 AM is an album based on the idea of an individual that for some reason is awake wandering the streets at that time of the night or pre-dawn. It's about human suffering and loneliness and also about human strength and resilience. Every song on the album has a specific relation with a time of the day or of the night. It is very interesting to hear the album following that sequence of time.
The name of the album was decided after thinking what was the most extreme hour of the day. The earliest hour for those who wake up unusually early or the latest hour for those who are the most bohemian.
Hawaii is a conceptual album about human colonies in space after the earth is completely destroyed around the year 2300 and where life is no longer possible.
On every song we go back or forth in time and we tell this story about these group of people who were secretly involved in this project to preserve as much as they could from what they considered was the best from humanity, along with animal species, books, music. It's a very dark album but at the same time it shows how humans can have an exceptional spirit. It's  a very nostalgic album. 
About the name, we like mysterious names and I can tell that comes from free association. In the context of the album it's the name of one among a series of very bohemian clubs in the solar system where people gather to celebrate life and the extinct planet earth.
Which track do you most enjoy performing off the new album?
The tour just started… but for me it's 'Club Hawaii' it has all the emotivity and character of the new album. It's always a pleasure to play it live.
You have been touring your new album, what's the audience reaction been like on tour?
A very warm reaction, we did a show last week in Santiago before the European tour and the fans were crazy about the live show and the reviews were also great. We played the whole album and had great visuals and a light show, including  all the conceptual sections. It was the biggest and the best headlining show we've ever played.
Any highlights so far?
The fact that after the  show people wants to talk to you, or greet you, or thank you, or congratulate you is very rewarding and so encouraging to keep doing what we do.
What do you enjoy most about being on tour?
The live versions of songs have something that is different and make it very exciting for to present our music live. In my case I love traveling and getting to know new people on the road, visiting different countries. The experience of traveling to show your music is something beautiful in itself.
Any disadvantages?
Sometimes at the point we are at you can find that the sound of the venue may not be what you expected, or that you have to face some technical adversity on stage. When that happens you have to focus and enjoy the show no matter what.
Are you going to any venues that you haven't played before?
All of the venues are new for us, in fact the only country where we've played before in Europe is France. 
What's been the most embarrassing moment on stage?
Nothing too serious. One time I was addressing the audience and I was hearing in my monitors but the audience wasn't hearing what I was saying. I realised almost when I finished.
If you hadn't pursued a career in music, what other career path would you have followed?
I would have liked to be a writer too.
What's next for the band?
Try to play live as much as we can to promote Hawaii. It's been a great effort to create and record this album so now we need to do our best to promote it. Come back to Europe soon, go to the USA and Japan.
Anything you would like to say to your fans?
If you're reading this and live in France, Holland, Belgium or the UK, do your best to come to our shows. The band has a great live sound and we need your support.
Unfortunately this time it will be a short tour of 8 dates but we will come back for more and we will visit more cities and more countries so follow us on our website at www.aislesproject.com and Facebook: www.facebook.com/aislesproject
Grab a copy of 4:45 AM or HAWAII on vinyl!! They sound amazing!
Thank you for your time we look forward to catching up with you soon.
Thank you for this chance to talk about our new album Hawaii and the tour.