Alexandros Anesiadis: Crossover: The Edge – Where Hardcore, Punk and Metal Collide, Book
22nd June 2019
0
By
John Deaux
class="entry-title">Crossover: The Edge is a fantastic compendium of bands that have blurred the line between punk, heavy metal and of course thrash.
Featuring 500+ bands, this book contains many many stories from bands such as Cro Mags, Onslaught, Stormtroopers of Death (featuring members of Anthrax), Holy Terror, Suicidal Tendencies, just to name a few.
Alexandros Anesiadis writes from a place of love and respect and has interviewed many of the band members for this book. 
There are some great facts that even the most seasoned of journalists will discover they didn't know, as well as stories of how the band came about, influences etc. Each band has an At A Glance summary, giving the reader an introduction of that particular artists best works.
Crossover: The Edge is split into regions (West Cost,  UK, East Coast, Canada, Middle and South America as well as the rest of the world). Of course there's the obligatory lists (we all love a list don't we?) such as bands who are considered crossover but weren't, top 50 Crossover records, 20 most influential records, top 20 records that appeal all round and top 20 demos and obscure. I'm not going to give away spoilers as it will ruin the ending, but it does make for interesting reading. From a collectors point of view, there were a few that I had completely forgotten about but have since added them to my ever growing collection.
There's an absolute plethora of images that adorn the book as well. From band photos, album covers and rare flyers.
It's really well done, put together and a fascinating read of a fantastic genre
Do yourself a favor and buy this book and Contract In Blood: A History Of UK Thrash Metal by Ian Glasper, who coincidentally, contributed the foreword to this compendium.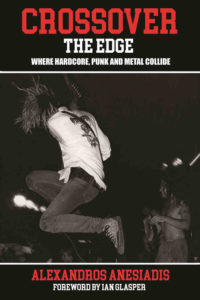 Author
Alexandros Anesiadis
Release Date
28th June 2019
Publisher
Cherry Red Books
To purchase this book, click HERE