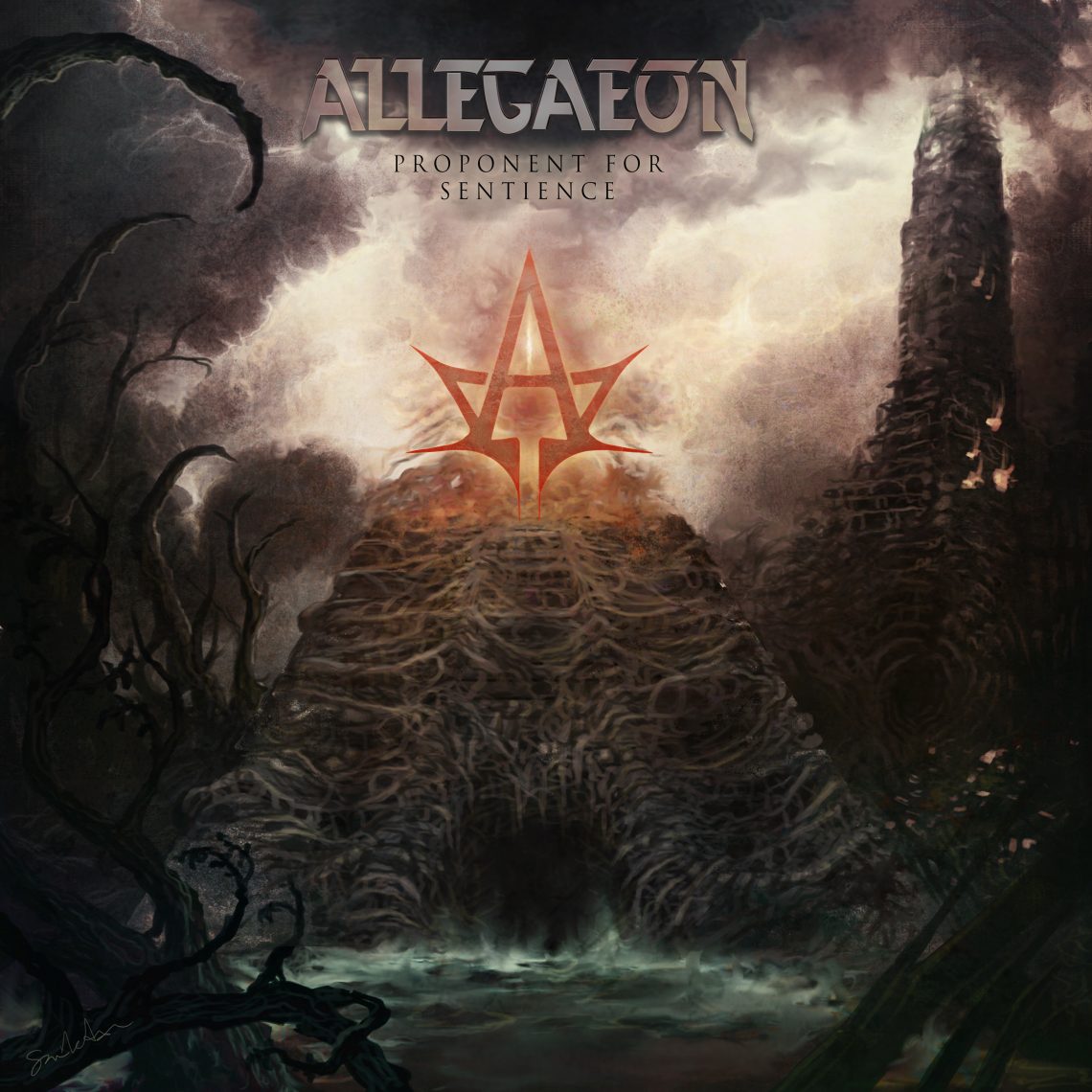 Allegaeon – Proponent for Sentience CD Review
25th August 2016
1
By
Fraser
Allegaeon have been tip-toeing around the border of the heavy metal spotlight for some time now. After independently releasing an EP in 2008, they signed to Metal Blade Records, who have released every album since then. With their previous record, 2014's Elements of the Infinite, Allegaeon really hit their stride and perfected their patented brand of super catchy yet super technical death metal. 2016 sees Allegaeon return with Proponent for Sentience – their fourth release with Metal Blade, and their most ambitious album to date. Riley McShane (Son of Aurelius) has stepped up to the mic after Ezra Hayne's departure last year. A change in vocalists is always risky for bands, however those with doubts should lay them to rest. McShane's vocals are similar enough to Hayne's that it is not a dramatic departure from what we have come to expect from Allegaeon but he still has his own unique bite.
Proponent for Sentience's title track is split into three sections, scattered over the album. The Conception opens the album with a short Gregorian chant and an epic build up, before diving into frantic, yet catchy, tech-death Allegaeon are known for. Part two, The Algorithm, has another rousing, introduction – this time complete with a choir. Wearing a classical influence on their sleeve is nothing new for Allegaeon, but The Algorithm takes it to a new level – an epic that progresses from a melody drenched sound to something a little more punishing, then back again. Proponent for Sentience – The Extermination opens with spacey guitar work and a sample of Steven Hawking but it does not take long for Allegaeon to dive into their signature riff-work. This track is one of the catchiest on the record – this is only aided with the addition of Soilwork's Björn Strid.
All Hail Science is the shortest track on Proponent for Sentience, coming in at only three and a half minutes. Do not take the length to mean a lack of substance, however, as All Hail Science goes straight for the jugular with its punishing death metal stylings and to-the-point chorus. The first single to be released, Grey Matter Mechanics – Apassionata ex Machinea, sees Allegaeon explore their Latin side with a stunning flamenco opening, before kicking into their catchy riff-work and brutalising heaviness. In a bold, yet brilliant, move, Allegaeon closed Proponent for Sentience with a Rush cover. Their rendition of Subdivisions stays true to its original, though everything has a bit more crunch to it. What really stand out, however, is McShane's absolutely beautiful singing. This is something I would love to see Allegaeon utilise more in future.
Despite the challenge of bringing a new vocalist into the fold, Allegaeon are on the cusp of unleashing their best album yet. Everything about Proponent for Sentience just oozes with excellence – from the colossal hooks to the skull-shattering riffs, from the unique subject matter to the brilliant vocal delivery. This album is a must have for anyone with any interest in the heavier side of metal. Proponent for Sentience is accessible and catchy enough to lure in new fanatics, though still true enough to their signature sound that anyone who has enjoyed previous efforts should love it. A perfect blend of technicality and hooks, Proponent for Sentience is over an hour of brilliance.
Score: 10 out of 10

Proponent for Sentience Information
Track List:
1. Proponent For Sentience I – The Conception
2. All Hail Science
3. From Nothing
4. Gray Matter Mechanics – Appassonata Ex Machinea
5. Of Mind and Matrix
6. Proponent For Sentience II – The Algorithm
7. Demons of an Intricate Design
8. Terrathaw and the Quake
9. Cognitive Computations
10. The Arbiters
11. Proponent For Sentience III – The Extermination
12. Subdivisions
Record Label:
Metal Blade Records
Release Date:
23rd of September 2016
For fans of…
Revocation, Rivers of Nihil, Black Crown Initiate
Check out Allegaeon on Facebook, and pre-order Proponents for Sentience here!
How useful was this post?
Click on a thumb to rate it!
Average rating 0 / 5. Vote count: 0
No votes so far! Be the first to rate this post.
Related
About the author
This bearded wildman from North of the wall survives the harsh ever-present winter of Scotland on a healthy diet of thrash, death metal and beer.