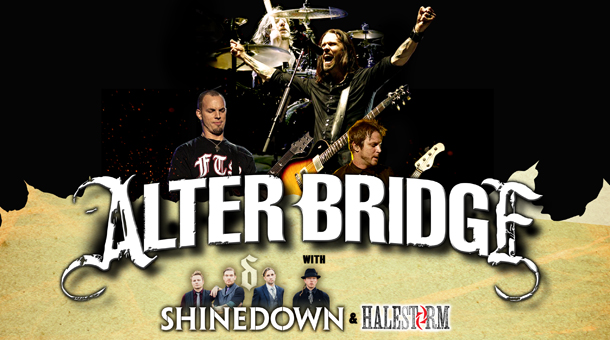 Alter Bridge/Shinedown/Halestorm – Concert review, Manchester 22.10.2013
28th November 2013
I'd been looking forward to this gig for sometime, I've seen Alter Bridge before on the last tour and know what they are capable of, but there was someone else I was looking forward too, Shinedown. I'd only got into them a couple of years back and this was my first opportunity to catch them. Along with Halestorm I have to say it was a tempting lineup.
Halestorm are excellent on Cd and with too albums under their belts they had some good material to pull from. Lzzy Hale's voice is awesome when she sings and maybe it was the influence of a heavier audience than normally but she screamed a lot to show us how Rock and Roll she was. That said they showcased five songs and bid us goodnight. Shinedown then took to the stage and from the off hit the ground running, sounding as ever impressive live as recorded opening with "Devour" before moving onto "Sound Of Madness". "Enemies" is a monster track that followed and the epic "Unity". They were simply amazing and frontman Brent Smith engages the crowd superbly, telling us all how much Rock music means to him and to us all, and he tells it genuinely, honestly and simply. They played for around 50 minutes, and I would have already gone home a happy man, simply phenomenal…
Alter Bridge start things with the first single from "Fortress" "Addicted To Pain" and as consistent as ever they are a force to be reckoned with, it's been a long journey for Alter Bridge to get to where they are today, but not only are they where they rightly should be, they DESERVE to be there. "White Knuckles" follows and they manage to blend melody with power effortlessly, vocalist Myles screams "Hold on for your life, cause only the strong survive" – a statement for any Alter Bridge show.
After "Brand New Start" they play "Cry Of Achilles" before "Ghost Of Day's Gone By" They also showcase "Water's Rising" with Mark Tremonti on vocals, an excellent strong vocalist too (check out his solo album).
Lzzy Hale graces the stage for the second time tonight to duet with Myles Kennedy for "Watch Over You" and the close the set with "Rise Today". The Encore sees them show "Slip to the Void", "Isolation" and end with "Open Your Eyes". I was right at the back of the Arena tonight but as "Shinedown" vocalist Brent Smith said earlier, "our is my time, our night and our memories" and tonight will be one I 'm glad to keep.
9/10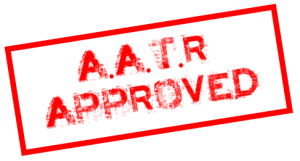 Setlist:
Addicted To Pain
White Knuckles
Come To Life
Before Tomorrow Comes
Brand New Start
Cry Of Achilles
Ghost Of Days Gone By
Ties That Bind
Waters Rising
Broken Wings
Metalingus
Blackbird
Watch Over You
Rise Today
Slip To The Void
Isolation
Open Your Eyes
This slideshow requires JavaScript.