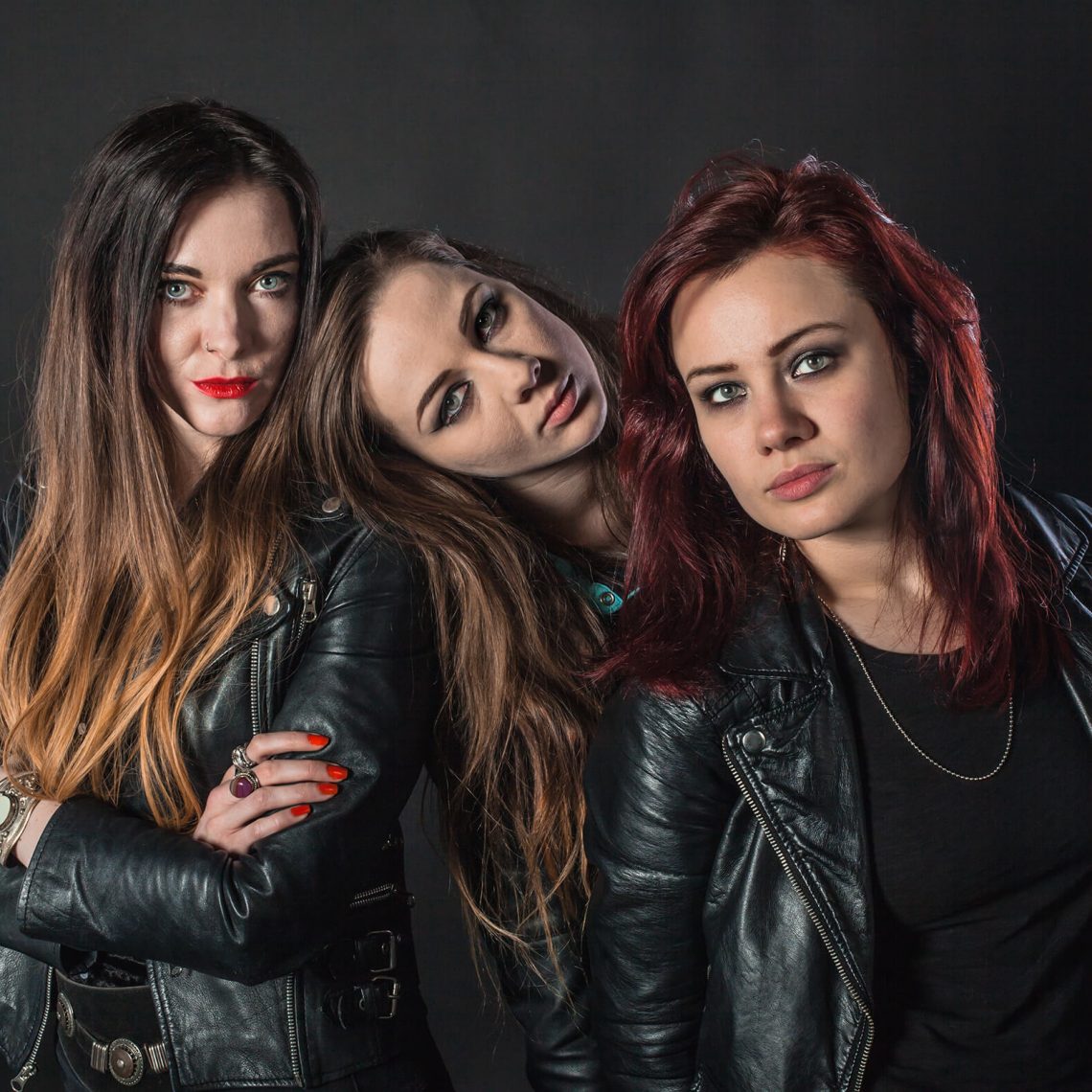 The Amorettes – Announce New Album 'Born to Break'
22nd January 2018
0
By
John Deaux
Whilst todays popular music world seems to be based around the idea of "style over substance", Scottish Hard Rock Trio, The Amorettes, have a very simple plan; Taking over the world, one show at a time! No fuss! No gimmicks! Just good, old-fashioned hard work, and great songs. Anyone who's ever attended an Amorettes live show can easily testify to the buzz of expectation that kicks in as soon the lights go down, and the intro rolls. Never has the Slade track, We'll bring the house, down been so prophetic in its meaning. The roar from the crowd builds expectation from the very start, and the energy and intensity doesn't let up until we reach the end together. 
Witness the audience sing-a-long during the anthemic set closer, Hot And Heavy, a track always pre-empted by vocalist/guitarist, Gill Montgomery asking the sweat soaked audience, "Is Everybody Hot? Do You Like It HEAVYYY?" It's not just all down to Montgomery though, Drummer Hannah McKay, who is considered to be one of the best young, drummers on the music scene to day, uses her full kit to deliver knock-out blows to each and every member of the audience. Try and hide as much as you like, there is no escape from her drumming fury. Likewise, Bass player Heather McKay is a sight to behold on stage, banging out her rock-solid rhythms whilst prowling the stage like a Tiger, her long hair flailing in the lights as her head does not stop moving even for a second. Having what is arguably the tightest rhythm section on today's rock scene behind her allows Montgomery to showcase her powerful vocals whilst also tearing off riff after riff, and solo after solo with ease. 
Relentless touring across the UK and Europe has turned The Amorettes into a lean, mean, Rock and Roll machine, leading them to be described as "Like Airbourne fronted by Joan Jett". Reviews for both live shows, and the albums, only reinforce the fact that The Amorettes star is still very much in ascendance, and, as long as there are stages to play, and records to make, there is no sign of this "Female Motorhead" attempting to take the easy road to the top.
Tracklisting 
1. Can You Feel The Fire 4:40
2. Hello And Goodbye 3:49
3. Everything I Learned I Learned From Rock And Roll 4:03
4. Born To Break 3:46
5. What Ever Gets You Through The Night 4:03
6. Hell Or High Water 4:12
7. You Still Got Rock And Roll 3:57
8. Easy Tiger 3:22
9. Bat Shit Crazy 4:00
10. Coming Up The Middle 3:41
11. High On Your Energy 3:39
12. I Want It Bad 4:24
"Born To Break" was produced by Luke Morley of UK Arena Rockers THUNDER and recorded and mixed by Nick Brine(The Darkness, Bruce Springsteen etc..) and will be released April 06th, 2018 through SPV/Steamhammer as CD digipak, 2LP gatefold coloured version, download and stream. Exclusive bundles: https://theamorettes.tmstor.es/
Line Up:
Gill Montgomery – guitar,vocals
Hannah McKay – drums
Heather McKay – bass
 
THE AMORETTES on Tour 2018:
24.02. UK-Dorset – Planet Rock Wintersend Festival
08.04. UK-Glasgow – The Garage (with The Dead Daisies)
09.04. UK-Bilston – The Robin 2 (with The Dead Daisies)
10.04. UK-London – Koko (with The Dead Daisies)
12.04. UK-Manchester – Academy 2 (with The Dead Daisies)
13.04. UK-Nottingham – Rock City (with The Dead Daisies)
14.04. UK-Bristol – o2 Academy (with The Dead Daisies)
27.-29.04. SE-Silja Rocks Cruise
https://www.facebook.com/steamhammerofficial/
How useful was this post?
Click on a thumb to rate it!
Average rating 0 / 5. Vote count: 0
No votes so far! Be the first to rate this post.
Related
About the author
Some say Yank My Doodle, It's A Dandy! is a biographical movie based on John. Some have even said that his favorite artist is Chesney Hawke! All we really know is he sleeps inside out and his hair tastes like candy floss.