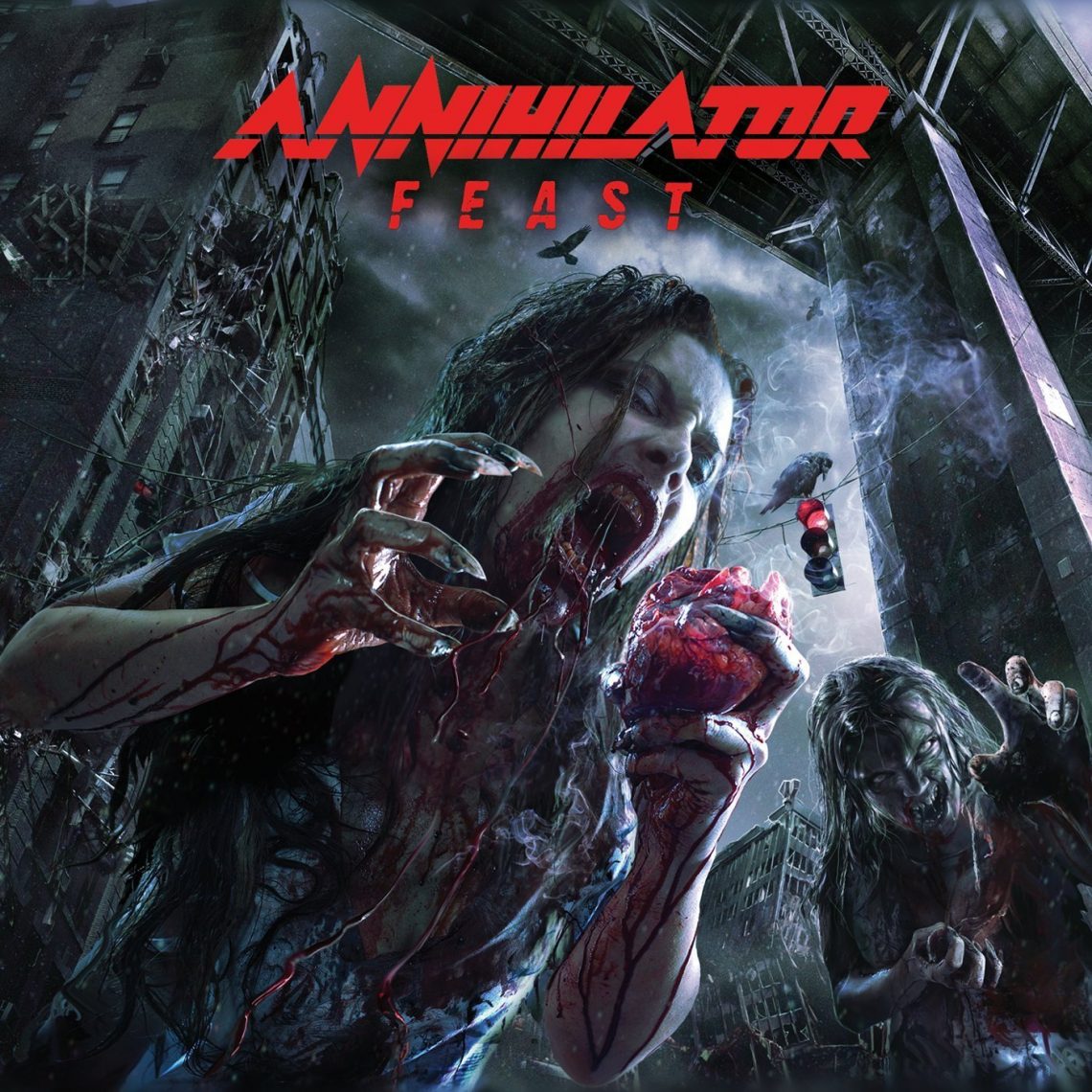 Annihilator – Feast
24th August 2013
Band: Annihilator
Album: Feast
Record Label: EMI
Release Date: August 26th 2013
Reviewed By: Rich Dodgin
Track Listing:
1.  Deadlock
2.  No Way Out
3.  Smear Campaign
4.  No Surrender
5.  Wrapped
6.  Perfect Angel Eyes
7.  Demon Code
8.  Fight The World
9.  One Falls, Two Rise
Standout Tracks:  Deadlock, No Surrender
I was a big fan of Annihilator's 2010 self-titled release, so I've been looking forward to this, their 14th album, ever since I first saw the amazing cover art a couple months ago.
Annihilator play old school thrash / speed metal, and Feast starts as it means to go on with opener 'Deadlock', a breakneck speeding track with shredding guitars.
'No Way Out' and 'Smear Campaign' are also both typical Annihilator tracks and fans of thrash metal, and of Annihilator in particular, will be headbanging away to these well crafted tracks.
'No Surrender' starts off sounding low down and funky, but then becomes an almost Fear Factory like track of pounding machine like drumming and shouting vocals.  It's a subtle change of tone that still fits in with the feel of the previous tracks, while managing to offer something a little different.
'Perfect Angel Eyes' is a slow moving soft rock ballad.  It won't be to everyones taste, but it's beautifully done and does break things up nicely, before the album continues with the last three tracks of all out thrash metal.
Jeff Waters is a very talanted guy.  He wrote all the music on this album, most of the lyrics, was responsible for all the amazing guitar work, and played the bass!  He's  joined by Dave Padden on lead vocals and Mike Harshaw on drums, who both give it their all.  The result is a full-on album that deserves to be huge.
Quite simply, if you like thrash metal, you need to get yourself this album !    And if you get the deluxe ECO-book version, it also comes with a bonus disc featuring re-recordings of 15 of the band's most well-known songs (including 'Alice In Hell', 'Fun Palace', and 'Never, Neverland') and a 3D cover!
Score: 9 out 10