INTERVIEW WITH – JOEY VERA – Armored Saint – Hammerfest
1st April 2017
0
By
DJ Pixie
Hi Joey how you doing?
I'm very well, I'm very glad to be here, thanks for having me.
No problem at all.
We are really glad to see Armored Saint here &we cant wait to see you hit the stage here at Hammerfest, after this you have a gig at Rebellion Bar tomorrow in Manchester.
Yea that should be a great show we can wait to just get out and play.
Back in Sept 2016 you guys started a pledge campaign for the new live album, how did you guys find using this, was it a success?
It was pretty good actually; we had never done anything like this before it was totally alien to us. It's almost like a glorified fan club where those who pledge get perks from the band ya know. People get involved who are dedicated to the band, it was cool seeing so many people come forward who got involved with the band in this way. We have never really had that kind of connection with people before, so it was great, we found it to be a huge success.
Interacting with the fans that's what it's all about, the band gets more of a bond with those kinds of supporters.
Exactly you get to see the fans who want to be a part of our history by pledging to the system.
The live album is named 'Carpe Noctum', where did this name come from?
It was something which came up when we were searching Google, we were scouring names, I was doing lots of research I wanted a name that fitted in with the band.
How so?
I wanted it to capture the essence of being out at night at a show, and that name struck a chord with me, having the word noctum in the title. I thought it represented us pretty well in a sense the fans were out at night (noctum) seeing the band and it went from there.
Have you had any feedback from fans about the album?
Yea, it's been really good feedback people seem to be loving it which surprised me as I didn't think many people listened to live albums anymore nowa days. I didn't really know what to expect. It's a lot different now from when i was growing up, we were introduced to live records and that's how it was when I was younger, Rush, UFO, Peter Frampton a lot of live records were around more when i was a kid i just feel it doesn't seem to happen much nowa days. I wasn't really sure how it was going to be received but everyone seems to love it. People that have seen us play live say it's a good representation of us, so for me that's good enough.
Let's talk a little about the artwork for the album, who did it, where did the idea/concept come from?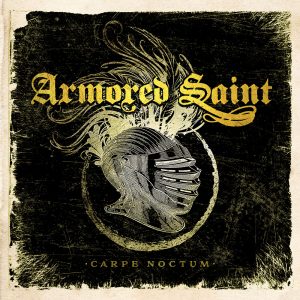 It doesn't have any meaning, or concept behind it. It was designed by Mike D from Killswitch Engage; he does a lot of artwork on the side. The idea snowballed and we said to him why don't you do the whole layout, he did a great job on it.
Do you think this differs from your last album?
We are a 5 piece for this album, when we did 'Saints Will Conquer' Dave was the only guitar player. Sonically this one sounds much better, the guitars, it's a wall of sound.
Listening to them back to back Carpe to me sounds a lot ballsier its got more weight to it. Saints we used to play a lot faster back then like little kids with too much energy.
(we both laugh)
Going into something a little more personal now, coming from a family of musicians myself, you guys all become like brothers and you have had many upheavals as a band, one in particular was losing your founding member Dave Pritchard back in 1990 when Dave passed from Leukaemia , as band members you become like brothers like family, how did you guys manage to come back from something like that?
We have all known each other for such a long time, we had each other to lean on you know, keep each other going through this time of sadness with the band.
I've known John and Gonzo since we were about 8/9 years old we went to grade school together, right around the 8th grade we became really tight.
We are like family we are like brothers and we found solace by having each other there to help each other through.
It's not always easy, but we have each other that's the main thing so through the ups and downs we will always have each other.
After Dave passed you recruited Jeff, how did all that come about?
Jeffs been great he came right in, losing Dave was very hard for us we had to let the dust settle for several months before regrouping and getting back together.
Jeffs been part of our band family since the late 80's so it was just a natural fit ya know.
What was it like being around Metallica back in the day?
We were contemporaries with them back then, all at the same level, something people generally tend to forget. We were vying for the same audiences in the beginning , Metallica, WASP back in 1985, we toured with them  we really got to know them, a couple of years later Metallica just shot through the stratosphere and really made it, we have had the pleasure of working with some amazing bands some of them our heroes, Judas Priest, Aerosmith, Scorpions its been pretty unreal to be able to do that.
How are you guys feeling about playing here at Hammerfest tonight?
Pretty excited we haven't played the UK much at all in our career, first time playing Wales, this is our second festival we have played in the UK our first being Bloodstock.
Is there anything you would like to say to your fans?
I would like to say a huge thank you to everyone who has supported us from day 1, thank you to the new fans too, without your support we wouldn't be where we are today. You have made the band what it is. Never did we think after putting the band together 35 years ago rehearsing back when we were kids that we would be where we are today. It's beyond words we are super humbled by that. Thank you
Thank you for your time, we look forward to seeing you on stage later on!
Thank you!
How useful was this post?
Click on a thumb to rate it!
Average rating 0 / 5. Vote count: 0
No votes so far! Be the first to rate this post.
Related
About the author
I started off in media back in 2009-2010 working for Rach at Bolton FM as her PA. I was then a Radio DJ in Blackpool for 2 years 2010-2012 for Impact Radio doing the Rockout Show, until the station closed due to lack of funds. From here i went onto working for My Global Mind Webzine, TBFM Radio & Magazine and now All About The Rock. Currently writing and doing photos for 3 webzines keeps my days filled with lots of rock n roll updates and music lovelyness.