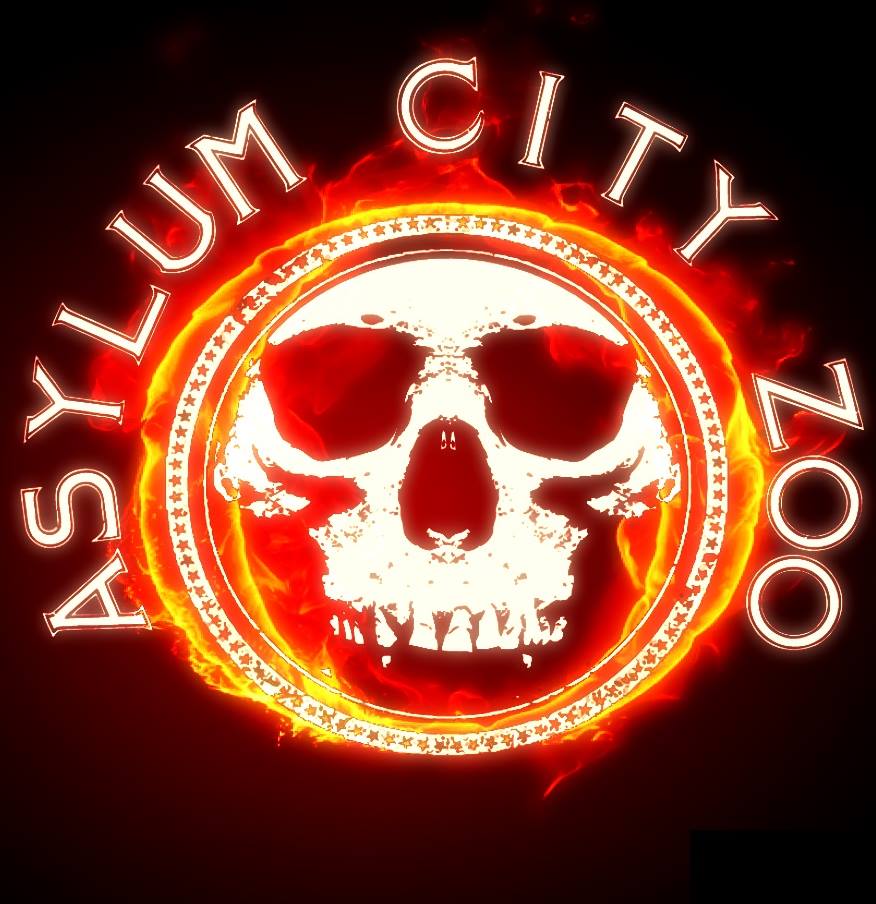 Asylum City Zoo Interview
29th June 2016
Asylum City Zoo are a Manchester based metal band, who have been assaulting our ears for the last 3 years on the music scene with their ear bleeding riffs.
With crazy antics, wacky head wear, fast paced guitar work and explosive drums this eccentric band have it all.
Making their mark on the music scene these guys have played the likes of Bloodstock, SOS Festival (to which they will be making a reappearance again next month – SOS Fest now being in its 9th year!), and Glaston – bury. We caught up with he guys to have a brief chat about what they have been up to.

 You guys have recently par taken in the Metal 2 The Masses competition at the Sanctuary Bar in Burnley, what's it like being involved in competitions such as these?

Rishi – I don't treat it like a competition ever – I see it as an opportunity to go play with a bunch of different bands to a bunch of different people and keep local unsigned music relevant.
Bobb – That was a competition!?! I thought the cheering at the end was for fun. Did we lose then?
Mark – I treat them like any other show, play hard, have fun and hopefully people enjoy it too! I think if you get too caught up in being competitive, then that takes the joy out of it!
Asylum City Zoo will be hitting the acoustic stage at SOS Festival in Manchester, what have you guys got lined up for this?
Rishi – on paper, it seems a strange choice of songs – not one of the songs is actually an acoustic song – they have all been partially rewritten to make them "suitable" for an acoustic show – so I think it will surprise quite a few people……….. but I think the songs work really well
Bobb – I'm going to be in America marrying my sister, but I believe Mark and Rishi will be playing 3 hours of Manowar covers!!
Mark – Just to elaborate on what Bobbs just said… He's actually a Minister and he's performing the ceremony… not 'actually' marrying his sister… that'd be weird… and illegal… ha.  
We were lucky enough to be in attendance for your EP Launch night at Grand Central in Manchester to which you got a great reception, how did you guys find this?
Rishi – Wow, what an amazing night – the response had been better than any of us imagined – loads of people wearing our t-shirts and singing along to our tracks – we couldn't have asked for anymore!!!
Tom – It was a great night. We love playing GC's there's always a great atmosphere, but there was a particularly amazing crowd that evening and everyone seemed really enthusiastic about the new EP.
Bobb – It was an amazing gig!! We always have an awesome night playing GC's but the launch gig was special. To see so many people excited about the release of our new EP was profoundly rewarding after all the hard work we put into creating it. And the sight of a room full of ACZ Lunatics singing the words to Favourite Drug will live with me forever (in a good way). 
Mark – It was phenomenal! A really good night and great that so many people turned out to support us and get their hands on the new EP! 
How are you feeling now the EP is out there and getting such great feedback?
Rishi – Once we finished recording and mixing it, I was sure we had a really great sounding EP which I am extremely proud of – but I didn't expect the amazing feedback and unbelievable reviews – that makes me even prouder to know that other people like listening to our music 
Mark – It makes me really happy! We put a lot of ourselves in to ACZ, so when people take the time to listen to it AND like it, share it, come see us live… (buy T-shirts)… it's a great feeling! Makes me very proud.
Bobb – I can never find the reviews as my phone doesn't have the internet. But Fuzzy says that the EP has had a great response and it's doing so well he's agreed to pay us in real money next time we have a gig which is a pretty big deal! It's nice to have such a great response from the Metal Community, especially when you put your heart and soul into creating something. 
Tom – Chuffed to bits. We worked hard on Bait the Hook and are pleased people like it.
What was the inspiration behind 'Bait the Hook'?
Bobb – Fishing…
Rishi – The other guys said we should record the songs so we (Mark!!!) would have something to refer to each time we (Mark!!!) forget how to play them!!!! It happens more often than you would think!!
Tom – I don't think we can pin point a particular thing that inspired the EP. When we write songs we tend to just jam and see what works and what feels right.
Mark – Like Tom said we're not specifically inspired by something and then decide on a concept or anything like that… We jam out riffs that mostly Rishi dreams up and then as the music comes together it provokes my ideas for vocal lines and lyrics… but, then Tom usually makes 37 changes to the arrangement and I consequently have to rethink everything… Bobb generally just grooves obliviously.
All your fans would like to know, why has the band got a Gorilla mascot and where did this idea come from?
Bobb – Fuzzy Modo is a bit of a mysterious character actually. Some say he's the physical manifestation of an ancient forest spirit, others claim he is the re-incarnated form of Gandhi, one dude I met was adamant that he's a cuddly gorilla from Birthdays (that shop that used to be in Bury). He became our Tour Manager after a long and arduous series of tasks; he had to survive in the wilderness for 40 days and nights with nothing more than a car, some food, and a stove, alcohol, a flat screen TV, sleeping bag, nibbles, IPod, several types of foreign currency and some friends for company. He then had to sit through 4 hours of Holly oaks…….. Without a break. Having survived these ordeals we knew he had the fortitude to be our Manager.   
We hear that the Butcher Babies gig was a phenomenal night at Rebellion bar in Manchester, for a band that was playing as support in 3 words how would you describe that event?
Rishi – F*cking amazing night!!
Bobb – Awesome. Metal. Crowd!
Tom – Brutal, Killer Night.
Mark – Again pretty please!
If you were stranded on a desert island and could only take 3 items and 1 band mate what and who would it be and why?
Tom – Phone (loaded with music), Toaster (assuming I can get some bread on the island?!) Marmite. Mark – definitely the most useful. Cooks up a mean BBQ.
Rishi – Acoustic Guitar, Bongo's, Cheap Whiskey and Tom…………we could recreate THE greatest drunken acoustic jazz night ever 
Bobb – I would take: 'Raft Building for Dummies', my axe and the lyrics to every Manowar song (just in case I forget them). I would take Mark, as he is a vegan and therefore less likely to cook and eat me, plus I'm pretty sure Tom and Rish would turn to cannibalism before we'd even run out of food.
Mark – A Shovel, Bin bags, Rope… and Bobb… I think he's the slowest runner and would taste the best… I can't see there being many vegetables in a desert.
If you could interview anyone musically who would it be and why?
Bobb – Dio- Because I reckon he would have been fun to chat to. But I wouldn't ask him to explain any of his lyrics as that would ruin the magic.
Rishi – Metallica – nuff said
Tom – Chad Smith. Amazing drummer and would love to know more about what it's like working Flea and Anthony Kiedis.
Mark – Layne Staley – Interview him then lock him up until he was clean so that he'd still be around
What are the future plans for the band?
Tom – More recording, a new EP hopefully by the end of the year.
Bobb – New EP, More Gigs, More Metal
Rishi – A new video for this EP – after that, time to get recording a new EP – hopefully this one won't take 18 months to complete!!! Aside from that, book as many gigs as our schedules allow and just keep doing what we love to do – that's probably as organised as we can be!!
 
Is there anything you would like to say to your fans?
Bobb – You Metal Lunatics are Awesome!!
Rishi – Thanks for all your support – it really means a lot that so many people give a sh*t about unsigned bands and want to invest their time and money in Asylum City Zoo
Tom – Thanks for all your support. Much love.
Mark – Thank you! Nothing touches me more than seeing people at our gigs singing our songs back at us whilst wearing our t-shirts! We can't get enough of you all \m/