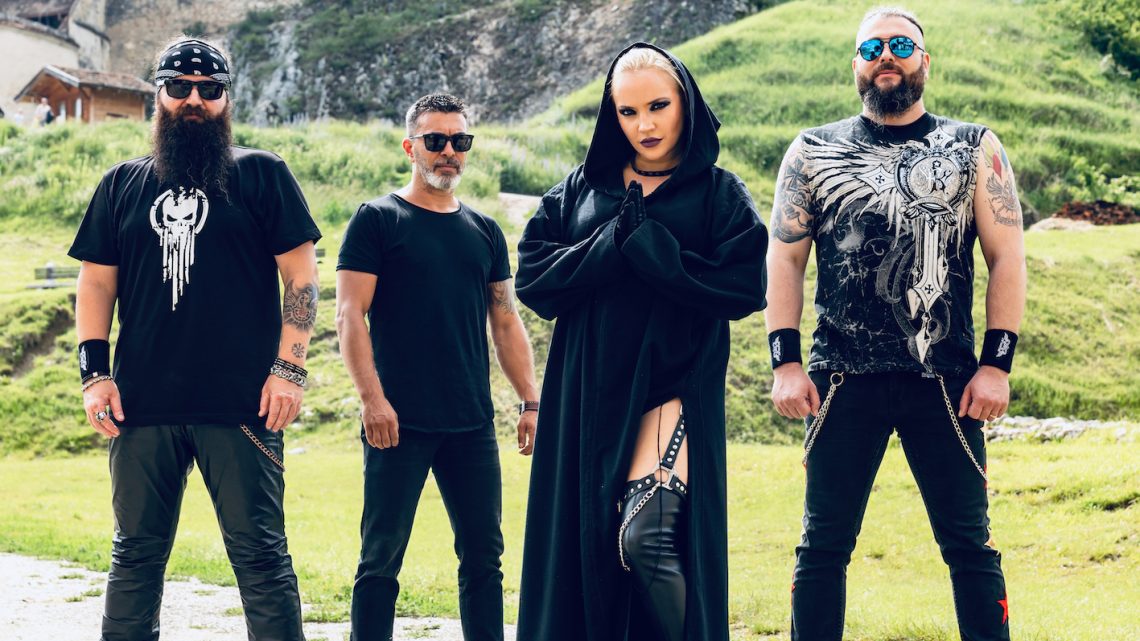 Aura and Mihai Of Scarlet Aura Discuss Their Entourage
19th January 2021
0
By
John Deaux
 We managed to catch up with Aura (vocals and lyrics)  and Mihai Danciulescu  (guitar player, songwriter and producer) from Romanian metal band Scarlet Aura for a quick interview about their fascinating pets and upcoming new material. 

Myself and Mihai Danciulescu are happy to have in our lives 3 amazing creatures, that we definitely not treat as just pets but as family members. They are two cats – our elderly lady – Harley, an elegant and beautiful British short hair, a more younger dude – Riff – an endless black cat with short hair that acts like a teenager and a little Alexandre parrot – Rocky.
Harley is around 11 years old and we named her like this because of her loud pouring, really similar to a Harley Davidson bike and Riff is 6 and he got his name from Mihai's Riffing, he was working on some tracks and while recording the idea for the little cat's name popped up. Harley came to my parents house, looking for refuge, it was Christmas Eve.  We gave her some food and water but she got scared of some people that were singing carols and she ran away. We were so sorry that we didn't think of this, we started to look for her in the nearby houses but nothing. We said then that if she'll be back, we'll take her with us to Bucharest and guess what? She came back and we are inseparable since then. With Riff is a different story, I was running in the park one morning, Mihai was playing basketball and while I was jogging I heard a frail cat's "miau". I totally wanted to ignore it because my entire life I saved cats and took them home, somehow I knew it will be the same.
When I did a second tour I just couldn't resist and called the kitten to me. Mihai also approached and then we saw him: a little kitten with guts somehow out and closed eyes. We immediately took him to the doctor and took care of him for a few weeks until, as we initially planned, he'd be good for adoption. Of course we found him a lady to take him but… it never happened! He's our heart now, can't imagine our home without him. Rocky is the youngest, he's only a few months old and Mihai bought him last year to point nicely our name day. We are clients here at a pet shop and for many years we were talking with the little Alexander that was in there in a huge cage.
This time was the same but the seller told us that this little guy just arrived. We were happy to know that finally after so many years, the old one found a home and Mihai decided to do the same for the new one. The name came naturally, Mihai is a big fan of Rocky Balboa and …. that's how his name came out. Harley is a sweetheart, she loves to play and to be cuddled, she loves to have her milk in the kitchen, she nicely asks for it, she's also a chatter. She loves to be brushed and because she has an agitated sleep, once, she fell off the bed and broke one teeth. She looks funny without it but she has even more charm like this. She loves to stay outside of our gate, to watch people passing by.
As I said earlier, Riff is like a teenager, he leaves the house and comes when he wants to, he jumps and comes back out of the windows, no matter what floor. He likes to be independent, rarely sleeps next to us but always follow us around the house. He likes to have water in a glass in our bathroom and while giving him the fresh one, he always steps on our leg and stays like there with one of his. He's joyful and really cute to play with, especially with the laser. Rocky is still very young and at his beginnings in our home, his cage is in the studio so Mihai lets him to fly freely there. He likes to be talked to and he answers with nice singing sounds. He's also threatening you with his powerful peak if you want to touch him. He's beautiful and growing bigger every day. 
What is the weirdest thing any of them has done?
Actually there is one weird thing Riff has done…. in 2019, on 20th December, while I was pregnant, he jumped on my belly. That made me go to hospital and 3 days later I was giving birth to our amazing and beautiful daughter, earlier than the term but … we found out afterwards that it was better this way for her.
So… it was either a huge coincidence, either he sensed something was wrong and jumped on me. We can't say… the truth is that after me and Sofia came home from the hospital, every time she was crying, he was there, checking on her. It's insane…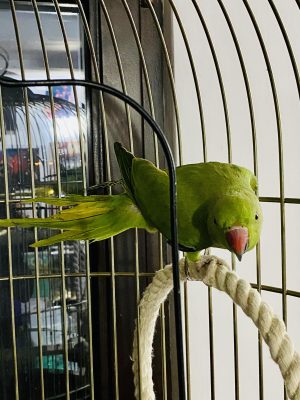 What is the best trick your pet can do?
Hahahaha the best trick is not making any tricks. Couldn't make them do any tricks, we didn't insist either… but Mihai is now training Rocky so… let's see!  
This past year has been pretty manic, so you've no-doubt, like the rest of us, spent a lot of time at home. How has your animals helped being at home for you?
They are always comforting, we have so many years together that we know each other's needs so well. The more funniest part is that we have Sofia, our daughter, she's only one year old so she's crazy about them and we have so much fun together. 
Have you always been animal lovers? 
Yeah, since forever, I had dogs and cats. Mihai Danciulescu, my husband is also a pet lover. Later,  I had a chinchilla when I first came to University, his name was Shine. Mihai had a hamster but the most exotic one I think is Rocky. 
Are you one of those people that puts your pets into costumes?
No, we are not. We don't treat anyone the way we wouldn't want to be treated, at least I don't. So… no or… not yet :)))))) 
Do they like it when you practise at home? 
Well unfortunately or fortunately for them, the only music they listen to is metal so it must be their favourite too. They love to stay in the studio and sleep there forgotten.
Who looks after your pet whilst you're away on tour/holiday?
Usually there is a neighbor that takes care of them but also our parents if needed. They know their schedule, for example, in summer time Harley and Riff are led out of the house in the courtyard until the evening comes, then they get back into the house. 
Speaking of practising, any new music in the pipeline?
Our studio – Silver City Studio – is on the same property with our home so we work non-stop. The name of the studio is the same as for our own label – Silver City Records that we manage in partnership with Tatyana Shubina, so that gives us also plenty of stuff to do and opportunities.
So 2021 is a crazy year for Scarlet Aura, with 2 album releases, a surprise one in April from which we will have a first single out this month on 22nd and a second album, the third from "The Book Of Scarlet" trilogy that is going to be out this year in autumn, with the tour we have planned with Primal Fear. This album is totally amazing so go on www.scarletaura.net, subscribe and stay up to date because we're bringing you true metal music! Both albums are signed with Universal Music in collaboration with Silver City Records.
Check also our latest releases – Hail to You! and Stormbreaker, my fantasy book "The Book Of Scarlet -I. Ignition" that goes hand in hand with the albums and also our metal merch products that would make any metalhead go crazy.  Of course, join us on tour, we also bring you the true metal live experience, Scarlet Aura is definitely one of a kind! 
Have you anything you'd like to say to your fans/followers?
They have to know that we love them, respect them, miss them and that our lives without them this last year was a total pain and that we can't wait to see them and play for them! 
Thank you both for your time.. Stay safe and well. 
And thank you! Take care of your pets, your families and of the bands you love! Stay metal! 
For all things Scarlett Aura click HERE, and to purchase product, click HERE
How useful was this post?
Click on a thumb to rate it!
Average rating 4.2 / 5. Vote count: 454
No votes so far! Be the first to rate this post.
Related
About the author
Some say Yank My Doodle, It's A Dandy! is a biographical movie based on John. Some have even said that his favorite artist is Chesney Hawke! All we really know is he sleeps inside out and his hair tastes like candy floss.