Avenged Sevenfold – Hail to the King
31st August 2013
Avenged Sevenfold (or A7X as they are also known) are back with their 6th studio album entitled Hail to the King. This is their first album release since the untimely passing of Jimmy 'The Rev' Sullivan in December 2009.
In the last 3 years, the band have been through a lot – the passing of The Rev who actually passed away during the recording of 2010's album 'Nightmare'. Mike Portnoy (Dream Theatre) stepped up to finish the remaining drum parts and even went on tour with the band in support of the album – hats off to Mike for that!
This makes it the first album to feature their current drummer Arin Ilejay whose previous band was the metalcore band 'Confide'.
The first thing you notice is this album has demonstrated that they have evolved into a more mature sound, don't let that put you off, if you were a fan of A7X beforehand then you will still love it. Granted its not metalcore and to me it is for the better. Don't get me wrong, I have never been what you would call a huge fan of A7X, however, I do like a few of their previous songs and in my own opinion this new direction is right for the band – they pull it off seamlessly and with ease.
M. Shadows voice is on top form, you can hear the passion in every word that is sung. Each song on the album still has the A7X stamp on it, you could be in a bar and if anyone of the songs came on you would know immediately it was A7X. The musicianship displayed has made this album a future classic! The production on the album is top notch, the songs don't drag on and not one sounds remotely similar to the other.
Its been 3 years since Nightmare was released – A7X have made sure that their fans will not be disappointed with this album!
[box_dark]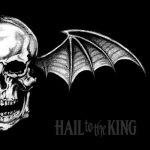 ALBUM INFO
Band: Avenged Sevenfold
Album: Hail to the King
Record Label: Warner Bros
Release Date: 23rd August 2013
Band Website: www.avengedsevenfold.com
Track List:
01. Shepherd Of Fire
02. Hail To The King
03. Doing Time
04. This Means War
05. Requiem
06. Crimson Day
07. Heretic
08. Coming Home
09. Planets
10. Acid Rain
Standout Tracks: Shepherd of Fire, This Means War, Heretic
[/box_dark]