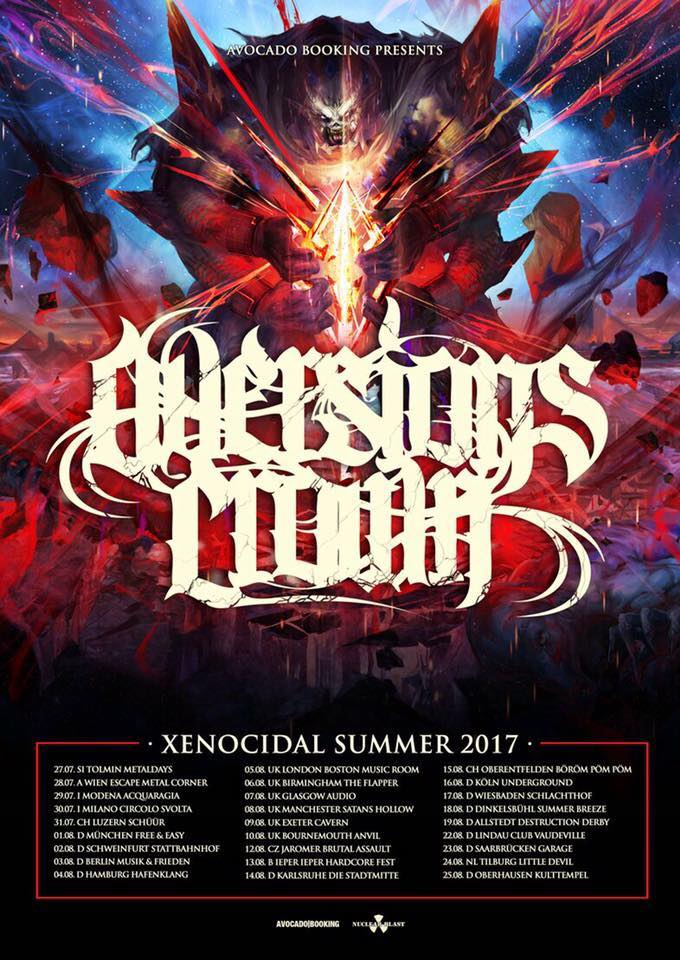 Aversions Crown – Audio, Glasgow – Gig Review
8th August 2017
Aussie deathcore titans Aversions Crown are currently in the middle of a massive European tour in support of their outstanding new album, Xenocide. Released in January through our friends at Nuclear Blast Records, Xenocide is a more refined, mature offering than anything Aversions Crown have released before, and inarguably stands as their best record yet. Despite staying true to their deathcore roots, Aversions Crown have a more atmospheric and more traditional death metal sound than many of their deathcore contemporaries.
Direct support on the UK leg of the Xenocidal Summer tour comes from Welsh bruisers Venom Prison [8/10]. The five-piece have been getting a lot of attention following the release of their Prosthetic Records debut, Animus, last year – and rightly so. Initially, I wasn't overly impressed with Animus – there was a lot to love on the album, it just wasn't clicking for some reason. However, after seeing their super intense live show, the album has fully fallen into place for me. With minimal crowd interaction, Venom Prison let the riffs do the talking – seamlessly dancing between high-tempo grinding and absolutely devastating grooves, they have set themselves as one of the most intense bands in the live scene at the moment. Check out Venom Prison on the main stage of this year's Bloodstock Festival on Sunday afternoon, and when they hit the road again with Decapitated in November.
While Venom Prison's set was brutally intense state of affairs, headliners Aversions Crown [8/10] brought a more light-hearted atmosphere. The Australians have repeatedly shown they are leagues ahead of their deathcore peers, with better song-writing, musicianship and conceptualisation than many bands in their scene could hope to have. With a fair amount of crowd interaction, Aversions Crown managed to bring viscious headbanging, a good, old fashioned push-mosh pit and even slow dancing to the front of the crowd, briefly ending the flailing limbs of hardcore dancers. In an almost comical case of juxtaposition, frontman Mark Poida seemed unable to wipe the smile off his face while delivering near-perfect vocals telling tales of the annihilation of all humanity at the hands of our alien overlords.
It's a shame that main-songwriter and resident riff machine, Mick Jeffery, doesn't bring a bit more shred to Aversions Crown's sound (we know shred is in his arsenal, thanks to his side project Widow the Sea), but other than that there is very little to complain about. As a unit, Aversions Crown are criminally tight live. Between blast driven sections led by resident Terminator Jayden Mason and soul-shattering sub-drops, the Aussies brought both the fun and the brutality to Glasgow. Fan favourites Hollow Planet and The Glass Sentient have always gone down fantastically live, but it was great to see Erebus, Prismatic Abyss and Odium from Xenocide take their rightful place in the setlist. Overall, this was an excellent show from the Aussie quintet – hopefully they return to our shores in the near future!
Order Venom Prison's newest album, Animus, here.
Order Aversions Crown's latest offering, Xenocide, here.