Ayreon's first 2 albums to be released on vinyl
6th July 2016
Earlier this year Mascot Label Group announced the signing of Ayreon, the highly acclaimed project from singer / songwriter / multi-instrumentalist / record producer Arjen Lucassen to its label Music Theories Recordings. After re-releasing the Ayreon catalogue on various digital platforms in April, debut album The Final Experiment and follow-up Actual Fantasy: Revisited will see their first-ever vinyl release on August 26, 2016.
The Ayreon back-catalogue has been re-released before, but contrary to the rest of Ayreon's seven studio albums, The Final Experiment and Actual Fantasy: Revisited have never been released on vinyl. Lucassen: "That makes it perfect for me. I couldn't have wished for a better start with Mascot Label Group and Music Theories Recordings. The people at Mascot flooded me with ideas and plans for the re-releases. Which is a luxury, really! Take the artwork, for example. They offered to rework it, but wanted to show the original artwork as well. Their ideas were all really good. I'm sure the fans will appreciate this, which is one of my main goals when working on a re-release or a vinyl release. The worst thing to do is forget about quality and details, because people will turn away from you in no time."
The Final Experiment
Ayreon's first album was released in the Netherlands in 1995 by start-up label Transmission Records. With its intricate sci-fi/fantasy storytelling and timeless progressive rock it immediately attracted attention of rock fans all around the world. Featuring a line-up of world class vocalists and musicians, including Barry Hay (Golden Earring), Jan-Chris de Koeijer (Gorefest), and Kingdom Come's Lenny Wolf. Ten years later Lucassen recorded semi-acoustic versions of the songs as a bonus to the CD-re-release. Those tracks are now available on vinyl as well. Lucassen: "Originally The Final Experiment was a single album, of course. To make it special for the re-release in 2005 I recorded nine of the songs acoustically, but with completely different singers and arrangements. I like some of the tracks even better this way. It's so great to have both these versions on vinyl now."
Lucassen mentions The Final Experiment as the most emotional recording he has made: "I was very limited when I recorded The Final Experiment. I had no studio of my own and no equipment, nothing at all, basically. I was totally dependent on the studio where I recorded. Plus I had no money to hire any fancy singers or musicians yet, which means that most of the singers you hear are all friends of mine. People that I played or interacted with in the years before Ayreon, when I was playing with Vengeance. The Final Experiment embodies something I wanted to do all my life, ever since I heard Tommy of The Who, Jesus Christ Superstar, War of the Worlds by Jeff Wayne… I just had to do a rock opera! And in that respect, yes, it is a good album to start your Ayreon trip with."
Lucassen is particularly fond of Sail Away to Avalon. "As a kid I already was a huge Golden Earring fan. And to have Barry Hay sing on it, in exchange for a bottle of whisky… Now I'm used to working with famous people, but at that time I was extremely nervous when Barry came to the studio! Then there is Eyes Of Time, my attempt at doing a Led Zeppelin, Kashmir kind of song. And sure, I would have loved to have Robert Plant sing on it, but that was not going to happen, haha… So that's when I thought of Kingdom Come, a band that I really liked a lot and that sounded very much like Led Zeppelin. I approached them and asked if Lenny Wolf would like to come and sing on Eyes Of Time. To my surprise he said yes!"
Actual Fantasy
After The Final Experiment, second Ayreon album Actual Fantasy (also on Transmission, 1996), turned out to be a relatively modest production. In 2004 it got a complete makeover, resulting in Actual Fantasy: Revisited. Lucassen recalls: "The Final Experiment sold very well and I earned enough money to start building my own studio around 1995, 1996. It was all ADAT recorders back then. Digital, but on tape. I think I had about eight of them. A complicated way of recording… My idea this time was to create an album with John Bonham-style drum parts , lots of electronics and synths in the spirit of Tangerine Dream and Klaus Schulze and heavy guitars on top. For budget reasons I recorded with computer drums, and digital synths instead of the nice analog synths I have nowadays. At that time I didn't give a shit about what people would think of the album I was making. That became different  with my next Ayreon album  Into The Electric Castle. I remember thinking then: 'Okay, what would people want to hear, how can I please them?' And I never thought that with Actual Fantasy, I was pretty cocky at the time ."
Actual Fantasy contrasts in many ways with The Final Experiment. It's not a rock opera, and there are only three singers present. Lucassen: "Firstly my good friend Robert Soeterboek. Then there is Edward Reekers, the singer with Kayak, whose parts worked out so well that I had asked him for Into The Electric Castle and Universal Migrator too. Seems he is unable to sing out of tune and his English pronunciation is perfect – very important to me. The third singer was Okkie Huijsdens, who sadly passed away. He could sing the best Beatles-style vocal parts you can imagine, and that was exactly what I was looking for. I wanted to use the vocals more as instruments than just standard vocals. Layers of vocals, beautiful harmonies: Okkie delivered."
Asked for his dearest tracks on Actual Fantasy, Lucassen does not hesitate: "The first track after the intro, Abbey Of Synn, was already my favourite when I recorded it. That Led Zeppelin feel again, drum parts sort of like When The Levee Breaks, that was my idea. But then with electronic sequencers and heavy guitars. Computer Eyes is the track that I think stands out for the fans. I also did it live a couple of times, with Stream Of Passion… Edward Reekers did an amazing job on that. The Tangerine Dream feel, mixed with lots of melody and some heavy rock , that's what I like so much about it."
When Lucassen revisited the songs of Actual Fantasy in 2004, he didn't decide on recording acoustic bonustracks like with The Final Experiment. "I decided to re-record all the stuff I wasn't happy with. Ed Warby played the drum parts, for starters. Peter Vink completely revised the bass parts. I redid most of the guitar parts because I had better equipment. So I added stuff to the tracks but took stuff away as well."
2LP The Final Experiment (Special Edition) (1995/2005)
The vocalists are, next to Arjen Lucassen himself: Barry Hay (Golden Earring), Edward Reekers (Kayak), Leon Goewie (Vengeance), Ian Parry (Elegy), Jan-Chris de Koeijer (Gorefest), Jay van Feggelen (Bodine), Lenny Wolf (Kingdom Come), Robert Soeterboek, Ruud Houweling, Debby Schreuder, Mirjam van Doorn and Lucy Hillen.
The vocalists on the semi-acoustic versions recorded in 2005 are Astrid van der Veen, Esther Ladiges, Irene Jansen, John Cuijpers, Marcela Bovio, Peter Daltrey, Rodney Blaze and Robby Valentine.
Instrumentalists on The Final Experiment, besides Arjen Lucassen: Cleem Determeijer (keyboards), Ernst van Ee (drums), Jan Bijlsma (bass), Jolanda Verduijn (bass), Peter Vink (bass) and Rene Merkelbach (keyboards).
The semi-acoustic recordings were made by Lucassen with Davy Mickers (drums), Lori Linstruth (guitars), Jeroen Goossens (flutes) and Robby Valentine (piano).
2LP Actual Fantasy & Actual Fantasy Revisited (1996/2004)
The vocalists are Edward Reekers (Kayak), Okkie Huijsdens, Robert Soeterboek
Instrumentalists besides Arjen Lucassen himself: Cleem Determeijer and Rene Merkelbach (both on keyboards)
On the Revisited version: Ed Warby (drums), Peter Vink (bass)
Special editions only available in Ayreon online shop: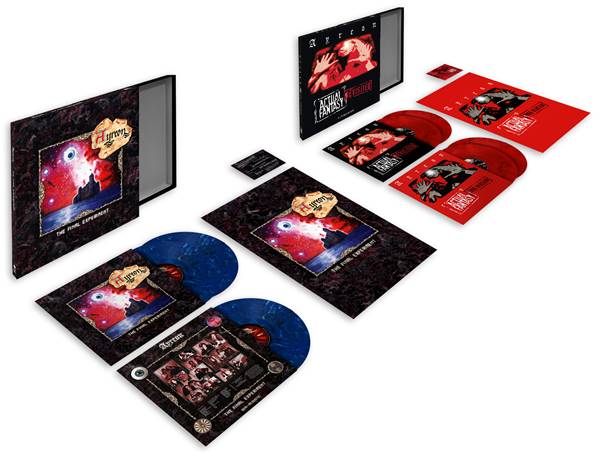 The Final Experiment 3 LP Deluxe Edition:
Original album on 2 LP Gatefold + Exclusive Semi-Acoustic bonus album in a numbered hardcover box with a download card of all content.
Contains:
2 LP Gatefold on Blue Marble vinyl
Bonus Semi-Acoustic LP on Marble vinyl
Download card including all exclusive content    
All boxes are numbered 1-1000
Actual Fantasy Original 4 LP Deluxe Edition:
Original album on 2 LP Gatefold + Original 1996 recording on 2LP Gatefold in a numbered hardcover box with a download card of all content.
Contains:
Actual Fantasy Revisited 2 LP Gatefold on Red Marble vinyl
Actual Fantasy Original 1996 Recordings 2 LP Gatefold on Red Marble vinyl
Download card including all exclusive content
Numbered 1-1000