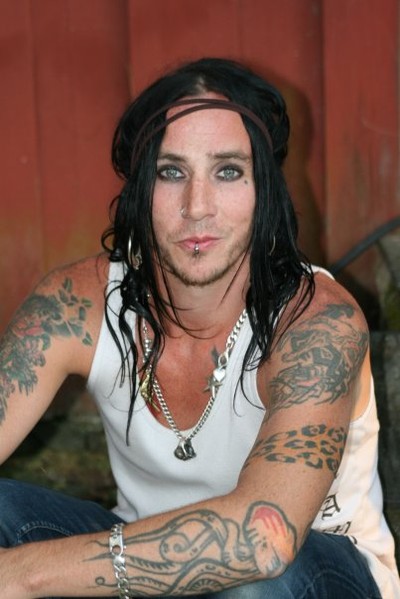 Backyard Babies – Dregen Interview
13th July 2015
We at AATR towers managed to sit down with Dregan (lead guitarist & backing vocalist) from the Backyard babies for a quick chat to find out what's been going on with them & the new album.
AATR – Dregen, Welcome to AATR Towers & thank you for taking time out of your busy schedule to talk to us.
Dregen – You're welcome.. Always a pleasure.
AATR – So what's been going on since your self titled album back in 2008? 7 Years is quite a long time between releases.
Dregen – Well we toured that album & then in 2009 we had our 20th anniversary so we did like a coffee table book for that. A compilation album as well as a huge book.
2010 we played a show in Japan & then basically went on holiday. In truth it's only really been about 4 years since we played together as we started to work on this album back in 2011. But you're right it's been 7 years since a proper studio release.
AATR – So what basically pushed you to take the long hiatus?
Dregen – Well we started this band back in 1989 & we were working super hard to get a record deal so when we got that we toured heavily until 1998 on the back of 1994 debut album Diesel & Power. So it was at that point that we started to make a living out of music. So since 1998 really we've been constantly out on tour & recording albums. By 2010 we were fried. Absolutely worn out in a way.
AATR – So it wasn't anything personal?
Dregen – No it wasn't anything within the band. It was just for that it got to a stage where I would have a friend come up to me & say "hey you guys where great tonight" & I'd be like " oh, ok, thank you" & then the next night some-one else would come up & say "Hi you guys were not that great tonight." I was at that point where I couldn't even tell if a gig was good or bad anymore, I'd turned into some sort of robot rocking machine.
AATR = You were just going through the motions then
Dregen – Well it's kind of hard to explain really.But you like your work right? You like to interview?
AATR – Of course. We love what we do here
Dregen – But if you do what you love too much you're going to overdose on it & it's not going to be fun anymore. So taking a break was really good
AATR – Did you do anything yourself on the downtime?
Dregen – Well, I did a solo record, wrote an autobiography, did a few years playing with Michael Monroe (Hanoi Rocks) where we wrote & recorded an album.
After 4 years I started to miss the Backyard Babies & around that time we were all ready for another album.
AATR – The new album is fabulous, a real return to form
Dregen – Thank you. I think you can hear on the record that we're enjoying being back together in the band & ready to tour again.
AATR – You certainly can
Dregan – I think we could've put together an ok album & done an ok tour before this break. But we wouldn't have survived as a band. We would've split up.
AATR – We're all glad you didn't. The closer of the album Walls is a favourite of ours. 7 minutes of prog. Almost like a Pink Floyd feel to it.
Dregen – (Smiling) It's actually my favourite track too as it's something different for us. But saying that if you're a Backyard Babies fan you'll find something on this album that reflects our past. Walls is just something we haven't explored before. We wanted 10 songs on the album originally but Walls went bananas, we wanted something kinda horror themed teamed up with the Godfather kind of thing. So we ended up with 8 tracks on the record.
AATR – Is Walls going to be in the live set?
Dregen – Of course, it has to be (laughs) possibly a show ender I think. This band loves to play live.. We like being in the studio & I'm always glad when the albums done so we can get out there & share the songs live.
It's not the most enjoyable thing to be stuck in a fucking studio for weeks you know.
AATR – Has this been an easy album to write & record?
Dregen – This album HAS been really easy. Maybe that's why this record is as strong as it is.
AATR – It definitely a very strong album
Dregen – I think it comes with age. We're more confident today, we know what we're capable of as a band. Some of us have become dads now so we can't hang around the studio as much as we used to where nothing would get done for week. We seemed more focused on this record because we have kids. We're a little more productive in the studio now (laughs)
AATR – So nothing has been over thought for this record.
Dregen – No not at all. What has served us well is taking the break, I've played with other people & Nicke (Borg – lead vocals, rhythm guitar), his song writing has progressed a lot too.
I don't have to go too far back into our history to say that with an album like Stockholm Syndrome back in 2003, we would've had 30 or 40 demos to choose from before we even got into the studio & pick the 10 or 12 that end up on the album. We could work on a song idea for days & it would just turn out to be shite it would be so bad.
So with this album these are the songs we were working on & there are no left overs from this album unlike previous records.
AATR – Have you now released all the material you've had left over so there's no longer any surprises on the horizon?

Dregen – Well we released the Them XX Coffee table album & pretty much all the left over material wound up on that. There's one disc that's like a best of & then there's 3 other CDs that contains B sides & the leftover shit that we've ever done.  So for now we aint got nothing left (laughs)
If you haven't seen it you need to check it out. The box is as big as a vinyl LP, there a 200+ page book 4 CDs of music & there's also a DVD of old live footage. It's a really big coffee table book.
AATR – Is there anything you're particularly looking forward to playing live?
Dregen – When I get the mixes from the album I usually end up sick of it from listening to it so much, but this time around it's so fresh. Wasted Years, Bloody Tears I'm looking forward to & as you said Walls from the new record along with stuff that we haven't done from the old records.
AATR – Bloody Tears will be a live favorite along with the single Th1rt3en or Nothing.

Dregen – If you want to compare more black & white on the new album, when Nicke & myself write together, Th1rt3en or Nothing is more my song. It's a very typical Dregen song. It's more riff based than vocal based ass opposed to a song like Bloody Tears which is coming more from Nickes' direction. He's a fantastic songwriter. When we write something together it turns out like Never Finish Anything.
AATR – Have you got any favourite moments from a particular tour?
Dregen – That's a good question. How long is a piece of rope? I've enjoyed everything. Somethings I'm not going to forget. I have to say bigger tours like opening up for AC/DC for 36 shows around Europe. The 2 nights at Wembley Stadium were fucking awesome.
I remember our first Spanish tour as well as our 1st UK headline shows as 20 years on those are the shows that are the most memorable. Japan in 1998 as well which was our first time there is also pretty memorable.
AATR – Who's been the most fun to tour with.
Dregen – We've been pretty blessed really. We haven't toured with any assholes. All the bands we've toured with we've been fans of. BUT I have to say the 6 weeks with L7 was an eye opener. It was fun, it was crazy  & one of the highlights for me.
AATR – Last question Dregen as we know you've other interviews to get to.

Dregen – Sure
AATR – On your travels who has been the one idol that you've met you were the most nervous around?
Dregen – Actually that was last week. I bumped into Billy Gibbons from ZZ Top whilst getting catering in France at Hellfest. I got just a little starstruck. I like Billy Gibbons I think he's cool.
AATR – That's honest. Dregen it's been an absolute pleasure to talk to you we know you have to rush off. So again thanks for taking the time to speak to us here.
Dregen – No problem. Just a quick question for you. Do you know the venue in Glasgow?
AATR – The O2?
Dregen – Yeah. It's the first time I think we've payed there so I'd like to know how the sound is.
AATR – It's a pretty good venue. The sound is good. I don't think you'll have any problems there with your sound or the acoustics.
Dregen – Cool. Good to hear Hopefully see you at one of the shows.
AATR – Hope so Dregen be good to catch up & have a couple of alcoholic beverages.
Dregen – You too.
The Backyard babies album is due out 28th August 2015