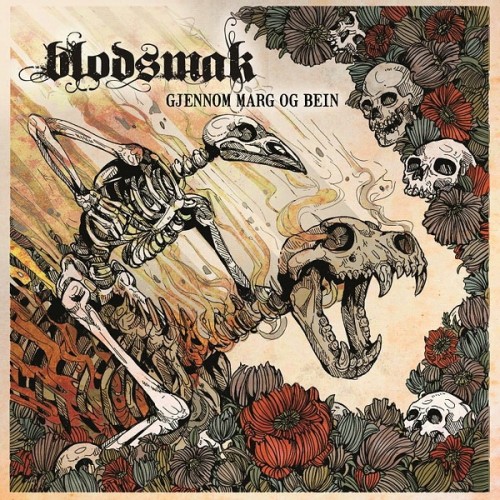 Blodsmak: Gjennom Marg og Bein – CD Review
23rd March 2016
1
By
Tim Jones
When one discovers a band from Norway, there are certain expectations. These expectations usually involve, but are not limited to, insane heaviness, growled vocals, Viking references, drinking and beards.
Blodsmak sound like they would be exactly this kind of band. Their name translates as 'taste of blood' and the album Gjennom Marg og Bein means 'through marrow and bone'. Sounds promising! I anticipated an aural assault of such abject heaviness that I would require medical attention.
Except Blodsmak are not at all what you might expect.
They combine metal and folk in a way that works well – think Finland's Korpiklaani, but better.
The vocals are among the best I've ever heard from a Norwegian metal band. This kind of melody and vocal harmonies wouldn't be found on a Kvelertak release, for instance, but they fit well here.
The songs are all in Norwegian, so get your phrasebooks ready for a singalong!
This is Blodsmak's second album and it opens with bell chimes, giving it an ominous feel. This is then followed by a lone female voice singing eerily, before the heaviness of Fåfengt kicks in. The riffs on display here are quite sublime and it's evident from the off that this is the heaviest folk metal ever produced. Then, just to pull the rug a little, there's a really mellow bit in the middle. Blodsmak don't care. They then bust out a kick-ass solo before transporting us back to the heaviness.
Heimsøkt follows and, like its predecessor, contains moments of relative serenity sandwiched between blocks of tungsten riffage. The main riff in this song is an absolute killer that perhaps bigger bands will look at through jealous eyes.
Is that a Jew's harp at the start of Under Mørke Tyrirot? Why, yes, I believe it is. How many other metal releases can boast the inclusion of that particular instrument? I'm pretty sure you could count them on one hand with no fingers on it.
Daud Manns Bøn continues the journey at a slow chugging pace, but the Sad But True-esque down-tuning will still almost blow out your speakers.
Finn Kvila is a ballad and it doesn't seem out of place at all. Far from a lot of bands who include one because they think they should just because everyone else is doing it, this offers a good midpoint to the album.
It soon picks up again with Bang Bang, Framandkar and Giljotin.
Mørkemann opens with an incredible folk metal two part guitar harmony and is probably the album's finest track.
Høyrde Me Skål brings the journey to a close. Learn the language, because this is a glasses-in-the-air, scream-your-lungs-out song.
The music of Blodsmak will take you over mountains, through forests and across fjords in a way that other Norwegian metal has somehow never managed, showing a surprisingly melodic side to the country's metal.
Track listing:
1) Fåfengt
2) Heimsøkt
3) Under Mørke Tyrirot
4) Daud Manns Bøn
5) Finn Kvila
6) Bang Bang
7) Framandkar
8) Giljotin
9) Mørkemann
10) Høyrde Me Skål
Gjennom Marg og Bein is out now on Crime Records.
Score: 7.5 out of 10
How useful was this post?
Click on a thumb to rate it!
Average rating 0 / 5. Vote count: 0
No votes so far! Be the first to rate this post.
Related
About the author
I'm an East Yorkshire-based fan of thrash, hardcore and punk who likes to write about it as much as he likes to talk about it.