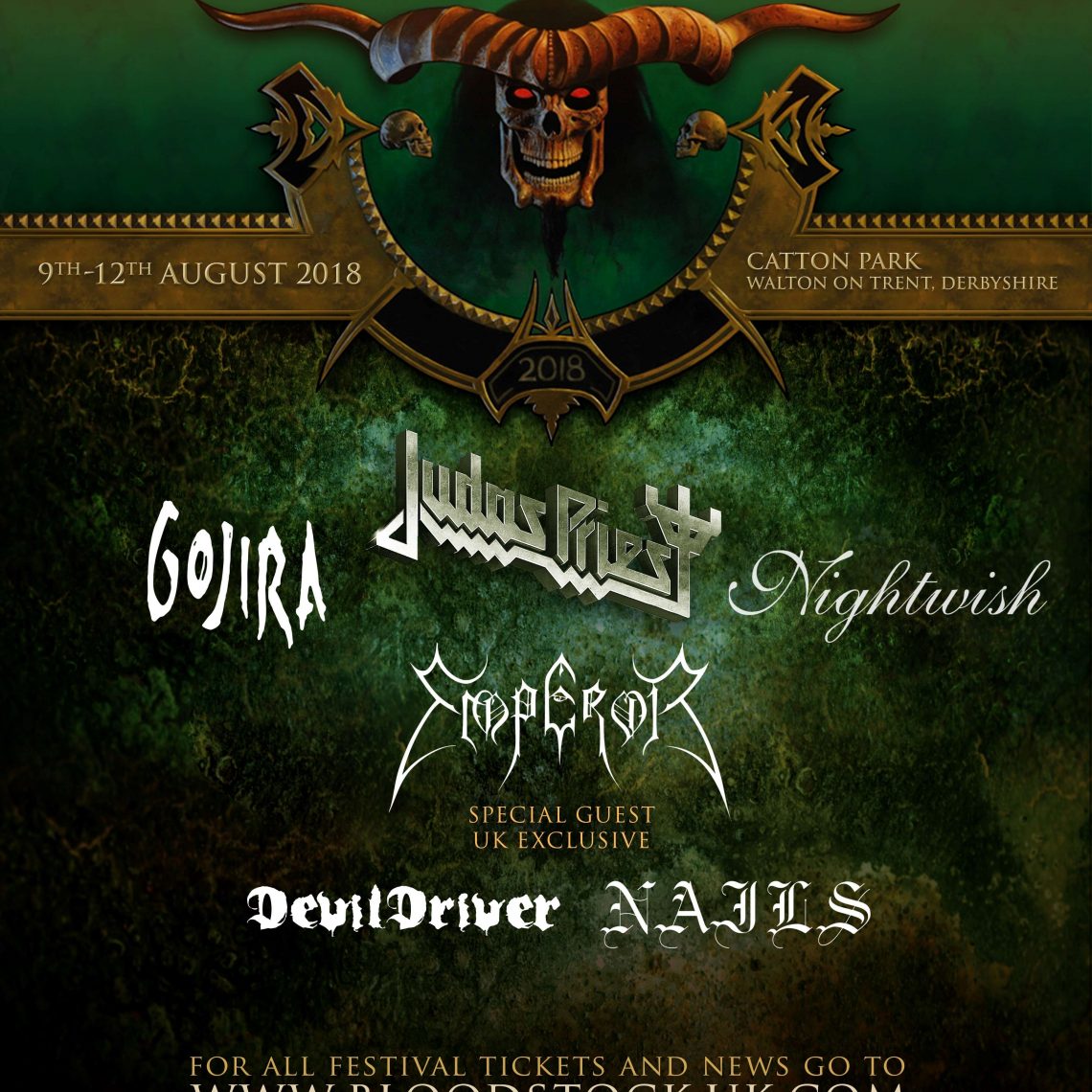 BLOODSTOCK announces 2018 Metal 2 The Masses programme!
17th October 2017
0
By
John Deaux
BLOODSTOCK's annual, hugely popular 'Metal 2 The Masses' initiative offers unsigned and DIY bands the chance of being part of the BLOODSTOCK festival experience!   For 2018, your band could be playing on the bill alongside the likes of JUDAS PRIEST, GOJIRA, NIGHTWISH and many more amazing bands.  
Plans for 2018 are under way and BLOODSTOCK along with their favourite ale, Hobgoblin Beer, are aiming once again to track down the best breaking metal bands across the UK and give them a platform to show what they can do.
Detailed below are the participating UK regions (there's more to come in Europe) – so if you're in a self-signed or unsigned band and want to try out for a slot on the BLOODSTOCK bill, get in touch with the promoter nearest you for details on how to enter and get yourselves involved!!
One winner from each event will win a slot on BLOODSTOCK's 'New Blood' stage, with many more additional prizes to be announced.  In August 2018, your band or your favourite local act could be one of the lucky bands stepping on stage at BLOODSTOCK!
COVENTRY – m2tmcov@gmail.com
SHEFFIELD – jake.recordjunkee@gmail.com
READING – xlmusicpromotions@gmail.com
GLASGOW – ivoryblacksglasgow@googlemail.com
BELFAST – the_distortion_project@hotmail.com
DUBLIN – jetrockerireland@gmail.com or mail@overdrive.ie
CARLISLE – servantsofloki@gmail.com
NORWICH – Info@plugstudios.co.uk
LEICESTER – resinonline@hotmail.co.uk
MILTON KEYNES – Skye@HOPpromotions.com
STOKE – theundergroundstoke@gmail.com
HITCHIN – m2tmhitchin@gmail.com
BURNLEY – sancpromotions@gmail.com
WREXHAM – bookings@goodforaudio.co.uk
SALTASH – andy@livewireyouth.com
CARDIFF – bookingfuel@gmail.com
SOMERSET – graham@newageevents.org
NEWCASTLE – kev@rftkpromotions.co.uk
NOTTINGHAM – info@ikeproductions.co.uk
MERSEYSIDE – Andy@Deathwave.co.uk
MANCHESTER – bookings@rebellion.club
OXFORD – twofacepromotions@gmail.com
SELBY – info@venueselby.co.uk
HULL – lkp2011@live.co.uk
NORTHAMPTON – Skye@HOPpromotions.com
LONDON – m2tmlondon@yahoo.co.uk
BRISTOL – m2tmbristol@gmail.com
BIRMINGHAM – hammerpromotions@gmail.com or hammer.anvil@outlook.com
 

Standard weekend tickets for BLOODSTOCK are currently available at 'early bird' prices (just £125 for four days of metal fun) so grab yours now at the ticket store if you want to save £20!  In order to keep up with inflation and extra costs in 2018, standard weekend tickets with camping will increase from last year's £139 to £145 once the 'early bird' allocation is gone.  
BLOODSTOCK will take place at Catton Park, Derbyshire on 9th-12th August 2018.  Get additional information over at www.bloodstock.uk.com.
How useful was this post?
Click on a thumb to rate it!
Average rating 0 / 5. Vote count: 0
No votes so far! Be the first to rate this post.
Related
About the author
Some say Yank My Doodle, It's A Dandy! is a biographical movie based on John. Some have even said that his favorite artist is Chesney Hawke! All we really know is he sleeps inside out and his hair tastes like candy floss.