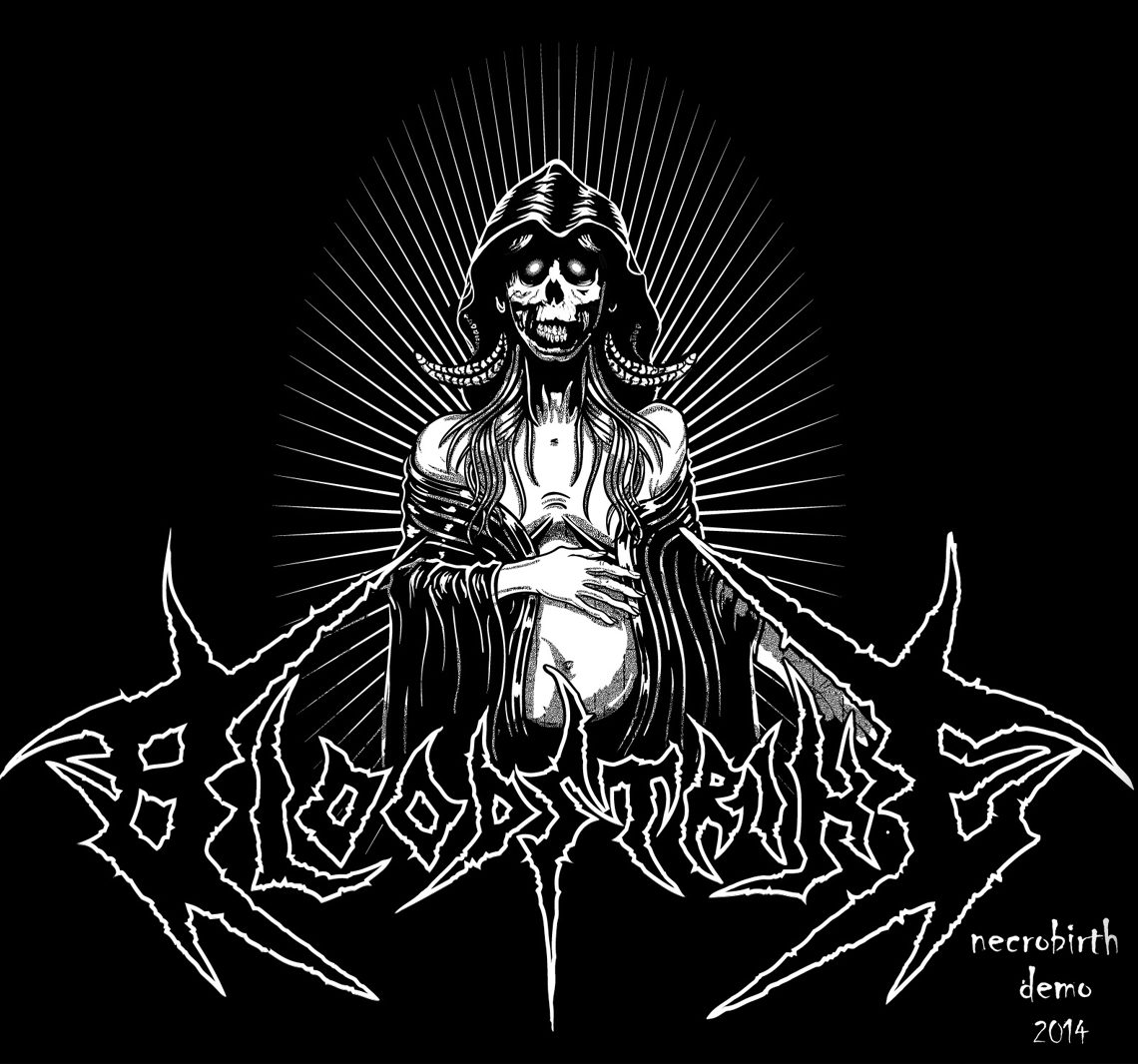 Bloodstrike – Necrobirth (demo)
14th July 2014
Bloodstrike formed in 2013 in Denver, Colorado, and play what they describe as a "modern interpretation of an old school death metal sound".  Necrobirth is their demo release, but as the band is made up of veteran metal musicians (including current or former members of Nexhymn, Silencer, Havok, Moth, and Dripfed) I had high hopes for this.
Within the first few moments of opening track 'In Death We Rot' I knew I wasn't going to be disappointed!  The track is dark and heavy as fuck, with a real early 90's feel to it.  It's primitive, fast paced and has a relentless urgency to it that is almost breathtaking.
'Skeletal Remains' is my favourite track.  It starts with a repeating riff that is haunting and eerie and has burrowed deep into my brain, then things kick up a gear with some incredible Entombed-like chugging guitars and brutally pounding drums, all topped off with some old school death metal vocals.
'Serpent Son' is an aggressive take-no-prisoners track that finishes things off nicely.  It retains the same sound and feel as the previous two tracks, but somehow manages to be even heavier and more punishing.
This band has a lot of pedigree and it shows – the musicianship is amazing, with each band member putting in a first class performance and really showing what they are capabale of.  Not only that, but Holly Wedel's vocals are astounding – ranging from a powerful old school death metal style through to moments of black metal inspired witch-like nastiness.  The production and mix capture everything perfectly and get the balance between rawness and listenability spot on.
I'm really impresseed with the 3 tracks on Necrobirth, and on the strength of this demo I will definitely be keeping an eye on what Bloodstrike do next – I'm really hoping there is a full album in the works sometime soon.
The 2 track digital download is available via the bandcamp link below (very generously available for "name your price"), and the full 3 track CD version is available from the band on their facebook page via the link below.  If you're a fan of old school death metal but are looking for something a bit different, this is well worth checking out – so what are you waiting for !??
Score: 8.5 out of 10
ALBUM INFO
Tracklist
01.  In Death We Rot
02.  Skeletal Remains (CD only)
03.  Serpent Son
Record Label
Self Released
Release Date
16th June 2014
Line up & Credits
Vocals – Holly Wedel
Guitars – Jeff Alexis
Guitars – Joe Piker
Bass – Rhiannon Wisniewski
Drums – Ryan Alexander Bloom
Recorded at FireStorm Studios
Mixed by Jeff Alexis
Mastered by Patrick Briuss (of Crypticus)
Links
htpp://www.bloodstrike.bandcamp.com
http://www.facebook.com/bloodstrikemetal