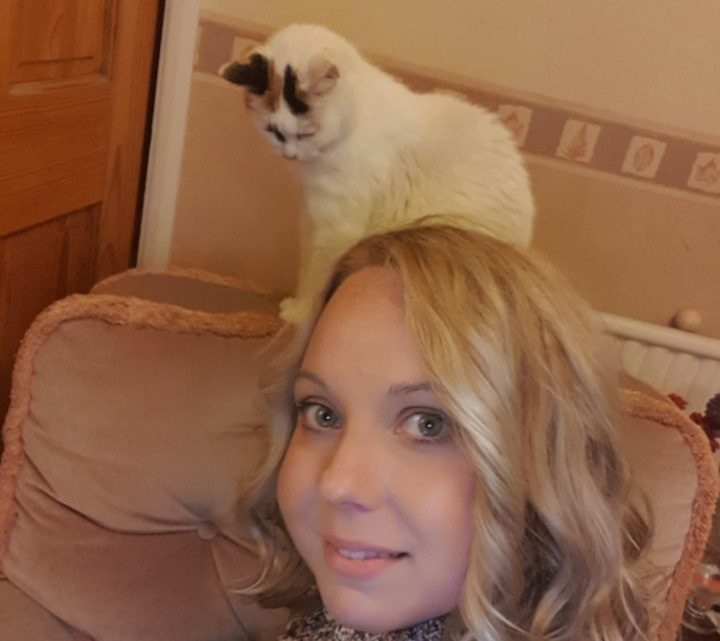 Blues Maestro Chantel McGregor talks about her animals.
12th January 2021
Chantel McGregor has been making waves in the Southern Blues Rock genre for quite sometime now. Her live album Bury'd Alive was released to critical acclaim and proved to the masses why she's been hailed as the next Queen of blues guitar.

We caught up with her during Lockdown 3.0
I have 2 fluff balls, although I'm away from one at the moment. Back home in Bradford (where I spent 1st lockdown), I have a gorgeous calico cat called Sprinkles, who's 12 years old, but still very sprightly and a bit of a diva. She adopted my parents and I as a kitten as she was a farm cat from the farm at the back of my parents' house, but I think she wanted to be more of a house cat than a mouser cat, and the farmers weren't really interested in her being a house cat and giving her the love she needed. 
She actually adopted us with her sister Fluffy (I re-named them), but Fluffy was very grumpy and didn't like Sprinkles, so Fluffy found a new home down the street, but before she found a new family, she had a baby long haired tuxedo kitten. Sadly Fluffy wasn't really up for being a cat-mum, so she left him on the doorstep to find his own way in life. Unfortunately all her other babies weren't so lucky and he was the only survivor, hence we called him Lucky. We took him in, gave him a home and loved him for 9 years, but sadly he passed away a couple of Christmases ago. 
So now it's just Sprinkles, I think she secretly likes being the only one and not having to share her Dreamies! 
Sprinkles is a Yorkshire cat, and when the government said you could 'bubble' I came down to Cambridge to stay with Jamie, as he lived alone, so she's up north with my parents, getting very spoilt with treats and posh cat food. Whenever I've popped back during the gaps between lockdowns, she has taken a while to forgive me for going away, but half a pack of cat treats and some head snuggles and she's my best buddy again.
Originally I thought I'd be down in Cambridge for just a couple of weeks, but I'm still here, which has worked out fab, as Jamie is an incredible pianist, so he's featured on my weekly livestream every Saturday at 5pm on Facebook. That's been great as it's given me a way to play my electric guitar, and be a bit more experimental with songs and improvisation. It's also been a fantastic way of staying connected with friends and fans! 
Anyway, I digress, after a few months, I really missed having a fluff ball to love, so I suggested getting a hamster! To my shock, Jamie agreed and off we went to the pet shop. Apparently there was a hamster shortage, so I had to wait until the following weekend (I'm rather impatient, so this was the longest few days ever!), Saturday morning came, and off we went to the pet shop, I made a beeline for the hamsters, made sure no kids could get a look in and peered into the glass tank to find my furry-soulmate, Stevie. All but one hamster was asleep, this little golden hamster was mooching around carrying nuts in his mouth and climbing up the sides of the tank whenever I talked to him, he was the one!
I originally had my ideal hamster in my mind, it was almost like a dating ad for rodents, 
'Wanted: a long haired, not red-eyed, male hamster, lovely temperament, likes: monkey nuts, sunflower seeds, moonlight snuggles with Netflix, dislikes: early mornings, sweaty feet and sprouts', 
He ticked most boxes, although he has short hair, slightly red eyes, he has sweaty feet and we haven't tried him on sprouts, but you have to compromise on some things for personality. He has the sweetest temperament, has never had a nibble of either of us and loves watching crime dramas on Netflix, we couldn't have found a better hamster! 
How he got his name? Jamie suggested calling him Steve. I said 'you can't call a hamster Steve', so he suggested Stevie  as the guy in the pet shop had told us his eyesight might be a bit poor due to him having red eyes. So in tribute to Stevie Wonder, we named him Stevie (also secretly it was in tribute to Stevie Nicks on my part, even though he's a boy hamster
). We can't imagine him being called anything else now, although Jamie did suggest Barry originally too.
What is the weirdest thing Stevie  has done or what's the weirdest thing you have done with your pet? 
He loves climbing upside down on the roof of his cage, he spends hours doing it and falling off. He must be quite resilient (or stupid/forgetful) as it would be like us climbing up a ladder, falling off and climbing back up to do it all again 30 seconds later.
We did do a strange thing during a Zoom quiz with friends the other week, the quiz task was to create an art installation with things in your room, so we got 15 cans of craft beer out of the fridge, made a pyramid, I hid behind it and held Stevie levitating mid air above it, it was a live art installation, I think Stevie was quite proud. We didn't win the quiz round sadly, but I think art is subjective anyway!
What is the best trick he can do?

He's a fab climber, so he likes climbing up the back of the couch, his upside down acrobatics in the cage are quite impressive too, he has great upper body strength!
This past year has been pretty manic, so you've no-doubt, like the rest of us, spent a lot of time at home. How has your Sprinkles and Stevie helped being at home for you? Have they been comforting, or have they just been driving you nuts? 
I loved having Sprinkles at home during the first lockdown, she's always a comfort and I miss her terribly. 
We got Stevie in the gap between lockdown 1 and 2 (the bit where you could still go to the pub) as I wanted to have some animal contact, especially since it was likely at the time that we would be at home a lot more (or in the pub). He entertains us every night, it's great fun watching him and playing with him. We sometimes pop him in his plastic ball and he has a good run around the lounge in that, although it can get quite noisy when he crashes into things.
Have you always been an animal lover? Have you ever owned any exotic or different pets?
 I've loved animals my whole life although I didn't have a pet until I was about 12 years old, and funnily enough I got a Hamster called 'Hamlet #1'. He had many more ancestors to follow him, up to 'Hamlet #5', then I had a little break from hamsters for a bit, and acquired a gerbil from the school where my mum taught. He was quite grim, he wouldn't let you pick him up, attempted to bite you all the time, and smelt like sweaty feet mixed with rancid honey, he seemed to live forever as well!
After a while with Minky the gerbil, I fancied another hamster so got Tribble, he was a long haired one and was delightful, even the cats loved him, he used to chase them around the lounge in his ball!
I also had tropical fish for a while, until one day I'd gone out and came back to a tank full of exploded fish as the thermostat on the heater had stuck and boiled them all. I was so upset, I gave up on tropical fish and the tank was retired to the garage and is still there. 
Are you one of those people that puts your pets into costumes?
One Christmas I bought some little dog Santa outfits for Sprinkles and Lucky. After about an hour of wrestling with them to get them on and a billion scratches later, they ran off up the hall in them. They absolutely hated them and wriggled out of them before I even had chance to take a photo! 
I couldn't get anything small enough for Stevie this year, although I have taken up the lockdown hobby of knitting, so I might knit him an outfit for next Christmas!
Do they like it when you practise at home or has your pets had any influence on your music? Do they seem to prefer any particular genre of music more than another?
Stevie sleeps through our music. We thought he would be really sensitive to it when we first got him and we used to put him in the bedroom when we did the live streams, but then we realised he couldn't care less, so we just let him join in now and he features in the background of the Shed Sessions! I think he's a bit partial to modern Country music specifically Brad Paisley, and he seems to like the theme tune to Dexter, he can't wait for the new series to come out!


Who looks after your pets whilst you're away on tour/holiday?
We've not had Stevie long enough to need a hamster-sitter yet, but one of Jamie's friends, who has a young daughter, has said he will look after Stevie, although they have just got a 10 week old kitten called Albus, so Stevie might need to make a friend if he fancies a holiday!




Speaking of practising, you've been doing you live shed sessions and of course your podcast. What other projects have you got in the pipeline?
I've been really busy with things, I've been busier than ever really! The weekly Shed Session live stream is great fun, we have such a good time playing and the banter with fans is so much fun, we chat about anything and everything, and it's great when the fans get chatting during the live stream and get involved with the daftness (we had a full discussion on the TV show Bread the other week, random but hilarious!).
I've been a bit lax with the podcast lately, as there hasn't been that much to chat about on there, although I did mention doing a joint daft one with Jamie when we were walking back from the shops the other day, a sort of continuation from the banter on the live stream, so that might be something to think about. I've been presenting a weekly 2 hour radio show on Hard Rock Hell Radio every Monday at 10am, which is great fun, they let me play anything I love, so I've been delving through my CD collection to find hidden gems.
I have been doing a bit of co-writing with a friend in the USA, and we released a single at the end of 2020. I also released a couple of songs through Cleopatra Records in the USA during lockdown, a rock cover of Lady Gaga's 'Stupid Love' and a track on a Dr John tribute album. 
I'm working on 2 versions of the Shed Sessions album, an acoustic one and one with Jamie on keyboards, so that's keeping us busy.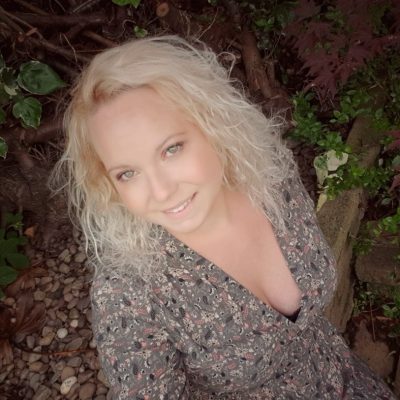 Have you anything you'd like to say to your fans/followers?
Just keep looking forward to a time when we can get out to gigs and things will be normal again one day. Stay safe and snuggle those pets!



Thank you for your time Chantel. It's been a pleasure as always
Keep up to date with all things Chantel McGregor, click HERE and to purchase her music, click HERE