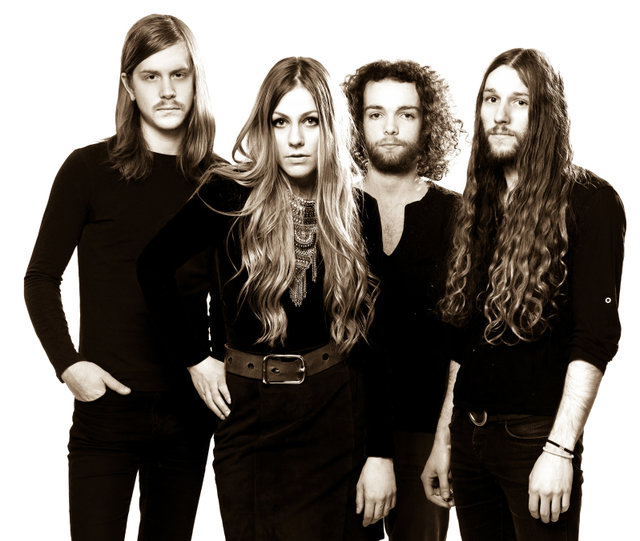 BLUES PILLS – release 'Lady In Gold' video teaser, album pre-order launched!
27th May 2016
Up and coming multi-national rock act BLUES PILLS have just finished shooting the official music video for the title track of their anticipated second album, 'Lady In Gold' (out 5th August). The song as well as the video are set to be released on June 3. See photos (by Peder Carlsson) from the set below.
The band have now unveiled a sneak peek of the upcoming video

Commented singer Elin Larsson: "We shot the video for Lady in Gold in Stockholm's skärgård ( what is like an old castle) with the amazing team around Johan Bååth. The idea behind the video is to visualize the Lady in Gold in all the different ways she can come. She can be that beautiful young woman or a scary old witch. It was a lot of fun and super exciting to jump into these different roles and characters. The whole team did a great job and it was a pleasure to work with all these talented people. Clothes and design was made by Anna Bonnevier and make up and hair by Cecilia Lidén. We all hope you will enjoy the video."
Lady In Gold is now available for pre-order. The album will be available in various formats, and all come with limited edition signed inserts:
Limited Edition Splatter, Bi-Coloured, Orange & Yellow vinyl.
Limited Edition Box Set (incl. CD+DVD Digipak, Poster, Picture LP, 12″ Photo card, and BLUES PILLS vinyl brush)
Pre-order here:
http://www.nuclearblaststore.co.uk/shop/nuclearblast/products.php?cat=4208
Limited Edition CD/DVD Digipack (Live in Berlin 2015)
CD
Limited Edition Black Vinyl
Limited Edition Gold Vinyl
(all with signed insert)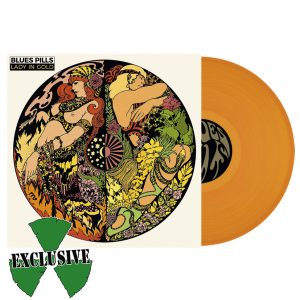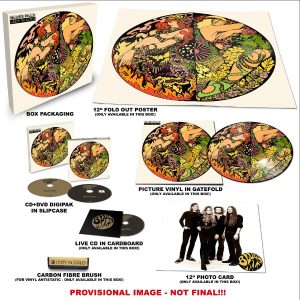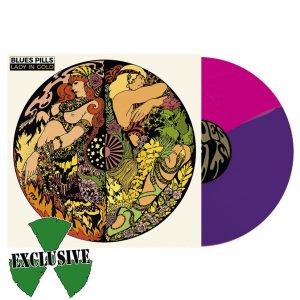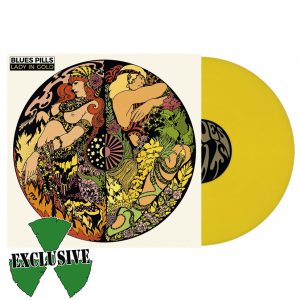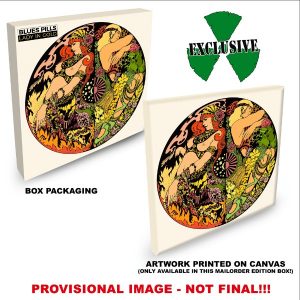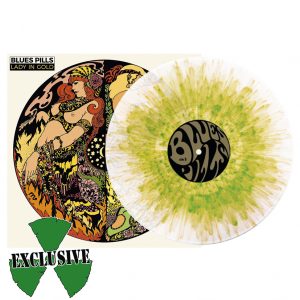 All available to pre-order here:
http://bit.ly/1U9i9Eg
Or pre-order the album digitally:
https://itunes.apple.com/gb/album/lady-in-gold/id1116949598
Just like its highly successful predecessor 2014's self-titled debut,  Lady In Gold was once again produced by Don Alsterberg (GRAVEYARD, DIVISION OF LAURA LEE, JOSÉ GONZÁLEZ, JERRY WILLIAMS). The cover art for Lady In Gold was created once again by Marijke Koger-Dunham (THE BEATLES, CREAM).
Lady In Gold tracklisting:
01. Lady In Gold
02. Little Boy Preacher
03. Burned Out
04. I Felt A Change
05. Gone So Long
06. Bad Talkers
07. You Gotta Try
08. Won't Go Back
09. Rejection
10. Elements And Things
Lady In Gold UK Tour 2016
Tickets on sale now, available from the links below: 
1st November – Wolverhampton – Slade Rooms
http://www.livenation.co.uk/artist/blues-pills-tickets
2nd November – Classic Grand – Glasgow
http://t-s.co/blu00
4th November – Voodoo Lounge – Dublin
www.ticketmaster.ie
5th November – Club Academy – Manchester
http://www.livenation.co.uk/artist/blues-pills-tickets
6th November – London – Koko
http://www.livenation.co.uk/artist/blues-pills-tickets
8th November – Bristol – Marble Factory
http://www.livenation.co.uk/artist/blues-pills-tickets
Welsh fans need not dismay as Blues Pills will be playing Steelhouse Festival in Gwent on 23rd July – tickets available here: http://www.steelhousefestival.com/tickets.html 
Summer Festivals 2016
23.06.2016 NO Halden -Tons Of Rock
24.06.2016 DE Neuhausen ob Eck -Southside
25.06.2016 DE Eichenring bei Scheeßel – Hurricane
30.06.2016 DK Roskilde -Roskilde Festival
01.07.2016 SE Norrköping -Bravalla Festival
02.07.2016 NO Skanevik -Skanevik Blues Festival
07.07.2016 SE Börlange -Peace & Love Festival
08.07.2016 PL Suwalki -Suwalki Blues Festival
09.07.2016 LU Differdange -Blues Express
16.07.2016 AT Bludenz -Woodrock
23.07.2016 UK Gwent -Steelhouse Festival
28.07.2016 DE Breitenbach am Herzberg -Burg Herzberg Festival
30.07.2016 DE Bornich -Loreley
31.07.2016 DE Mosbach -Großer Elzpark
12.08.2016 AT Bildein -Picture On festival
18.08.2016 BE Hasselt -Pukkelpop Festival
19.08.2016 DE Torgau -Rock & Blues Nacht
20.08.2016 DE Dinkelsbühl -Summer Breeze
11.11.2016 DE Weissenhäuser Strand -Metal Hammer Paradise
More on BLUES PILLS:
'High Class Woman' music video: https://youtu.be/I9y9fCZGHk4
'No Hope Left For Me' music video: https://youtu.be/iV9XFldAi7w
'Gypsy' music video: https://youtu.be/AFaqK1VShtk
'Devil Man' lyric video: https://youtu.be/g6p2R8jaUW0
'Jupiter' lyric video: https://youtu.be/R5Evh8E3_oI
www.bluespills.com | www.facebook.com/bluespills | www.nuclearblast.de/bluespills