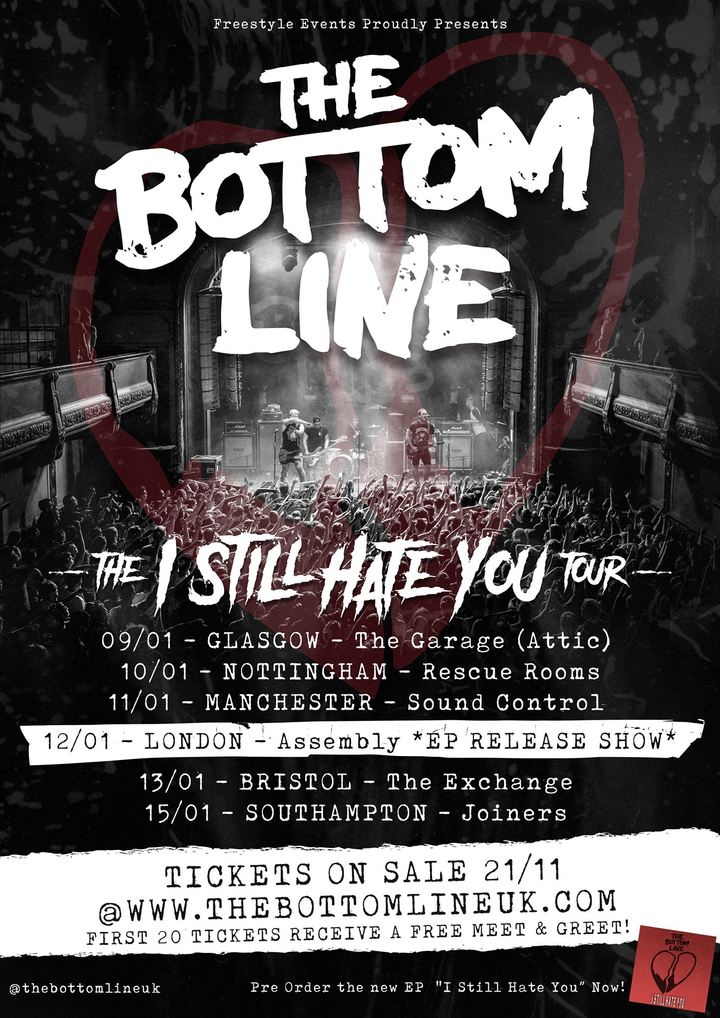 The Bottom Line – Gig Review – Manchester
16th January 2017
It was a freezing day and the wind was pushing me back the entire walk but I got to Sound Control bang on 7:00 PM and was glad the inside was warmer. Now before I go into the music side can I just point out that The Bottom Line are genuinely one of the nicest bands ever. I'll explain, on Facebook, I saw that one of my friends, Amy wanted to come to the gig but wanted to check starting times first so she messaged them. She was then debating with herself whether to make the mission of a journey from York to Manchester, The Bottom Line promised that not only would she not be disappointed with the show but they'd also throw in a free EP & poster for good measure. She came and they delivered on all fronts. Now if that isn't looking after your fans I don't know what is! Anyway on to the music…..
First up, Not Today. The biggest issue with this set was really nothing to do with the band, the guitars, one, in particular, were completely drowning out the sound of everything else. The singer did pick up on this after two songs and asked that the guitars were equalized a little better which improved the sound but still resulted in the singer shouting at times.
When the songs were stripped back, the singer's voice was incredible and his energy made him completely stand out from the awkward, wooden performance and glum faces of the other band members. Musically, not too shabby but need to work on their performance side and give the sub-par screaming attempts a rest. Overall the vocalist was fantastic (when you could hear him), the music was average and the performance was lacking but onwards and upwards and ready for the next band.
Next, On the Open Road…who kicked in with some seriously funky Greenday style riffs, the energy was up and then the singer started. Within minutes my head was throbbing with the tuneless shouts of a wannabe pop punk band. It's a shame really since the performance was genuinely good, not great but good. The guitars were more equal, the screamer was much better but the vocalist from Not Today could run circles around this guy. There was some impressive heavy riffing and they seemed more old punk than pop punk. They also announced that this was their last show so were giving away free merch which was pretty cool but I don't feel like splitting up would be the worst thing that happens.
I was feeling a little deflated by this point and completely ready to call it a night and just go home but then The Bottom Line came on. Instantly the energy rose, in the room and on the stage. A total shift in dynamics and they went straight into old school pop punk with a new school vibe, going for gold in every aspect of their songs and performance.
Safe to say that after only one song they totally turned this gig around for me. The interaction with the crowd was electric and they genuinely looked elated to be there despite a pretty poor turnout (they deserved so many more people).
The tempo was stylistically speedy and fun with hood laden choruses, power chord changes and prizing song craft which gave a genuine buzz and could be seen on the faces of the crowd, the band and the staff alike.
I honestly have no complaints about The Bottom Line, they are everything you want from pop punk and more with the cheeky teenage attitude of an American Pie movie and all the flair of the noughties bands we all love so much. A few extra treats involved a rendition of the Friends theme tune complete with crowd clapping, Teenage Dirtbag (Max did the girly part in the most hysterical way I was almost crying I laughed so hard), they did an onstage drink off with a prize of free merch and then Callum did a mini crowd surf like a true rock star.
Despite a couple of technical issues, they sailed through their set, using gimmick raps to fill time and did the most beautiful acoustic number I think I've ever heard. The music is catchy and Insecure will be stuck in your head for days, they had this cathartic energy to their performance and the whole thing fused together to make for one hell of a show. If you haven't seen these guys before I suggest that you get a ticket booked and buy their new EP, you will not be disappointed!