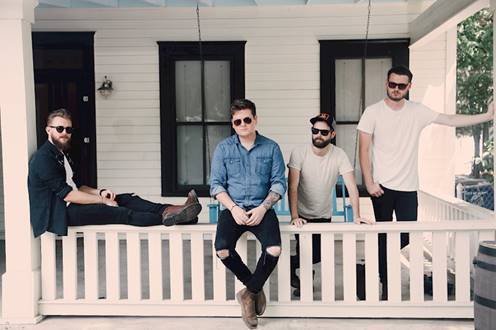 Broken Witt Rebels Share previously unseen live performance Video of 'Guns' as they celebrate a trio of London shows supporting Reef
29th November 2018
Award-winning  Broken Witt Rebels share their video of their live performance of 'Guns' ahead of the three London shows at Nells tonight Thursday29th Friday  30th and Saturday 1st Dec.
'Guns' comes from the band's 10-track album, co-produced with Tom Gittins (who's worked with living rock legend Robert Plant)
Broken Witt Rebels are: Danny Core (vocals and rhythm guitar), James Tranter (vocals and lead guitar), Luke Davis (vocals and bass) and James Dudley (drums and percussion). Hailing from Birmingham in the UK (a city with a long, rich musical pedigree), the rocking, rebel foursome deliver an intoxicating blend of soulful Americana, blues, and wailing rock guitar, fronted by powerful, feeling-filled vocals.
"Life on the road with Reef is brilliant!" says Danny Core "They are great guys and bring it every night. We have been so overwhelmed with the response we have got for each night after our performance! We are truly grateful for the opportunity to play in front of such a giving set of fans. London is always great for us so we are looking forward to camping out there for three nights this week.
With Manchester, Nottingham,  Bilston, Southampton, and Oxford still to come, we are excited as there are some of our favourite venues in that list still to play.  It's a blast, we are just changing gear, We can feel the momentum around this tour and wanted to put something out there that fans new and old will appreciate .
"Guns' is a special song for us,  it's about respecting our history and where we are from!.  It's always special to play this song live, especially in Birmingham . We shot this on a hot sticky night in a room local to us . England were playing Costa Rica and behind the lights and dry ice we had screens up so we could keep an eye on what was going on.  England finally won a penalty shoot out and we kicked into this take of "Guns" . It was a perfect day for us , we loved it!"
ALBUM ORDER LINK
https://snakefarmrecords.lnk.to/brokenwittrebels
REMAINING UK TOUR DATES WITH REEF
29 – Nov  London – Neils
30 – Nov  London – Neils
01 – Dec  London – Neis
06 – Dec  Manchester – Academy 2
07 – Dec  Sheffield – Plug
08 – Dec  Nottingham – Rescue Rooms
13 – Dec  Bilston – Robin
14 – Dec  Southampton – Engine Rooms
15 – Dec  Oxford – Academy
How useful was this post?
Click on a thumb to rate it!
Average rating / 5. Vote count: