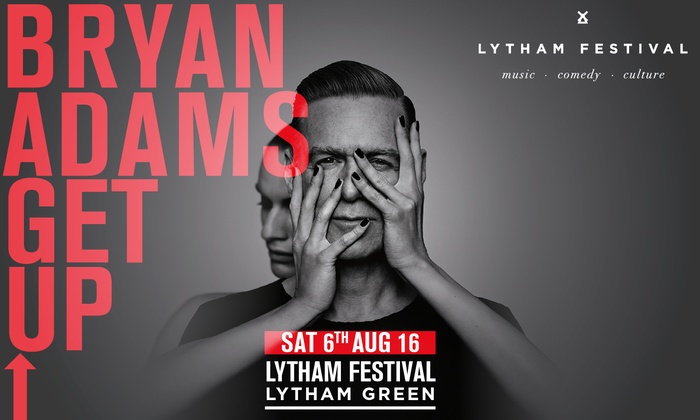 Bryan Adams Lytham Festival Review
12th August 2016
BRYAN ADAMS: LYTHAM FESTIVAL – 06/08/2016
I remember going to see Bryan Adams as a young teen with my parents as my first ever concert at the Manchester Evening News Arena in 2007, this is where I instantly fell in love with classic rock. My school friends would poke jokes at me while they were listening to pop chart music and the fact they said 'I wasn't with the times', yet here i am now covering this world renown musician at this fabulous event here at Lytham Festival. For any school friends reading, who's got the last laugh now?!
It was a couple of hours drive from Manchester to Lytham Festival, but the weather was on our side glorious sunshine not a cloud in the sky, today was going to be a great day! When we arrived we took a walk around, the set up had changed a lot since I had last been to this festival back in 2011. The capacity had increased immensely, the main stage still standing proudly at the seafront with VIP tiered seating opposite, to the left of this was the marquee hosting a 3 course meal for those that had purchased exclusive tickets. There were fairground rides and confectionary stands dotted around the arena, a black bus serving oysters and champagne, one could get used to this not like the usual burger in a bun you get at other festivals.
A sell out crowd of 14.5 thousand people waiting for Bryan Adams to step out onto this stage, a crowd of all ages but more sensible than the usual festival crowds who push and shove, people had arranged themselves into orderly rows waiting patiently. As the band step out onto the stage a roar of applause echoes across the green.
As well as showcasing tracks from Get Up, Bryan Adams' 13th album, Bryan reminds us why he sells out arenas across the country as he belts out some of his all time classics. He chats in between songs with the crowds interacting and responding positively to him throughout the night. One of the highlights throughout the night was Bryan Adams holding his phone up asking the crowds to do the Mexican wave from one side of the arena to the other, this can be found on his Instagram page.
He kicks of his set with Do What You Gotta Do , followed by Cant Stop This Thing We Started mixing up his new tracks with some of his well-loved hits to keep the crowds bouncing, lapping up this truly inspiring performance. This was followed by Dont Even Try, Run To You, Go Down Rockin', Heaven and Kids Wanna Rock, to which the band bound about on stage showing relentless energy, high tailing from one side of the stage to the other. Next up was Its Only Love where Keith Scott shreds out an amazing guitar solo, which leaves the crowds in awe watching this very talented musician shine as his smooth riffs can be clearly heard across the crowds.
About an hour into his set the rest of the band walk off stage leaving Bryan to go solo for the next song. He grabs his acoustic guitar for a well-known track he did a video with Sporty Spice Girl Melanie C for the song When Your Gone, crowds chanting along with this all time favourite, its fantastic to hear everyone in unison for this song. Bryan continues on his acoustic guitar for Everything I Do, the crowds swaying to this fabulous sound track from well-known movie Robin Hood Prince Of Thieves, which is featured on Bryan's sixth studio album Waking Up The Neighbours (1991). This track spent 16 consecutive weeks in the UK's UK Singles Chart (the longest in British chart history).
Later on throughout the set Bryan Adams states the band are doing a song that has been most requested on Instagram Have You Ever Really Loved A Woman which was number #1 for 5 weeks on the Billboard Hot 100 in the USA, and went on to earn the Bryan Adams team their second Oscar nomination. The band tease the crowd and pretend they are finishing on The Only Thing that Looks Good On Me Is You, and walk off stage.
The crowd then shout for an Encore. He continues on with Brand New Day off his new album, followed by C'mon Everybody which then goes straight into an Elvis cover of I'm All Shook Up. The band then once again walks off stage leaving Bryan to go solo. Bryan trades in his electric guitar for his acoustic guitar and goes straight into She Knows Me, a slow melodic track from his album released back in 2014 to which he wrote alongside Jim Vallance. He then says to the audience 'I love it when you guys sing along, you're amazing'.
Bryan then gets out his harmonica for his next song Straight From The Heart off his Cuts Like A Knife album from way back in 1983. Time has not weakened this performers voice, it is now what it has always been: pitch perfect.
Remember is the next song to which Bryan Adams tells us he wrote this song in his teens, recorded back in 1979 and it wasn't until 1980 when it was released with A&M Records. You can see after this song that Bryan adams is truly humbled by the crowds response here tonight as he surveys from the stage and takes it all in, he begins to laugh and the crowds chant one more song, Bryan mouths to the crowds 'Are You Joking?' and laughs again.
Bryan finishes the night with All For Love, to which the crowds hold up their modern-day lighters their mobile phones with lights on showing their gratitude and respect for this marvellous artist. Singing along to this well-loved soundtrack takes you back to the movie it was featured on 'The Three Musketeers', and really makes you reminisce. This has been a spectacular performance with a lot of sing a long favourites as well as some tremendous power ballads and juicy little acoustic numbers to keep things fresh.
A fabulous event put on by the Cuffe & Taylor team, Lytham festival has really put Lytham on the map, this is definitely an event you wont want to miss in future!
Setlist
Do what you've gotta do
Cant Stop This Thing We Started
Dont Even Try
Run To You
Go Down Rockin
Heaven
kids wanna rock
Its only love
This Time
You Belong To Me
Summer of 69
When you're gone
Everything i do
If you wanna be bad
Back to you
We did it all
Somebody
Have you ever really loved a woman
I will always be right there
It cuts like a knife
18 til i die
The Only Thing That Looks Good On Me
BAND GOT OFF STAGE CROWD SHOUT FOR ENCORE
Brand new day
C'mon on everybody
I'm all shook up
BAND GO OFF JUST BRYAN LEFT ON STAGE
She knows me
Straight from the heart
Remember
29)All For Love
Lytham Festival can be found on Facebook here – Bryan Adams can be found here