Buckcherry – Warpaint
1st August 2019
One of the promising acts of the early 2000's, Buckcherry broke the mould by re-inventing classic rock vibes with modern sounds. They showed the type of swagger you would expect from Steve Tyler or Mick Jagger and with songs like "Crazy Bitch" and "Sorry". But their beginnings were quite the turmoil, with line-up changes and a critical view of their second album, Time Bomb in 2001, Buckcherry took a leave of absence from the scene in 2002. It was their return in 2005 that truly lit up the scene with their 3rd album, 15; they were back on the map once again and looking good. Then followed Black Butterfly, All Night Long and Confessions which all saw critical acclaim pass their way.
However, in recent years, Buckcherry have not continued that trend, and it's not too surprising, bands do get a little jaded after a while and withRock'n'Roll, this was felt quite hard, it just lacked its usual appeal. Now Buckcherry brings us Warpaint, their latest and eighth studio album with record label Century Media; will this be a call to arms or nothing but a splatter on the canvas?
Well, let's just say, this is more one for the super fans; from the first track to the final track, Warpaint does nothing to help Buckcherry's plight in recent years. The sound is fairly typical of Buckcherry's usual style but there is no variation, no bite to the tracks; it's as if the band are going through the paces and had a deadline to hit. Much like the title track which promotes going out to the night club and the Warpaint we wear as a mask to hide behind, so does the album as a whole; dig a little deeper and there is nothing substantial to take hold of.
The guitar work is pretty generic, not showing off the usual skills you would expect from the Los Angeles quintet; instead the general sound feels flat, with little substance and the lyrics don't help the situation with derivative content that shows no passion and no originality. From the opening Warpaint, through Right Now, Radio Song, Back Downand The Hunger the album has very little pizzazz or even shifts gear; to make matters worse, the cover of Head Like a Hole hits like a whet lettuce, its poor rendition leaves a biter taste in the mouth for such an iconic Nine Inch Nails track.
Needless to say Warpaint is poor, it's hard to find anything positive to say, which is a shame when considering who the band is and their memories they hold for one of their fans. Whatever the reasons, Buckcherry has shown that regardless of past triumphs, albums such as this can be created and hopefully forgotten. Will they hit the heights of 15 again? Going off recent albums, I would say not but then again Metallica went through a similar bad patch, so it gives me hope.
Score 3/10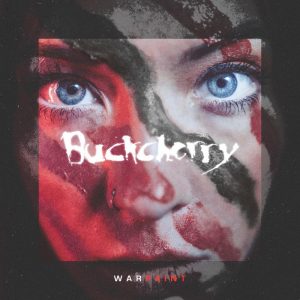 Track Listing:
1. Warpaint
2. Right Now
3. Head Like a Hole (Nine Inch Nails cover)
4. Radio Song
5. The Vacuum
6. Bent
7. Back Down
8. The Alarm
9. No Regrets
10. The Hunger
11. Closer
12. The Devil's in the Details
Release Date:
Out Now
Record Label:
Century Media
Check out Buckcherry on Facebook. You can purchase Warpaint HERE.