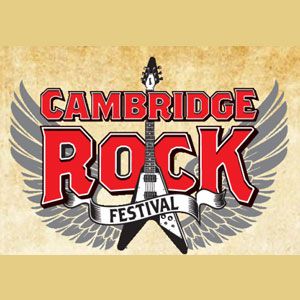 Cambridge Rock Festival 2013
11th June 2013
2013 is the year that the Cambridge Rock Festival celebrates its 10th birthday. It is a year for festivities and great music, both reliving some of the great bands that have played at this festival over the years and adding new bands to a fantastic line-up.
Magnum being one of this year's highlights at the festival.The talented artist Rodney Matthews who has designed 10 album covers for Magnum, will be there displaying his iconic work and signing prints.
Over 100 bands will be playing the festival over a 4 day period including Caravan, Mostly Autumn, The Quireboys, Praying Mantis, Deborah Bonham, Bonafide, Eddie and the Hotrods, Hazel O' Connor and Cregan and Co (playing the songbook of Rod Stewart).Finally the legendary Animals singing all their greatest hits will close the festival in style!
For those "Prog lovers", The Classic Rock Society has its own stage on Friday with Landmarq, LoreWeaver, Abel Ganz and Primitive Instinct.
Some much talked about bands include The Carnabys, who recently won the "Hard Rock Rising" global battle of the bands 2013, Walkway, Attica Rage, The Temperance Movement, HeKz and not forgetting the fantastic Ben Poole.
The Blues Stage features old favourites like Buster James, the amazing Del Bronham, Roadhouse, and The Mustangs to name but a few.
The Acoustic Stage has some incredible acts playing including Robert Brown, Steve Rogers, Malcolm Bruce, Matt Stevens, Emma Black, Adrian Nation and many more brilliant artists.
This all takes place 1st- 4th. August at Haggis Farm Polo Club ( CB23 7PZ ) with on-site camping, just off the M11, junction 12, outside Barton, Cambridge. The festival is famous for having over 80 real ales. ciders and lagers! There are also great food stands and stalls selling clothing, jewellery, CD's, Vinyl and various arts and crafts.
Rain or shine, it does not matter as all 3 stages are in marquees, under cover! For more information about the festival, its brilliant line-up and how to book tickets, visit www.cambridgerockfestival.co.uk