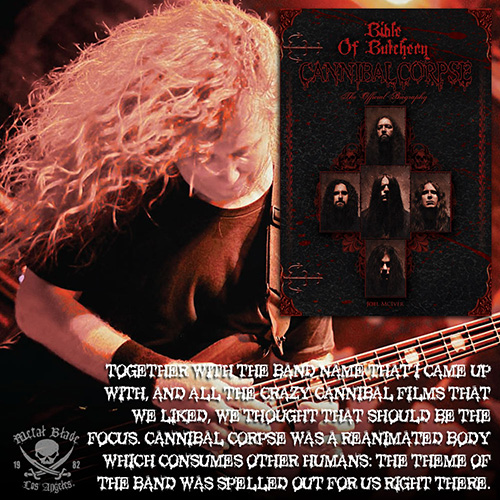 Cannibal Corpse – The Bible of Butchery
22nd September 2014
"Bible of Butchery" is the official biography of legendary US death metal band Cannibal Corpse, released by Metal Blade records this past month. Written by longtime fan and supporter Joel McIver, the bible is more of a celebration of the band's longstanding history and in depth personal look at the band members than a crucial assessment of its history which makes for a fun read and collector's item for fans more than a pressing intellectual endeavor. Given the personal nature of the book and its content, I have opted to begin this review with my own take on how Cannibal Corpse affected me personally as a musician and fan.
My first introduction to Cannibal Corpse was in the eighth grade at the local mall. I was with Anthony Biello, future drummer of Severed Remains and we were Christmas shopping. Anthony and I were beginning a lifelong journey of metal fandom having just picked up records by Sepultura, Obituary, Testament, Death, and all of the classic death and thrash essentials. In need of something extreme, I picked up a censored version of "Tomb of the Mutilated" not really knowing what to expect. Never had I heard music and lyrics this extreme. "Tomb" was one of those records that attracted you because of its obnoxious extremity but kept you coming back because, beneath the gore and shock, there was genuinely good song writing and memorable tunes. Chris Barnes' vocals were astonishingly intense and gave the band a character that changed the genre of death metal forever. I still jam Cannibal to this day because no matter how old I get, they set the bar for death metal continuously.
Each member of Cannibal Corpse gives you a personal testament of their journey through life, music, touring, and success in a genre of music many still consider unknown. George Fisher's tale of joining Cannibal Corpse is something I found particularly interesting. A fan that whimsically was offered a spot in a band he admired, his story resembles that of Henry Rollins in Black Flag. Fisher's attitude of needing to prove himself to fans and even himself that he belongs and his desire to stand out is something I respect. Each member's biography also in many ways mirrors the rise of death metal in the United States itself. The members discuss how their tastes in metal evolved from early bands like Accept and Black Sabbath to the thrash of Metallica, Slayer, and Kreator before eventually being tremendously immersed in the tape trading of the 1980s that spawned bands like Death, Morbid Angel, and eventually Cannibal Corpse. For fans of Cannibal Corpse, this biography is as much a history of death metal itself as it is a story of a particular band. Equally as interesting and compelling is Alex Webster's discussion of the influence of horror films on Cannibal Corpse and death metal itself. As a fan of horror films, Webster and the other members of the band liken Cannibal to a musical version of a Lucio Fulci film, something I can relate to very much so as I'm sure others can as well.
Musicians and fans will surely enjoy the members' descriptions of the history and writing process for classic songs. Full lyrics are provided in the book along with interesting accounts concerning the writing process, how and why a particular track was written or constructed a certain way, and how a particular song's concept was conceived. As a musician I really enjoyed this addition to the book. For a band with a sound that is relatively unchanged (at least drastically) over two decades, it's interesting to discover Cannibal's secret to staying relevant and musically compelling.
Two pieces of the nearly 170 plus page book were humanizing and compelling as well. The book is full of road and tour stories. Although most are typical "we got so drunk dude" stories, the story of the band meeting with and talking to Dimebag Darrell outside of a gig is touching, compelling, and humbling given the metal legend's discussion of how cool he thought Cannibal's music was. Antidotes such as this reveal that, despite their success over the years, Cannibal is still a band comprised of five metal fans that are grateful to be able to do what they love. Pat O'Brien's assessment of his filling in for Slayer was equally humbling and interesting for the same reason. O'Brien discusses the experience as validating for the band and shows a personal, relatable side to a band full of successful musicians.
Although the book is a fun and enjoyable read for fans, there are some things that are omitted that I would personally have liked included. An underlying theme of the book is censorship and Cannibal's turbulent history with the music industry and political figures both at home and abroad. Despite individual members defending the band's art in comparison to film and statements about how parents need to explain the differences between fantasy and reality to children, an apolitical attitude and overall silence on a rather important political issue I think speaks volumes more than anything else in the book. No matter what the band says (and they do) about being apolitical, Cannibal Corpse's entire existence is political because it is entrenched in a very significant debate over censorship, free speech, and artistic freedom universally and domestically. Whether or not this particular book, given its content, was a necessary platform to discuss the matter in detail is debatable, but the overall reluctance of the band to take a strong stance on the issue is apparent here as it has been throughout the band's career. Death metal has been criticized by many for not taking strong stances on issues that it is directly involved with, and I think if Cannibal breaks that tradition it will be to the benefit and betterment of the genre as a whole.
A second frustration with the book is the obvious absence of Chris Barnes from it. Granted, this is a personal look at Cannibal then and now (the latter being something Chris is not a part of) and a celebration of the band's story as a collective unit, but I think fans would have appreciated at least one or two stories either from or about Barnes. This, coupled with the rather safe responses regarding the censorship issue, give the book the overall feel that the band and label were very concerned with how the band's story and personal stories are told. Cannibal is perhaps overly conscious of its image and it comes through in the book. Although the information is interesting and compelling for fans, it leaves certain things vague and unanswered and fails in some ways to address significant aspects of the band's past and influence. The book will surely be a collector's item, but the content isn't something that necessitates a book per say.
Overall, "Bible of Butchery" is an enjoyable read that fans should thoroughly enjoy and relish. Cannibal Corpse is a band comprised of fans and a band that certainly appreciates those who have made them successful. I've always wanted to meet the guys in Cannibal and hear some great stories being shared over some adult beverages. This book only perpetuates that desire.
7.5 out of 10
Release Date: August 25th, 2014