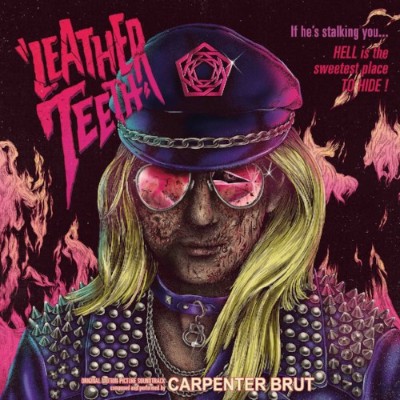 Carpenter Brut announces 'Leather Teeth' physical release
19th March 2018
After surprising fans with the digital drop of his highly acclaimed new album Leather Teeth, which has been met by rave reviews and support from Radio 1, iconic French synthwave producer Carpenter Brut has announced the physical release of the record for April 20th through Caroline International.
Leather Teeth
is the soundtrack of a dark coming-of-age film, pulling together dirty synthesizers, stomping rave beats and big rock riffs. The album follows the story of Bret Halford, an introverted science student. He likes a girl who doesn't like him and much prefers the team's star quarterback. Bret gets mad. He tries to create a concoction that will allow him to control them all, but ends up disfigured and decides instead to become a rock star. This is how he will seduce the girl, and all other girls: by becoming Leather Teeth, singer of Leather Patrol.  
Bret Halford (aka Leather Teeth) is an inspired mix between Bret Michaels from Poison and Rob Halford from Judas Priest, and this is the soundtrack of an imagined movie from 1987, of a cheerleader (the track 'Cheerleader Effect'), of glances exchanged during a 'Sunday Lunch', only to become 'Monday Hunt'.  
Carpenter Brut is telling the story of
Leather Teeth
through extensive touring this year. He has played sold out shows across Europe throughout March and visits the UK for two sold out headline shows at Manchester's Academy 2 on March 22
nd
and London's KOKO on March 22
nd
.  
Following this he plays a full headline tour of America and is confirmed to appear at festivals across the world including Coachella, Primavera, Hellfest among many others. Full headline tour dates can be found
here
.