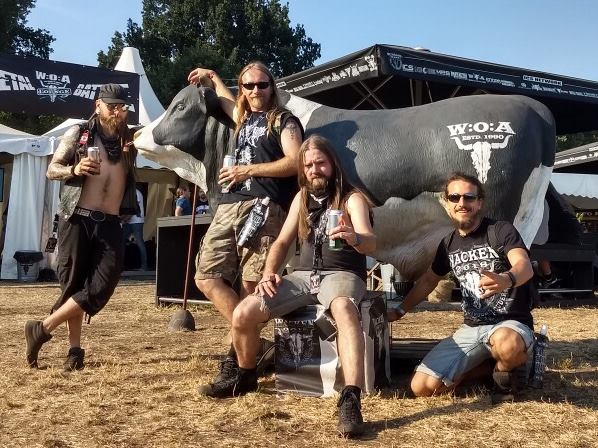 Centuries of Decay- wacken metal battle interview
29th August 2018
0
By
Queen Nikki
Wacken Open Air is one of the Biggest Heavy Metal festivals in the world. Wacken started a worldwide battle of the bands called The Wacken Metal battle and this 2018 will be its 15th year running. The competition encourages eager bands around the world to compete their way to the top and the winning represents their country in the highest honour; playing at Wacken Open Air in Germany. This year at Wacken, I met up with Devin Doucette, of Canadian Metal Battle winners, Centuries of Decay, for many beers in the dust. I decided to catch up with him post festival to get the behind the scenes on how the battles were from the band point of view.
Hey Devin, you guys have just returned home from the Mighty Wacken Open Air festival in Germany. Centuries of Decay competed in the Wacken metal battle, after winning the Canadian round of the metal battle and you played to a full crowd on the stage, I was there and the show was incredible. How was the competition process for you with the metal battles in Canada?
Thanks Nikki! Playing at Wacken was a dream come true. The competition in Canada was a lot of fun! Toronto and the surrounding area has a lot of metal bands. So many in fact that there were 4 stacked qualifier shows held every weekend in February followed by the Southern Ontario Finals, which consisted of the winners of each of those 4 qualifier shows. The winning bands were judged based on performance, stage presence, originality etc. There were score cards, but basically after all the bands played, a winner was called out. We competed back in 2016, but never made it past the qualifying round. This year, we decided to focus on what made our band unique, and built a set consisting of 3 songs; 2 of which were almost 10 min. long. We figured that no one would try something so ridiculous! We felt pretty confident with our first show, but the Southern Ontario Finals composed of bands that we were good friends with, and were some of the best live bands in our scene. It was a little intimidating so see the step up in talent that was on the stage that night, but also exciting. Two bands moved on to the Eastern Canada Finals in Montreal, us and Lutharo (from Hamilton).
Montreal did things very differently. When we arrived, we met the promoter who bought us a beer and explained the process. There was a panel of 7 judges this time and at the end of a bands set, they would live critique your performance while you were still on stage, in front of the crowd. Some of the judges were pretty brutal, and even bands that I thought played an amazing set, were put through the ringer. We were pretty nervous with what was about to happen. We finished our set, and braced for the beat down, but the panel was absolutely floored by what we just did. We ended up taking the win and moved on to the Canadian Finals, which were held at the Opera House back in Toronto. It was the East Coast winners, Centuries of Decay, vs the West Coast winner, Hammerdrone. Playing a stage that size was a first for us, and we had a blast! Hammerdrone were also incredible to watch and very cool dudes. We both played our hearts out and in the end, we were victorious.
You were definitely victorious, and then suddenly you were on your way to Germany to attend the Mecca of Heavy Metal, to compete in one of the biggest metal battles in the world, that's pretty damned exciting, what was going through your mind when you landed?
For my brother Derrick, who plays drums and I, it was our first venture outside of our home country, so already, it was new, exciting and super stressful. On top of that, the airline we were travelling with lost Matt's bass guitar. Our lead guitarist, Rob and I decided to roll the dice and pack our guitars in soft cases and bring them as carry-on but Matt's bass was too big. We also ended up staying a day in Hamburg to get supplies and camping gear. Once we got on the grounds, our mood totally changed. Seeing the giant tent, and the two main stages was just incredible.
How were the 'behind the scenes' of the Wacken metal battle for you? Did you meet any of the other bands? How was the backstage vibe?
The vibe was very positive. We got to meet a bunch of bands from around the world. We ended up sharing some drinks with Xenoblight from Denmark, Steel Night from Mexico and Nemoreus from Austria. We were also camped next to Asylum from Suriname, who blasted Strapping Young Lad for us when they found out that we were Canadian! We also had access to the Artist tent which was located just behind the Tent that housed the Headbanger and W.E.T. stages. After our set, we ate at the buffet and noticed that Sepultura was eating behind us! Afterwards, while waiting in line for the wash room, Derrick Green cued up behind me and we ended up chatting about festival wash rooms. He was a really cool, down to earth guy and later that night, I got to see them absolutely crush it on stage.
This was your first time attending W.O.A? How was it for you? What do you think were your favourite moments of the festival this year?
Like I said earlier, this was the first time even stepping foot out of the country. I've seen videos of Wacken performances and have always dreamed of attending. I can honestly say that this was probably one of the best times of my life. 75000 people in attendance and I didn't see one fight, one argument and everyone we talked to were having a blast! Playing on stage was definitely a highlight. When we played, the tent was absolutely full, like around 2000 people and in the front, were a ton of Canadian fans and flags. Meeting new friends, fans and contacts was absolutely my favourite part of our journey, followed closely by the huge list of bands that I got to see! Being in a giant circle pit during Gojira's performance was also unbelievable!
If you were going to describe your live performance to someone who has never seen you guys before, how would you describe it and what have been your main influences?
Our music covers a lot of territory and we like to play with contrast. If you took bands like Enslaved, Meshuggah, Emperor, and Gojira and stuck them in a blender, you would get something close to what we are doing. We like taking Heavy, Rhythmic passages with different time signatures and juxtaposing them with big epic chords and melodies. We play 7 string guitars, but try to use the whole range of the instrument. We also don't shy away from longer, epic songs.
Now you've returned home with another notch on the bullet belt, what's up next for Centuries of Decay? Any upcoming tours? New music on the cards?
Our debut album, 'Centuries of Decay' was released about a year ago, so we feel that its high time to get started on another epic album. We've learned much since it's release and have a better idea of where we want to go musically. In the meantime, we have a few more shows to squeeze in before the year is done in both Toronto and Hamilton.
Thanks for the catch up Devin, I hope to be seeing you guys again soon, if not in the dirty fields of Germany, then perhaps somewhere in the UK, if we're lucky!
Go and check out their self titled album, put it on, grab a beer and listen to the all of reasons these guys made it to the final battle. They are absolutely a band to keep your eyes and ears on.
For all things Centuries of Decay click HERE and to purchase the album, click HERE
How useful was this post?
Click on a thumb to rate it!
Average rating 0 / 5. Vote count: 0
No votes so far! Be the first to rate this post.
Related
About the author
"It does not require a majority, but an irate, tireless minority, keen to set bushfires in people's minds." Hail Satan!