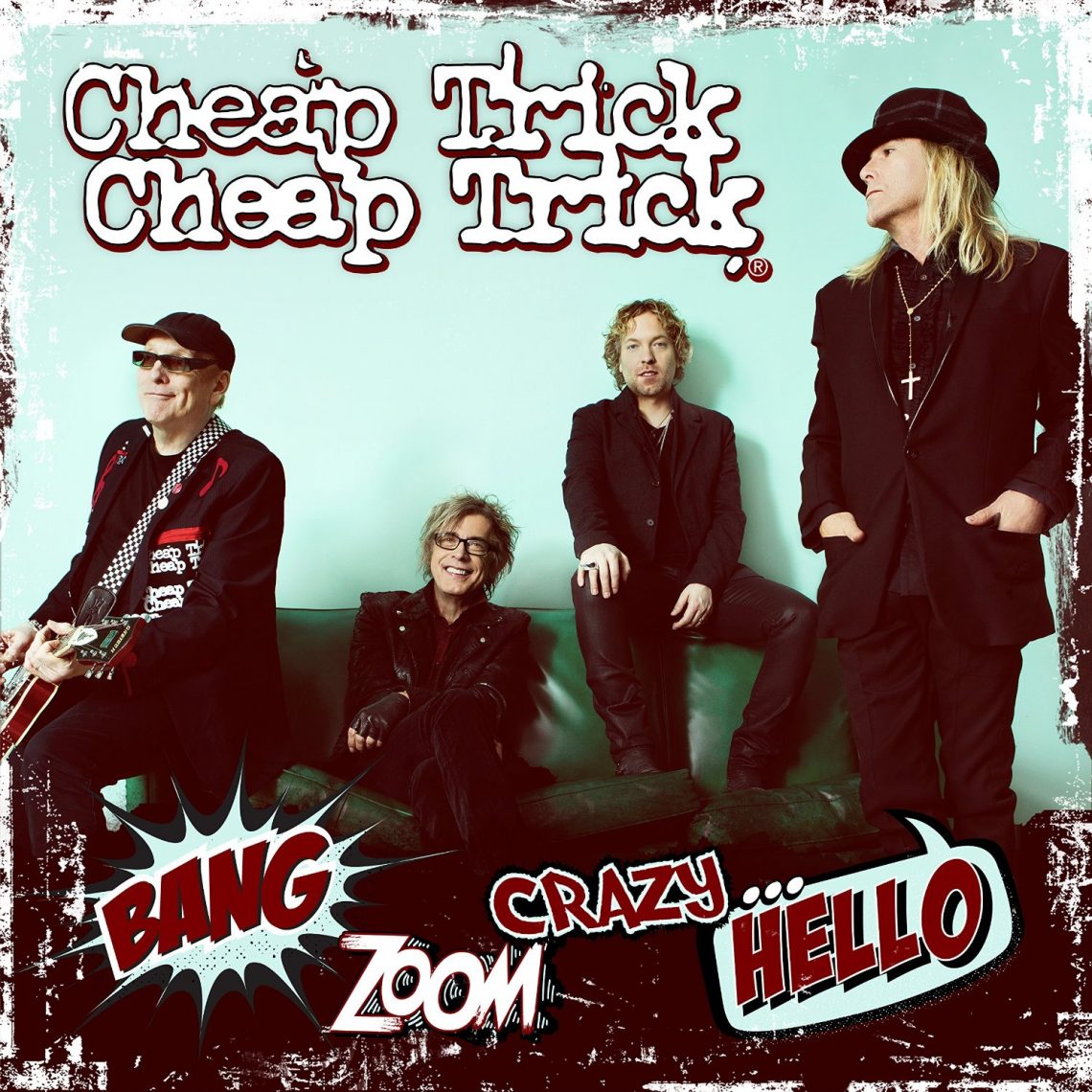 CHEAP TRICK – BANG ZOOM CRAZY… HELLO – CD REVIEW
25th March 2016
This seems to be the year of the classic band return. First we had Hawkwind, then Diamond Head & now CHEAP TRICK.
It's been 7 years since we had any new product from Cheap Trick & the lead track is actually the 3rd cut on the album & it's very David Bowie in nature & in total honesty 'When I Wake Up Tomorrow' is the weakest link & it doesn't represent the rest of the offering  well.


As soon as you insert the disc into the machine & press play there's a touch of feedback & in walks the track 'Heart of the Line' which slams you in the face harder than a Mike Tyson knockout punch.

It doesn't let up either. 'No Direction Home' lets you get up off the floor but keeps you firmly on the ropes as the chorus gives you a constant left & right hand battering.
'When I Wake Up Tomorrow' atleast gives you a complete break & allows you to compose yourself before round 4.
'Do You Believe Me' keeps up the pressure from the 1st 2 rounds & you know it's going to be punishing. Robin Zander is just toying with you now & tags in Rick Nielson to deliver a few killer riffs to the celiac plexus just to remind you what he's capable of.
Round five gives you 'Blood Red Lips' & has the taunt of Muhammad Ali with its Status Quoesque beat down.
'Sing My Blues Away' lets you get your second wind before 'Roll Me' comes steaming back in to knock 7 buckets of crap outta you.
After a swift uppercut 'The In Crowd' (originally recorded by Dobie Gray) has you seeing stars & tweeting birds.
'Long Time No See Ya' allows you to get back into the match but it immediately starts to run rings around you. Jabbing away & just taunting you as you prepare for your inevitable knockdown.
The album is not even done taunting you yet & that's evident with 'The Sun Never Sets' & its fancy footwork.
The only releief you get is in the final round 'All Strung Out' which delivers the final knockout blow.
As you lie bleeding & in a state of shock you come to realize that even at the grand ol age of 43, Cheap Trick can still whip your ass.
This band has never been fitter & the 7 year break has truly served them well. They have NEVER sounded this good or produced an album that batters the living shit out of you from start to finish
This is the 1st album to not have Bun E Carlos on drums. Although Carlos remains an official member of the group, he neither records nor tours with the band & his position in the band has been filled by Daxx Nielsen. Even so this amazing piece of work is currently available via pre-order only here until the 1st of April. At which point all the other beautiful places will have this to purchase. So you still have time to do some training before you get knocked out by this record in the same way I just have.

For fans of classic hard rock & more
Track List
Heart On The Line
No Direction Home
When I Wake Up Tomorrow
Do You Believe Me?
Blood Red Lips
Sing My Blues Away
Roll Me
The In Crowd
Long Time No See Ya
The Sun Never Sets
All Strung Out
Band Members
Rick Nielsen – lead guitar, piano, backing vocals
Tom Petersson – bass, backing vocals
Robin Zander – lead vocals, rhythm guitar
Bun E. Carlos – drums
Score 9.5/10