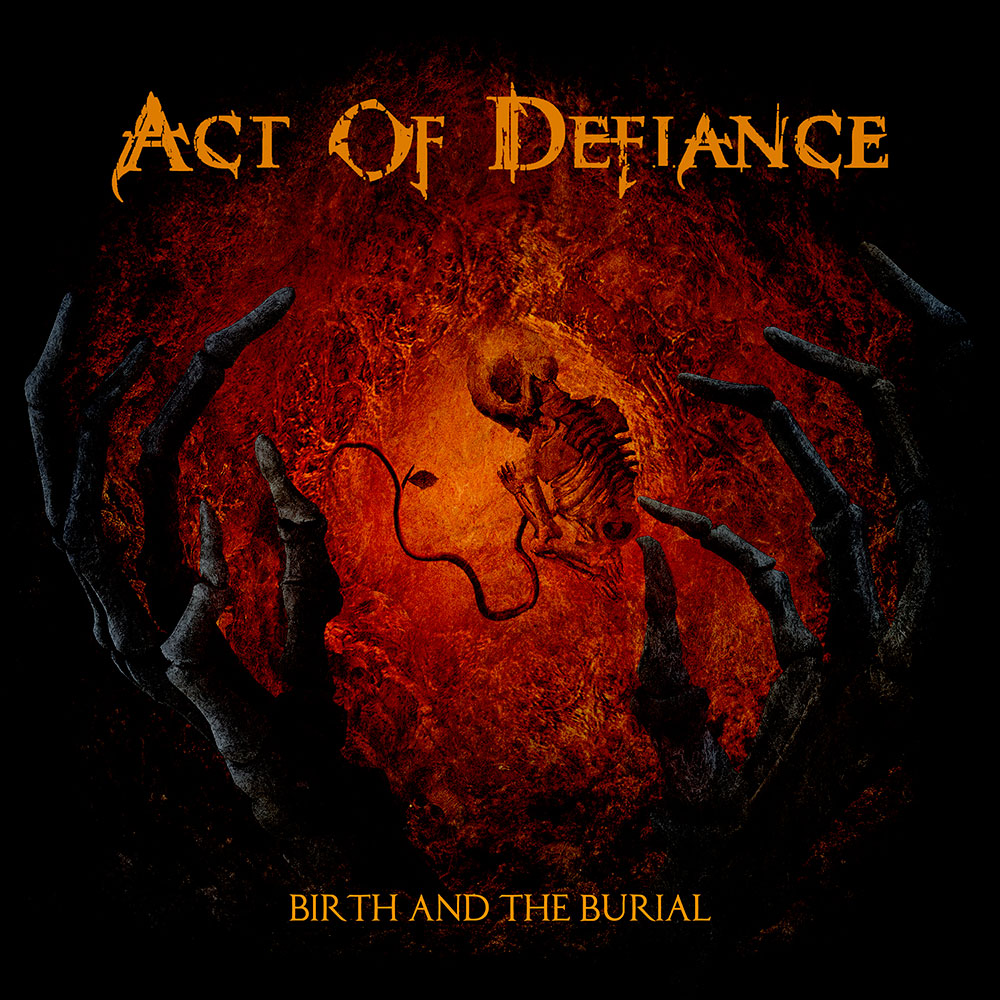 CHRIS BRODERICK – ACT OF DEFIANCE interview
10th October 2015
0
By
John Deaux
In the wake of the Act Of Defiance album release I sat down for a chat with Chris Broderick to discuss the new album, guitars & the Act of Defiance up & coming tour.
Hi Chris & welcome.
Thank you.
Let's start off by discussing the new album by Act Of Defiance. It is a straight ahead, I don't want to use the terms speed or thrash, but it's a full on metal album.
The album itself it unrelenting I think in a lot of ways. There's a couple of songs that are laid back, but it's not like there's any ballads on the CD that's for sure (laughs)
Shawn Drover (drums) has mentioned that he wanted to make a full on thrash record. What's your take on it?
I knew I wanted to release some heavier stuff because we hadn't been doing that for the last few years not only for us personally to have heavier stuff come out, I thought that's what our fans were clambering for. So it made more sense for us to release something that had a little more attitude, a little bit more grit to it. Beyond that I had no preconceived idea of what it should be. I just wanted to write more.
You've spent a good few years with Shawn so I guess it kinda made sense for you guys to write together. Was this something you had discussed prior to announcing your departure from Megadeth?


Not at all.  I think we were both in the same spot before our departure, meaning that I had been considering leaving for some time as the positives weren't outweighing the negatives anymore & i was just on the fence about it for a long time. The all of a sudden Shawn quit & you know what, I was like Shawn made the right choice.

Dave (Mustaine) was just about to call us down to write the next CD & my heart definitely wasn't in it & talking to Shawn his wasn't either so at that time I quit aswell.

It seemed like you quit within minutes of each other.
It was actually in the same day but it was like 8 hours apart or something like that.  But it was through my sudden realization of Shawn made the right move & so I decided to make the right move as well.
My focus when I left was to write a solo record until Shawn & I talked & the idea of the Act Of Defiance CD came about.
For me the solo record is still in the works as it's something I have to look forward to aswell. But since we put this together this has become my priority.
Ok let's tak about the solo record briefly. Have you any ideas for it?


It'll be an instrumental record for sure & that's something I can see happening in the future

.
Maybe a G3 appearance with Satriani & Vai?
Now we're reaching for the stars (laughs). Of course I'd consider doing that. People who have played at G3 are all my influences so to be able to be included with the likes of John Petrucci (Dream Theater), Paul Gilbert (Racer X, Mr. Big), Tony MacAlpine too, how could I not want to be part of that (laughs).Playing with Vai on stage would just be a dream come true.
Speaking of influences. Who would be the guitarist you'd love to meet?
One of my biggest influences is Jason Becker. I still haven't been able to meet him as yet & I really want to meet him some time soon.
I watched his movie "Not Dead Yet" & to think he's still here & creating music is just amazing & an inspiration. It's great to see that he still has his sense of humor as well. So I'd like to spend time in his company.
What about the ultimate place for you to play?
I'd love to go back to my home town of Denver Colorado. There's an amphitheater there called "Red Rock Amphitheater", it's set up in the mountains & is 2 slabs of naturally occuring rock that protrude from either side of the venue. It holds somewhere around 10,000 people. I'd love to play Red Rock, it's been a goal of mine for as long as I can remember.
Maybe it's time to start planting seeds & see if we coud get G3 set up there & have Act of Defiance open & of course with yourself joining for the G3 jam.
(laughs) well there you go,maybe we should (laughs) I like that idea.
I reckon there would be enough people to fill it.
I'm sure there would (laughs)
One thing I do want to quickly talk about with you is the "Pick Grip" that you've patented, how did you come up with the idea?
It came about because of my 2 finger tapping technique & I wanted a way to be able to maintain pick control so it was easy to switch back & forth from the standard style of picking to the tapping technique without having to throw the pick some where & having to pick another one up.
I'd experimented with everything from, super gluing a rubber band with a pick to using a standard thumb pick. But the  problem I found with the thumb pick is the way they're designed. The tip is way to long  & the material is usually a really cheap plastic & I just didn't like it at all. I then started cutting the tips down & then the angle wasn't right. So I started experimenting with cutting the tips off completely & then  super gluing the picks that I like to play with to the remnants of the thumb pick. Which did work & I used that for probably about a year but if I got the angle slightly wrong then I would have to break it back off & start again & then after re gluing it about 5 times you finally get it to somewhere approximating the right angle & i just got tired of doing that.
So one day I went to my local hardware store, grabbed some sheet metal & some sheers. Then started to lay that out & designing it on paper. I then cut out a tiny test copy just to se what it would be like & from there it was all looking very favourable & then I started to look for more serious material. That's when I cam across Titanium. Not only is it really strong but it's also still pliable which means you can make it really this so when every individual picks one of these up it can be bent to fit their thumb & bend it to fit the pick they want to use to how they want it.  It works really well & makes sense especially when I get the time to practice which wil lbe in the 6 hour realm.
Are you still using the Dunlop T3s?
I've actually moved on since then. I still like that pick but there's a pick that just sounds that little bit cooler against the string & it's a little less clicky & that's an Intune Jumbo Jazz. It's got the tip of a standard Jazz pick. It feels like a Tortek but I guess it's a slightly different material maybe a different blend  but it does have a different kind of sound. It makes the pick sound slightly more compressed against the string.
It's nice to see you still playing the Jackson guitars aswell. I'm guessing they've been really supportive since the move.
I was really worried about that & I'd spoken to them about the possibility of things happening & kind of looked at where they stood on it & they were behind me 100% which I felt very good about that & it was nice to hear that they would support me that way.
You have the Act Of Defiance tour coming soon (click image to enlarge)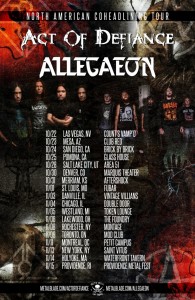 Yeah we start October 22nd with another Metal Blade band Allegaeon in the US & we're looking at dates in the UK.
We've had a few offers that have been really cool but for one reason or another, ie schedule conflicts  or logistics we haven't been able to make them happen yet.

Our big plan is to get on a tour with a much bigger act & open for them. I feel that's where we need to be as it's a little odd to have a brand new band come out as a headliner especially as we're on our debut CD & have about an hours worth of material. Although we have myself & Shawn & of course ex Scar The Martyr vocalist Henry Derek & yes we could pack out the set with cover versions etc & with that in mind I still fee that we would be best suited to being a support band.
We want people to see us as a band & not just Shawn, Henry, Matt & myself. We're not a "supergroup". We understand it's going to take a little time & that's fine as in my mind we've already accomplished our goal of being artistically creative & to get music out there.
To actually get a physical product out into the ether is a major achievement in itself & have a distribution deal behind it is superb as well.
We've been very fortunate in our endeavours to get this out there. We've put a lot of work into it &  we know that a lot of people have worked hard at their craft & sometimes for one reason or another the cards don't pan out. So we feel very lucky & it's something we'll never forget.
Even if we don't reach the status of Metallica (laughs) we've been fortunate & we'll always be appreciative of that.
There's not many musicians that can say that they've been in 3 really succesful bands & be still prolific with a new project.
I have been very fortunate & lucky especially to play a show like the big 4 (Metallica, Megadeth, Slayer, Anthrax) that will never happen again.
It was very special for me to play those shows. To get on the stage at the end of the night with all those iconic musicians & jam was unbelievable.
Going back to the tour, what are you most looking forward to?
There's an element of excitement to lay this album live in front of people & seeing how they react to it & the difficulties of playing in front of people.
As right now we kinda recorded it as a 2 guitarist record as there are rhythms underneath the solos, harmonies so right now I'm in the process of working with my gear & trying to make all that happen to the best of my ability.
Now, something I am considering & I'm open to depending on this litmus test of my gear trying to work out how to cover this ground, I am still actively considering a 2nd guitarist live.
But right now for the harmony parts I'll be bringing out a harmonizer. If you've heard the track Refrain & Refracture that starts off with multiple guitar parts & that part loops 4 times while you do a lead over it so I'll use a looper in my Ax Effects to loop the classical guitar part & then I come in with a harmony & then that loops & I come in with a 2nd harmony & that loops hen I come in with my rhythm which then coalesces into the main part. So trying to figure out ways to make that work live without a 2nd player  & to make it as convincing as possible is one of the things I'm really working on for the live show.
I totally want to keep away from using a tape/backing track for that. It's an easy way out but I'd rather take out a 2nd guitar player before going down that road.
I'm also in talks with Matt to try & change some of the bass lines to encompass some of the rhythm aspects while I'm doing melodies or leads etc.
The cool thing about just going out as a 4 piece means we can thicken up our sounds a little bit as there's not so much competition especially in the guitar department where you have 2 guitars that have exactly the same frequency range & they're both fighting for that signal you have to kind of thin out your sound a little bit so you make room for each guitarist, so if we go out as a 4 piece we wont have to do that.

You sound incredibly busy with gearing up for the tour. Are you still getting a chance to listen to music for fun or is it all Act Of Defiance?

You know what, I'm listening to a lot of Meshuggah & a lot of new bands. I tend to investigate a lot of new bands like Revocation there's a lot of great guitar bands which is what I tend to like.
But every so often I like to mellow it out & listen some old classics like my favorite King Diamond. My favorite CD back when I was 18 was King Diamonds Them so that comes out of the closet so to speak every so often. It's such a great CD from beginning to end.
Chris, it's been an absolute pleasure to talk to you & look forward to seeing you live.