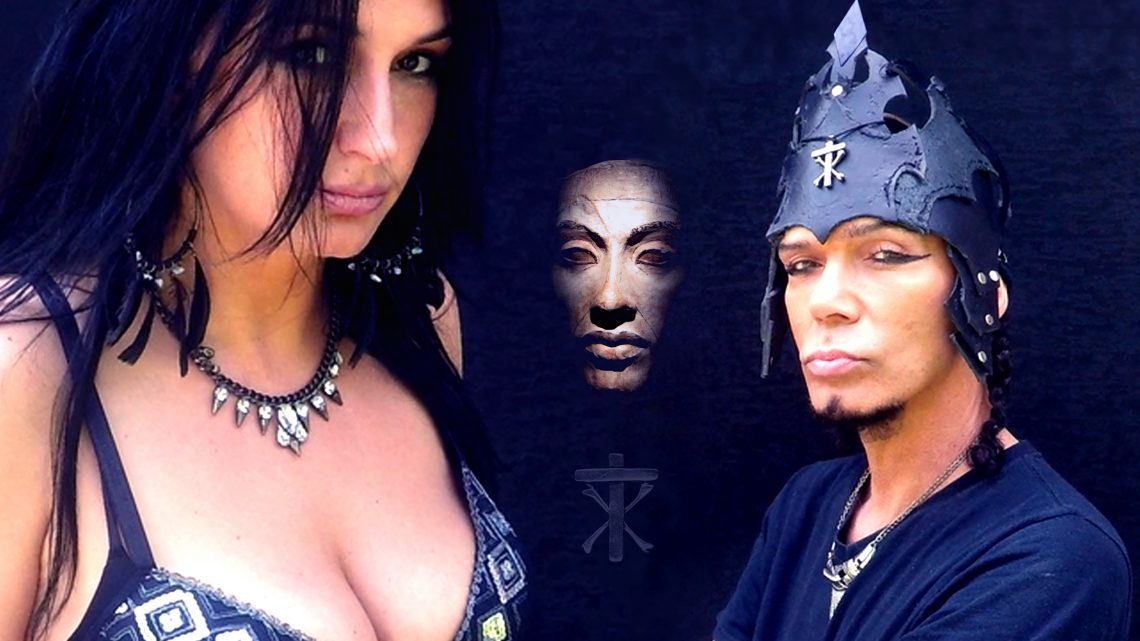 CHRISTIAN DEATH Announces 'The Dark Age Renaissance' CD Collections
13th August 2021
0
By
John Deaux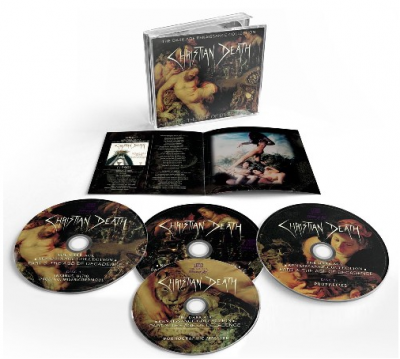 Gothic death rock pioneers CHRISTIAN DEATH have revealed the special, limited edition 'The Dark Age Renaissance' CD collections for Part 3 and 4!
The Dark Age Renaissance Collection Part 4: The New Dark Age combines their three most recent recordings – 'Born Again Anti Christian' (2000), 'American Inquisition' (2007), and 'The Root Of All Evilution' (2015) – into one limited and specially-priced package of provocative dark music. It will be released on September 3, 2021 via Season of Mist!
The Dark Age Renaissance Collection Part 3: The Age Of Decadence is a 4 CD jewel case set features three of their middle-period recordings and 1990 demos/outtakes compilation – 'Insanus, Ultio, Proditio, Misericordiaque' (1990), 'Sexy Death God' (1994), 'Prophecies' (1996), and 'Pornographic Messiah' (1998) – into one limited and specially-priced package of provocative dark music. This is set for release on October 8, 2021 via Season of Mist!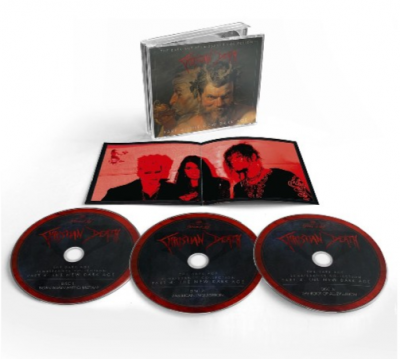 Parts 1 and 2 will be revealed at a later date. Stay Tuned!
The collections are now are available for pre-orders at THIS LOCATION.
This is part of an ongoing series of CD and vinyl reissues of Christian Death's acclaimed catalog via Season of Mist. Previously, the label reissued LPs for the band's highly influential 'Catastrophe Ballet' (1984) as well as 'The Root of All Evilution,' 'Ashes,' 'The Scriptures,' and 'Sex and Drugs and Jesus Christ' as well as CD and vinyl reissues for 1986's 'Atrocities.' All reissues can be found at the Season of Mist E-Shop.
"Christian Death take a relentlessly confrontational stand against organized religion and conventional morality, with an appetite for provocation that makes Marilyn Manson look like Stryper." – VH1
"One of the top ten goth bands of all time." – Rolling Stone Magazine
Founded in Los Angeles in 1979 by Rozz Williams, the hugely-influential band trail-blazed the American goth and death-rock movement with their debut album, 'Only Theatre of Pain' (1982) and genre-defining 'Catastrophe Ballet' (1984) and 'Ashes' (1985). Of these, 'Ashes' is a true testament to the CHRISTIAN DEATH legacy, as it marks the final appearance of the classic band lineup. 'Ashes' features the final recordings of founder Rozz Williams alongside current CHRISTIAN DEATH main-man Valor Kand, vocalist-keyboardist Gitane Demone and drummer David Glass before Williams' untimely demise in 1998.
About 'Atrocities'
Recorded at Rockfield Studios Monmouth, Wales, UK (famous for recording "Bohemian Rhapsody" with Queen)
The Studio features several buildings in a remote farm village, one of which, according to local tradition, is allegedly haunted, and as experienced by certain members of Christian Death.
Produced by Valor
Engineered by Ted Sharp and Dave Charles
Mastered at EMI Studios, Cologne, Germany
Recording lineup:
Lead Vocals, guitar, piano, hammond organ, violin, cello, percussion – VALOR
Female vocal – GITANE DEMONE
Drums DAVID GLASS
Second guitar – BARRY GALVIN
Bass JOHAN SCHUMANN
Cover concept and design by VALOR
Pre-Sale: http://redirect.season-of-mist.com/ChristianDeath
How useful was this post?
Click on a thumb to rate it!
Average rating 0 / 5. Vote count: 0
No votes so far! Be the first to rate this post.
Related