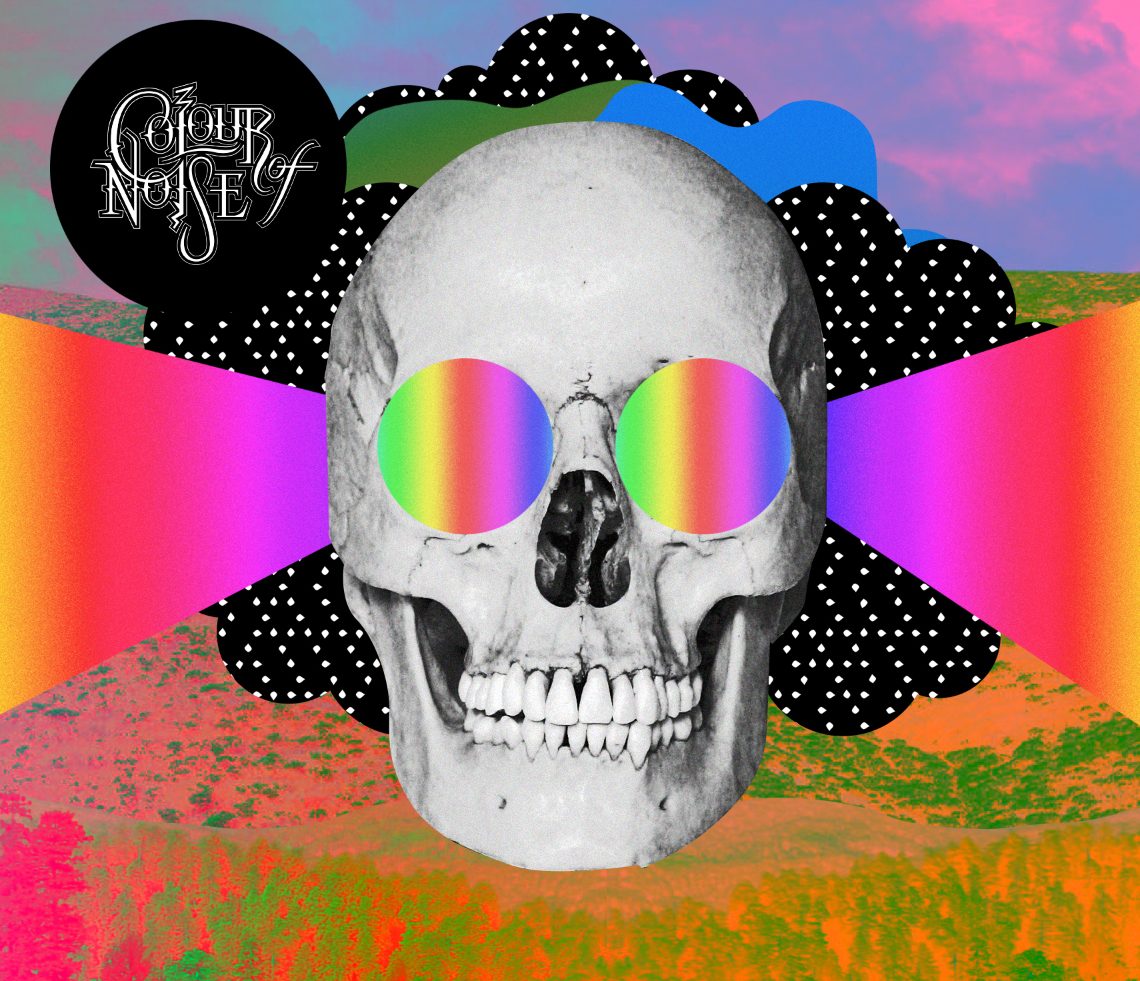 COLOUR OF NOISE – INTERVIEW
18th September 2016
COLOUR OF NOISE – INTERVIEW
Towards the end of June All About the Rock had the opportunity to sit down with Bruce and Randy from Colour of Noise to ask them a few questions. Now as the band are in the studio working on new material and following successful appearances at Wildfire Festival and Rambling Man we find out why there'll be "No Ballads" coming from them anytime soon.
AATR: Before we get started, many thanks from ALL ABOUT THE ROCK for taking the time to speak to us today, especially just when you've come off stage.
Bruce / Randy: No, not at all / It's a pleasure
AATR: The STONE FREE Festival – that's a bit of a strange venue or a bit of a new festival I should say, how was that on stage?
Bruce:  It was great! I mean there's loads of festivals now in unusual places so we just came from Ibiza with HARD ROCK HELL there and then there's WINTER FESTIVAL so we're kind of getting used to doing indoor ones but… I thought it would be a bit funny cos we were kind of playing in the entrance, the foyer bit to the O2, I didn't realise that. And when we pulled up and saw it I thought oh it's going to be a bit odd cos it's kind of normal people (laughs) you know, punters just…
AATR: Walking in and out.
Bruce: Yeah but it was lovely, it was great, nice crowd you know.
AATR: Yeah it certainly looked like a nice crowd there anyway, some of the kids were up with their hands in the air.
Randy: Any time people haven't paid and they still come and see you, it's always a good thing, always a nice thing.
AATR: And you all managed to get onto that stage.
Randy: Yeah just about.
Bruce: And we squeezed the life out of all the gear, no one told us to turn it down so that was good.
AATR: One of the things I'm quite keen to talk about is – from your website itself, you've described that in terms of your writing you deal with the likes of "permanence, holding on to what is great in our lives, coming to terms with change and retaining a sense of self in a mad world." What changes, madness's and experiences say over the last 12 months would you say have brought you together as a band?
Bruce:  I think it's just normal life, real life is quite hard, you know; whichever way you approach it, whatever career you choose, whatever you do – it seems to be quite tough for everybody. And you know when you've got Facebook, you've got lots of music people on your Facebook and you just see their lives going by on your newsfeed every day, and you realise no one seems to have it that easy. And so it was the idea that music is just something that kind of transcends that and helps you; it sort of signposts your life, periods in your life, and then sometimes you revisit those periods.
Randy: I think we're all quite wobbly people, we've all had a lot going on in our lives and I think it's kind of shaped the way that we are so I think if we'd got together when we were 18 we would be writing completely different songs than we are now. So I think a lot of our experiences, what we've all been through separately, have kind of come together. And we don't want to write about throwaway stuff; we'd rather write about something that's got a bit of depth to it, cos we've all got a bit of depth to us as people, so I think it's important. Maybe it takes you a little while to understand the song, or you can read something new into it, or whatever it is… Just a bit of depth and a bit of class to what we do, rather than just throwaway lyrics about women, drink and motorbikes and stuff. Which are good things, don't get me wrong, but just trying to have a bit of depth to it.
AATR: Do you think the other bands you've been involved with has shaped the Colour of Noise?
Randy:  Oh absolutely!
Bruce: Yeah I'm sure it has. I mean [LITTLE] ANGELS, that was all about getting out of a small town when you're 18. And then the band I had after that – B.L.O.W. – I think I learned to play better in B.L.O.W. That was very free, you know. And then putting the guitar down for 12 years had an effect. Cos you can get better as a musician even if you don't have the instrument in your hands funnily enough, I discovered afterwards.
AATR: Your bands are really diverse…
Randy: Yeah I've done everything from pop to country to rock to folk – I've done everything, I've tried to play a little bit of everything, and I like doing that in music; I don't think you should be one kind of player, I think you should experiment a bit. And I think also it gives you a basis to write from. I think musicians with a few scars for me are better musicians; musicians with a few bumps and bruises. And also I think we've learned from what not to do in those bands, the stuff that… A lot of bands I've been in, we've kind of had really long rambling songs that kind of go on for too long, so one thing I've really wanted to do with the writing was to have very short songs; really knock people over. Especially on a first record you know; 3-minute songs, it doesn't need to be any more than that. Make it really immediate, or try to. You know, just some great guitar solos. When you have a great player like him (nods at Bruce), you just put guitar solos in and it'll lift the whole song so keep the writing really really simple. I think we learned a lot of maybe what not to do with other bands, and when we came to this we came with a fresh idea of what to do with it.
AATR: When you road-tested your songs from your debut album THE COLOUR OF NOISE on tour with THUNDER – did you get that sense that the shorter songs had the same impact?
Bruce: Absolutely.
Randy: Yeah. You're always going to be playing to new fans so if people can remember something straight away after one listen, it's all about that – trying to get hooks in there, trying to get things that people can relate to straight away.
Bruce: Yeah and not kill it, not empty the room by putting a ballad in.
Randy: Yeah. No ballads. No ballads.
Bruce:  Maybe you can do it when you're 4 albums in.
Randy:  I don't think we'll ever do a ballad. So many other people do it, it's a bit stock, so we try to get away from that a bit.
AATR: You're kind of known at the moment for your single CAN YOU HEAR ME on Planet Rock, where it's become sort of an anthem…
Randy: Yeah those guys are really good.
Bruce: Yeah it's a good thing to us, we really appreciate that.
AATR: And it's certainly a favourite of mine. And you're also on the bill for PLANET ROCK STOCK as well in December?
Randy: Yes, they've been incredibly supportive. But I think we made a record that was good for radio, I think that was part of it – we weren't frightened to maybe be a little bit commercial with some things or maybe be a little bit… this word 'pop' that everyone's frightened of
Bruce:  Yeah it just means popular – we always come back to AC/DC who are very poppy band as we were talking about today, it is the definitive rock band for us and it's still a pop band.
Randy:  Everybody gets it; even if you don't get rock you still understand AC/DC, the simplicity of it, the immediacy of it, so that's what we're trying to do. Something that within 30 seconds on the radio you know whether you like the band or not. That's what we kind of wanted to do and the response has been amazing! There've been very few bad reviews, everybody seems to love it, everyone seems to be talking about how they can't stop playing it in the car, it's a real soundtrack. And because it's only a short record, you can listen to it, get that experience straight away. Big guitars, big drums – you know, keep it simple.
AATR: So are you working on a new album at the moment?
Randy: Yeah and now we're on to writing the next album! We're already involved in writing the next record. I think it's important to keep writing. Bruce has got his riff machine at home so he's constantly churning out riffs, and then I take them and shape them and then we work them in the band – and that's how we kind of write. So what we're going to try and do on this record is just demo as much of our stuff as possible. We found a little studio where we can go and set up, it's got a really nice little vibe, and record live and just put stuff down and then we're able to sit back and listen to it and kind of work out what the best thing is for the next record. But we'll probably do the same thing on the next record – short record, many immediate songs…
AATR: And so what you did you do at Gun Hill Studios?
Bruce: Funnily enough, Gun Hill is an interesting place cos they can record but actually it's where they shoot… actually it's for posh cars.
Randy: It's what is called an infinity cove. So the wall is painted white and kind of curves, so it looks like you're floating in space.
Bruce: And they've got a floor that spins round so you can literally drive the car in and then you can turn the car on the floor and do whatever you want with it. So it's all Aston Martins and Maserati's and really lovely stuff
Randy: It's good fun
AATR: So did you shot a video and if so when is it due to be released?
Bruce: Oh that's just me and Matt doing acoustic. Lots of people wanted us to play acoustic, a lot of radio stations in particular, and because of this thing of now ballads it didn't really work for us. So we have found a way of playing our songs which is more electrified but stripped down. So going to Gun Hill was an experiment with 12-string electric, me and Matt, that was the purpose of that. It was 'How can you play little things, little venues, little meet-and-greets, without falling for the whole cheesy unplugged thing'? And it worked I think but we haven't seen it yet so we'll see (laughs)
AATR: It is difficult. If it's a small venue you want to give the audience something a little bit different don't you?
Bruce: Yeah, I mean if someone wants to play you at a radio station you're not going to say 'no we're not going to do it', but this was really good fun. So much so that I went on-line, searched and bought a 1979 Gibson double-neck. So it arrived, in this huge case, and my wife is shaking her head (laughs); my son said that's midlife crisis guitar dad.
Randy: That's only cos he hasn't got one – he's only jealous that's what it is. Everyone's jealous (laughs)
AATR: But that's a big mark of COLOUR OF NOISE's sound anyway, the vintage style?
Randy: Yeah the old stuff.
Bruce: We're vintage (both laugh).
Randy: Yeah we have to do stuff quite often with hired gear – it's never quite the same. We could get a sound out of anything, like any reasonable band should be able to, but the old stuff has a bit of a magic to it, it moves the air in a different way, it's more organic.
AATR: Of the line-up that's on today, it certainly fits very well, that classic 1960 1970s rock…
Randy: Yeah there's a bit of space in that music, a bit of dynamics, and you're not blasting it, you're not hammering it all the time. But the bands that we love do that kind of stuff – DEEP PURPLE, ZEPPELIN, AEROSMITH – not smashing the hell out of stuff.
AATR: No and they weren't afraid to experiment – they would never describe themselves as progressive, but…
Randy: Absolutely. But they were, absolutely. It wasn't, you know, YES but it was… We're not frightened of our influences.
Bruce: No no. And some of the art of this is what you don't play rather than what you do play.
Randy: Yeah we spend a lot of time taking stuff out to give it space and to let the songs breathe and let people hear the vocals. I think there's a lot of bands that try and just put too much stuff in, so it's nice to take some out so people can hear what's going on.
AATR: It has a clearer sound, certainly when you're playing a venue like an entrance?
Randy: Or a big venue
AATR: It gives that clarity?
Randy: Yeah. But again that's the AC/DC rule of simpler stuff in a big venue. They purposely write all their stuff really simple cos it works great in mega-stadiums cos that's where they play. So we're trying to write for big venues – with the hope that we'll get there (laughs).
So from All About the Rock a huge thanks for taking the time to chat with us and best of luck for the future.
You can check out the result of those stripped back sessions at:
'Can Take it with You' (Stripped Back Sessions) by Colour of Noise.
Recorded and Filmed at Gun Hill Studios