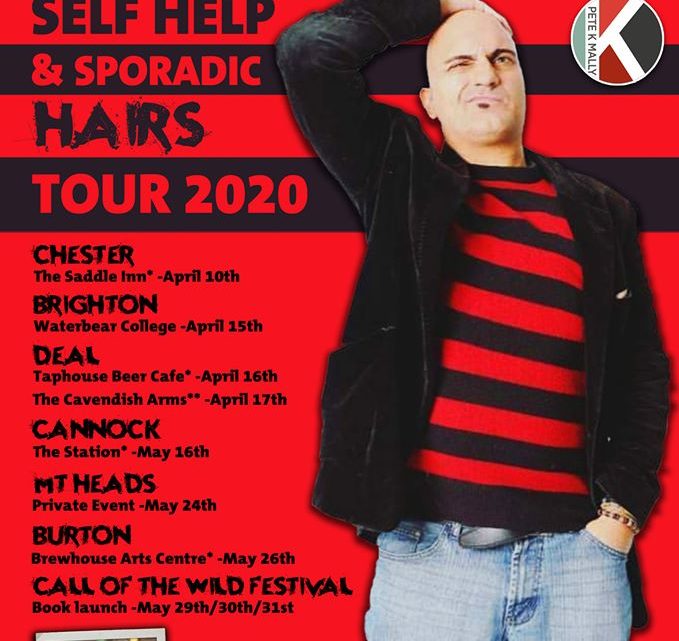 COMEDIAN & AUTHOR PETE K MALLY ANNOUNCES NEW STAND UP TOUR 'SELF HELP & SPORADIC HAIRS TOUR' WITH NEW NOVAL 'THE CALL'
27th February 2020
0
By
John Deaux
Pete K Mally is an author, compere, radio presenter and comedian. 
Pete hosts the weekly show The Pete K Mally Breakfast Show every Saturday on MMH Radio. 
He is the compere of The Call of the Wild Festival, Ramblin Man Rising Stage, Winterstorm Festival, Dementia Aware Fests, Savfest, Mogfest, Rockpool, Gravity Festival, Rockforce,WDFD Festival and Rockin by The River 1 and 2.
Pete was invited to be the main support act for The Wayward Sons for their first UK headline tour and brought his 'rock music humour' successfully to all ten dates in the UK. 
In 2017 Pete brought his tour '20 years of teaching, 1 angry rant' to 10 dates around the UK, where he sold out in the Leicester Square Theatre, London and the Epsom Playhouse (Myers Theatre).
In 2018 Pete toured with his 'For Those About to Rock' tour and took the decision to change theatres to rock venues, bringing a new art form to live music rooms with great success. 
In 2017 Pete released the well received Resurrection Mill, a historical novel based in the body snatching days in Scotland. The paperback and Kindle editions are still selling regularly on amazon.
In 2020 Pete is touring again in April and May, this time bringing his tour 'Self-help and Sporadic Hairs' to Chester, Deal, London, Cannock, Stoke and Burton where his stand-up will be tackling issues such as music, growing up and depression. Support comes from Lyndon Webb (HRH DJ and magician) and in some dates, the sleaze rock band Shyyne and Kyle Lamley from Thiea. 
Pete has also released 'The Call', a noval based in the world of rock music in the UK. It's release date in paperback and Kindle is the 1st April and is available for pre-order on Amazon NOW!
"Pete is exceptionally funny, in fact one of the brightest stars on the circuit" Don Biswas, Comedian
'Raven Black Whiskey Stone are an up and coming rock band determined to makes waves in this time of rock music resurgence. But have they got what it takes? Is getting a slot at the UKs renowned music festival Call Of The Wild the answer to Dom Young's prayers.'
Paperback: £7.99 Released 1st April
Kindle £3.99 Released 1st April
Pre-sale £3.69 on amazon.


Pete K Mally socials:

http://petekmally.co.uk/




https://www.instagram.com/petekmally/

http://www.twitter.com/petekmally5
How useful was this post?
Click on a thumb to rate it!
Average rating 5 / 5. Vote count: 1
No votes so far! Be the first to rate this post.
Related