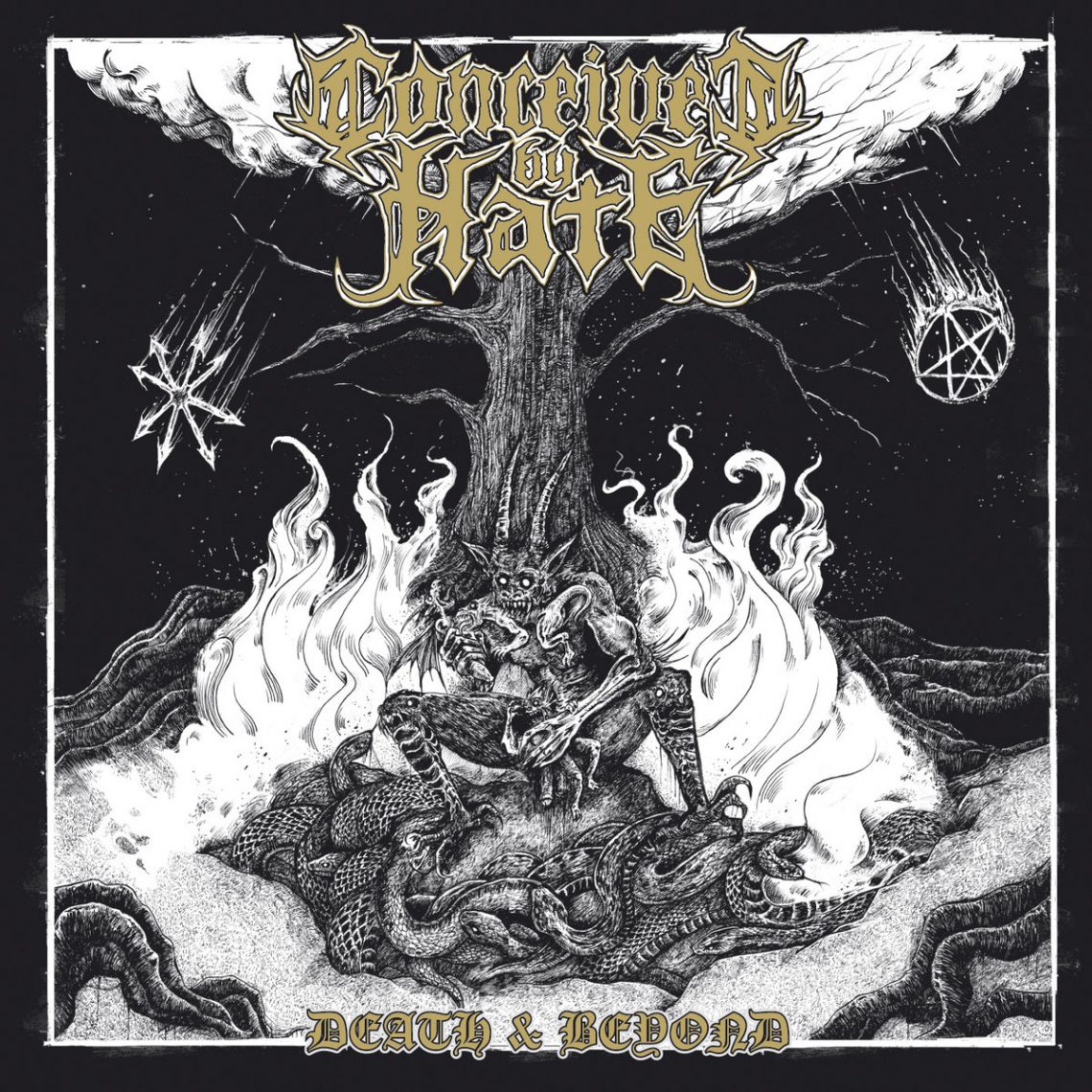 Conceived By Hate – Death & Beyond
15th January 2017
In summary, Conceived by Hate have delivered an album of solid Death/Thrash Metal that easily sits alongside some of the genre's greatest.
Paul Flynn
Well I have to admit I had never heard of this band until the Boss sent it too me for review. I think I could tell by the album art that this was not going to be one to play in the car with the wife in the passenger seat. I do like the album art BTW; could easy be the cover of a Venom album or, well lets admit it, thousands of other 'Metal' bands for that matter.
Actually Venom is a pretty good place to start with this review as its is very reminiscent of 'Welcome to Hell' and 'Black Metal', so if you are a fan then this will be right up your calle (that's street in Spanish if you were wondering). Yep, this band hail from El Salvador. That said M.Q's vocals are all in English so no need to get the Spanish dictionary out for this little bleeder.
I did a bit of reading around this band before writing this and it turns out they have produced a handful of self released EP's and one previous album entitled Pestilence Reborn. I had a listen and whilst they are not bad, I am pleased to say that Death and Beyond is mucho better; in both production and songwriting.
You know exactly what you are going to get for the duration of the nine songs presented on the album and thats not at all a band thing. The band have stated on their website that they wanted to produce an album that demonstrated their passion for Death/Thrash Metal and could be heard alongside some of the classic albums that formed the foundation of the music that they love. The band have been playing together for 15 years and whilst there have been some changes within the line up, what they have now really works. Album opener 'Crossroads of Fire' is fast and aggressive, complete with Cronos grunt (just to make another Venom comparison). Everything is in the right place on this album and the guitar work from M.Q and R.V is impressive; some of the lead work is blisteringly good.
What I also picked up regarding the production is that the bass really stands out in the mix; all too often its lost and serves only to use up some space on the mixer. The keyboards are used to great effect and never try to take us away from the fact that this band is Metal to the core; see Chaos is Upon Us; which also has some impressive drum work from V.K.
Admittedly I have not studied the lyrics to search for their meaning but to be honest I don't really give a shit. I am listening to a band who's aim is to put the ear drums under pressure of bleeding and they succeed. Right after playing this album recently I have gone on to play Kreator's Pleasure to Kill, Onslaught's The Force, Sepultura's Beneath the Remains and Venom's Black Metal so really, can that be a bad thing?
In summary, Conceived by Hate have delivered an album of solid Death/Thrash Metal that easily sits alongside some of the genre's greatest. Whist it might not be quite as good as early Sepultura, there is likely to always be a comparison and you know what; they are not too far off.
Score – 7/10
Conceived by Hate – Death & Beyond Info
Tracklist:
Crossroad of Fire
This is Underground
Chaos Upon Us
The Underdog
We Choose Who Suffers
Worship the Old Ways
Below the Pale Sky
Summoning the Graves
Death & Beyond
Record Label:
Satanath Records
Release Date:
13 November 2016
Band Members:
M.Q- Guitars and Vocals
C.B- Bass
R.V- Guitars
T.M- Keyboards
V.K- Drums
Website:
www.concievedbyhate.net