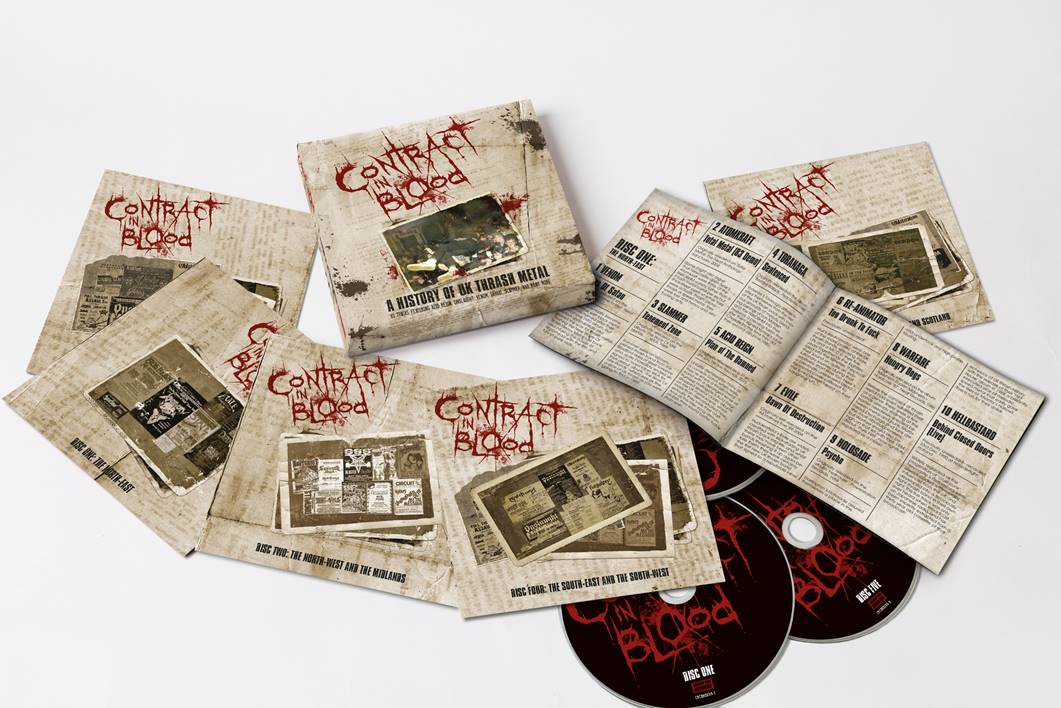 Contract In Blood: A History of UK Thrash Metal, 5 CD Boxset – Review
29th April 2018
Wow. As a fan of UK thrash, this is the boxset I've been eagerly waiting for ever since I first heard about it!
This 5 CD collection has been released to complement Ian Gasper's book of the same name – a 650 page tome that provides the definitive history of the UK thrash scene. It's the perfect soundtrack to the book, but also delivers on it's own merits as an audio chronicle of the UK thrash scene. There are 83 mouth watering tracks here (including 10 that are previously unreleased) and a 40 page booklet that provides a fantastic summary of the UK thrash scene along with commentary on each of the bands included.
Some of the bands here will be familiar names to many, including Venom, Slammer, Toranaga, Acid Reign, Evile, Sabbat, and Onslaught just to name a few. But there are also tracks here by bands that I have to admit I wasn't aware of (and will now be checking out!), such as Amnesia, Xyster, Kemakil, and Parricide. There are a couple of obvious omissions such as Xentrix, but on the whole this really does provide a real understanding of just how varied the UK thrash scene has been, and what fantastic music it has generated over the years.
It's also great to have some of the new and upcoming UK thrash bands (such as Scotland's own Black Talon and Thrashist Regime) included here, to show that the scene is far from dead and that the legacy of the older bands is continuing to influence a new younger generation of thrashers.
This incredible collection of UK thrash metal does a fantastic job of showing the amazing music that the genre has produced over the last thirty five years, and if you're a fan of the genre then you absolutely need to buy yourself a copy of this.
Awesome stuff !!
Score: 10 out of 10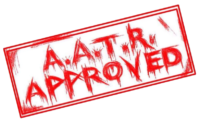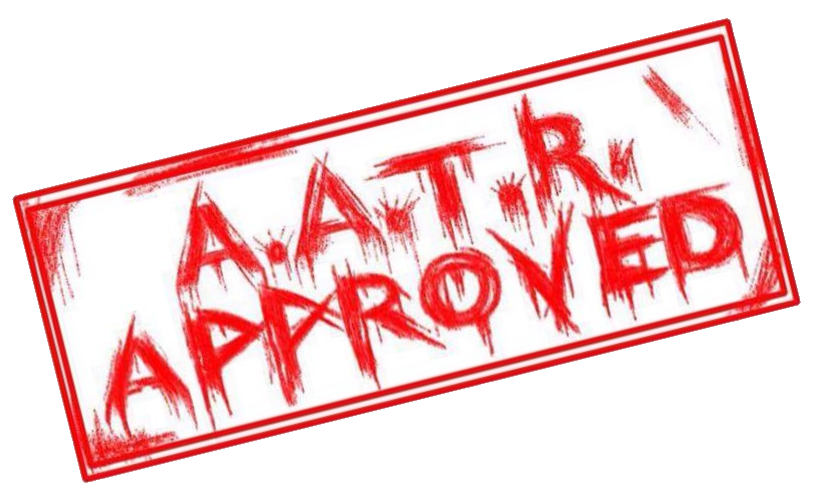 Album Information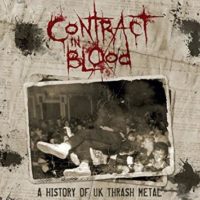 Track List:
DISC ONE: THE NORTH-EAST
01. SONS OF SATAN – Venom
02. TOTAL METAL (83 DEMO) – Atomkraft
03. TENEMENT ZONE – Slammer
04. SENTENCED – Toranaga
05. PLAN OF THE DAMNED – Acid Reign
06. TOO DRUNK TO FUCK – Re-Animator *
07. DAWN OF DESTRUCTION – Evile
08. HUNGRY DOGS – Warfare
09. PSYCHO – Holosade
10. BEHIND CLOSED DOORS (LIVE) – Hellbastard *
11. SOLUTION – Amnesia
12. PUSHED TO PRIME – Pitiful Reign
13. APOCALYPSO (DEMO) – Ardkore
14. BLACK MASS – Vindicator
15. HELL AND DAMNED NATION – Karrion
16. DELIRIUM – Thok
DISC TWO: THE NORTH-WEST & THE MIDLANDS
01. UNIDENTIFIED – Solitary
02. METALYZED – Blood Money
03. LAST MAN STANDING – SSS
04. BOMBAY DUCK – Metal Duck
05. AS THE WALLS CLOSE – Pendemia
06. LET'S GO APESHIT – Hospital Of Death
07. SENTENCED BY PILATE – Xyster
08. DOLLAR DISCIPLE – Zeitgeist
09. HOSANNA IN EXCELSIS – Sabbat
10. SIGHT OF THE WISE – Sacrilege
11. SPOOK PERV HAPPENINGS IN THE SNOOKER HALL – Lawnmower Deth
12. FORBIDDEN DESIRES (DEMO) – Seventh Angel
13. JUDGE AND JURY – Arbitrater
14. MAD DOGS OF WAR (2018) – Metal Messiah *
15. CORPSE GRINDER (LIVE AT THE MERMAID) – Death Warmed Up *
16. STORY OF VIOLENCE – Driven To Distraction
17. MESMERISED – Eradikator
18. AGGRESSOR – Besieged
19. MERRY-GO-POUND – Unholy Sacrifice
20. SOOTHSAYER – Deceptor
DISC THREE: THE EAST & THE SOUTH
01. THE THING WILL ARISE – English Dogs
02. ANIHILATED – Anihilated
03. REGRESSION – Inner Sanctum
04. MANIFESTATIONS (2017 REMIX) – Snyper *
05. DO YOU HAVE THE RIGHT? – Taranis
06. BURNING BLOOD – Therion
07. THE LEAVING – Kemakil
08. CLAUSTROPHOBIA – Infernal Death
09. THRASH OR DIE – Mörti Viventi
10. CHOKE – Salem Justice
11. GODDESS (Featuring H) – Cerebral Scar *
12. FORCES OF DARKNESS – Deathwish
13. CRUCIFIER – Hydra Vein
14. DIRTY HOT AND HUNGRY – Decimator
15. FULL POWER – Desolator
DISC FOUR: THE SOUTH-EAST & THE SOUTH WEST
01. GOVERNMENT PIGS – Adrenicide
02. COLOUR – Winter Of Torment
03. WILL TO REBEL – Parasite
04. CARNIVAL OF SOULS – Savage Messiah
05. OVERCAST – Warpspeed
06. THREE MINUTE WARNING – Kremated
07. D.C.T. – Bangover
08. MACABRE INSANITY – Obliteration
09. WAR WOLF – Wretched Soul
10. LET THERE BE DEATH – Onslaught
11. THE REMOVAL OF THE SPINE – Seregon
12. FORCED FAITH – Rager
13. B.O.D. – Purgatory
14. THRASHING MACHINE – Bull-Riff Stampede
15. FEAR – 10$ Head
16. EYES OF THE DEAD – Suicide Watch *
17. INFERNAL CONFLICT – Reign Of Fury
18. POLL TAX FUCK THAT – Taliesin *
DISC FIVE: WALES, NORTHERN IRELAND & SCOTLAND
01. ATOMIC ATTACK – Tortoise Corpse
02. OPPRESSOR – Alternative Attack
03. THRIVE – State Of Confusion
04. HATEFACE – Parricide *
05. NEW ELIMINATORS OF ATLANTIS BC – Gama Bomb
06. HELL IS IN THE SOUTH SEA – Acid Age
07. CURSED CITY – Scimitar
08. SOULSUCKER – Evil Priest *
09. FEEL NO PAIN (DEMO) – Richard III
10. TIME TO STOP – Drunken State
11. HEADSHOT – Thrashist Regime
12. ERA OF SUFFERING – Black Talon
13. SOMEWHERE IN THE WEST – Amok
14. FRY OR BE FRIED – Daniel Wax Off
Record Label:
Cherry Red Records
Release Date:
8th June 2018