Crippled Black Phoenix reveal 'Ellengæst'
21st July 2020
CRIPPLED BLACK PHOENIX are now unveiling the title and the release date of their forthcoming new album! The new offering will carry the name 'Ellengæst', and is set for world wide release on October 9, 2020. New music and the pre-order kick off will be shared on July 28.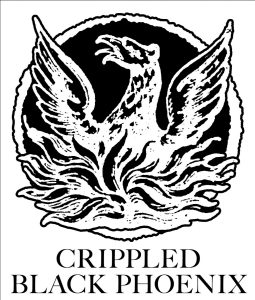 Mastermind Justin Greaves comments: "This album was recorded at the end of last year so we're super excited to finally let it go free into the world, it feels like it's a new age for CBP, we're embracing the change. The songs are a collection of thoughts and feelings which all relate to how we exist in the world but also it's about crossing into the other dimensions, how we all have spirits and demons, how we can be strong and also weak. How we miss loved ones and also lament the human race. The artwork by Thana really expresses the theme of the album, it visualises the spiritual aspect of Ellengæst perfectly. There's an atmosphere about it which draws you in."
CRIPPLED BLACK PHOENIX are furthermore revealing the artwork and track-list of 'Ellengæst'. Both can be viewed below. More news soon!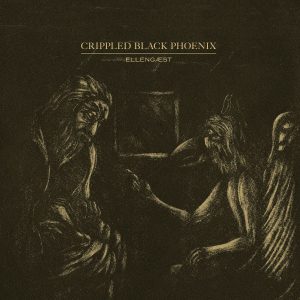 Track-list
1. House Of Fools (7:52)
2. Lost    (8:11)
3. In The Night    (8:38)
4. Cry Of Love (5:46)
5. Everything I Say    (7:21)
6. (-) (1:51)
7. The Invisible Past (11:26)
8. She's In Parties    (3:51)
"One thing we'll never do is stick to the rules and stay within the box." 
Such are the words from Crippled Black Phoenix founder, songwriter and guitarist Justin Greaves, who has guided this progressive, thought-provoking, shape-shifting musical collective since their 2004 formation. Their new effort, Ellengæst, follows a recent pattern of the band in releasing a mini-album in between studio LPs. It is the direct result of their ceaseless creativity — when Greaves has songs, Crippled Black Phoenix records them. Ellengæst has the difficult task of following 2018's profound and moving Great Escape. Ellengæst, though, does not make any attempts in pairing with or succeeding Great Escape. Circumstances largely prevented it anyway. 
On the day tracking started for Ellengæst, Crippled Black Phoenix — completed by vocalist Belinda Kordic, guitarist Andy Taylor and multi-instrumentalist Helen Stanley —suddenly, unexpectedly found themselves without a male lead vocalist and keyboardist. Whereas events of a similar thread would spell doom for most bands, Greaves took it as an opportunity to tap into his deep network of musician friends. Before he knew it, several prominent guest vocalists were secured, ready and able to lend their considerable talents to Ellengæst which, in Olde English translates to "mischievous demon," but in Scandinavian as "strong spirit," represents Crippled Black Phoenix's duality. "It comes from the same place, but with different connotations," says Greaves. "That's this band in a nutshell. We've had to stay strong because of all the BS we've encountered, yet we're still going and subversive. It's like we're giving kids candy with razor blades in them." 
Crippled Black Phoenix are no strangers to adversity, making the events surrounding the creation of Ellengæst yet another roadblock for a band whose very existence has been threatened on more than a few occasions. Their unique setup and stubborn refusal to bow to musical norms may confuse the casual music consumer. However, the core of Crippled Black Phoenix — Greaves, Kordic, Taylor and Stanley — thrives on the unconventional, remaining steadfastly singular and undefinable. Accordingly, Greaves believes this incarnation of Crippled Black Phoenix is the strongest to date. All it took was another dramatic sea-change to prove it. 
"This was the best thing that could have happened to us," he says. "Before, there was this horrible cloud of drama following us. There was always something going on. Once that had gone and the people who were on the outside of the band who were a part of that, once they had gone and the drama had gone, me and Helen found ourselves tracking in the studio in the first session. We just got on with it; we didn't think twice. In the second session, we just felt liberated. We just knew, 'This is going to be great.' We're all so excited about the possibilities. It feels like we're rejuvenated."