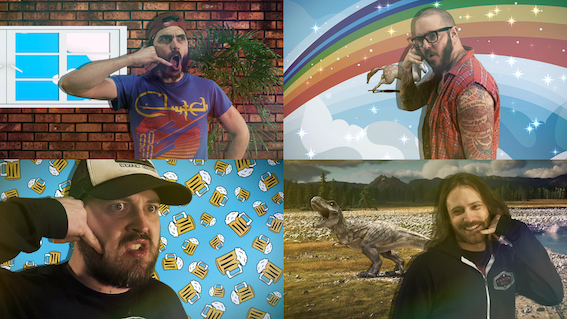 CROBOT reveal bonkers new video 'Keep Me Down' ahead of UK Tour
18th May 2019
You want Unicorns? Dragons? Wolves? Dinosaurs? Twitter Wars? 
YOU GOT IT!
UK Tour Dates
Tickets available from:  crobotband.com
 
Sat 20 Jul – Norwich, Waterfront Studio
Sun 21 Jul – Kent, Ramblin Man Fair
Tue 23 Jul – Manchester, Rebellion
Wed 24 Jul – Blackpool, Waterloo Bar
Thu 25 Jul – Birmingham, Institute 2
Fri 26 Jul – London, Underworld
Sat 27 Jul – Ebbw Vale, Gwent, Steelhouse Festival
Sun 28 Jul –  Milton Keynes, Craufurd Arms
 
CROBOT have released a video for their new song, "Keep Me Down". Directed by Mike Danger the hilarious video marks the first new music from the band in three years. The band describes the song and video like, " a kick to the teeth and a punch to the dick, "Keep Me Down" let's all y'all mutha funkers know – Crobot's back and we're comin' out swinging, baby!"
 
Listen to "Keep Me Down" HERE
  
Blending funk, blues, metal and good old-fashioned rock and roll into a howling vortex of Brandon Yeagley's vocals and Chris Bishop's guitar, Crobot have crafted a live show of endless good time rock hooks.  They are currently on tour with The Damned Things throughout May in the US and will then be hotfooting it to the UK for some howling funk-blues-rock revelry of the finest order.  They will be slamming down into the UK in July for 8 shows with one aim; to bring both havoc and joy to the ears of Britain. They will playing 6 headline shows in Norwich, Manchester, Blackpool, Birmingham, London and Milton Keynes as well as festival slots at Ramblin' Man Fair and Steelhouse.
 
CROBOT will soon share exciting information about their upcoming album. Stay tuned.
 
www.facebook.com/crobotband
www.instagram.com/crobotband
www.twitter.com/crobotband
www.youtube.com/crobotband