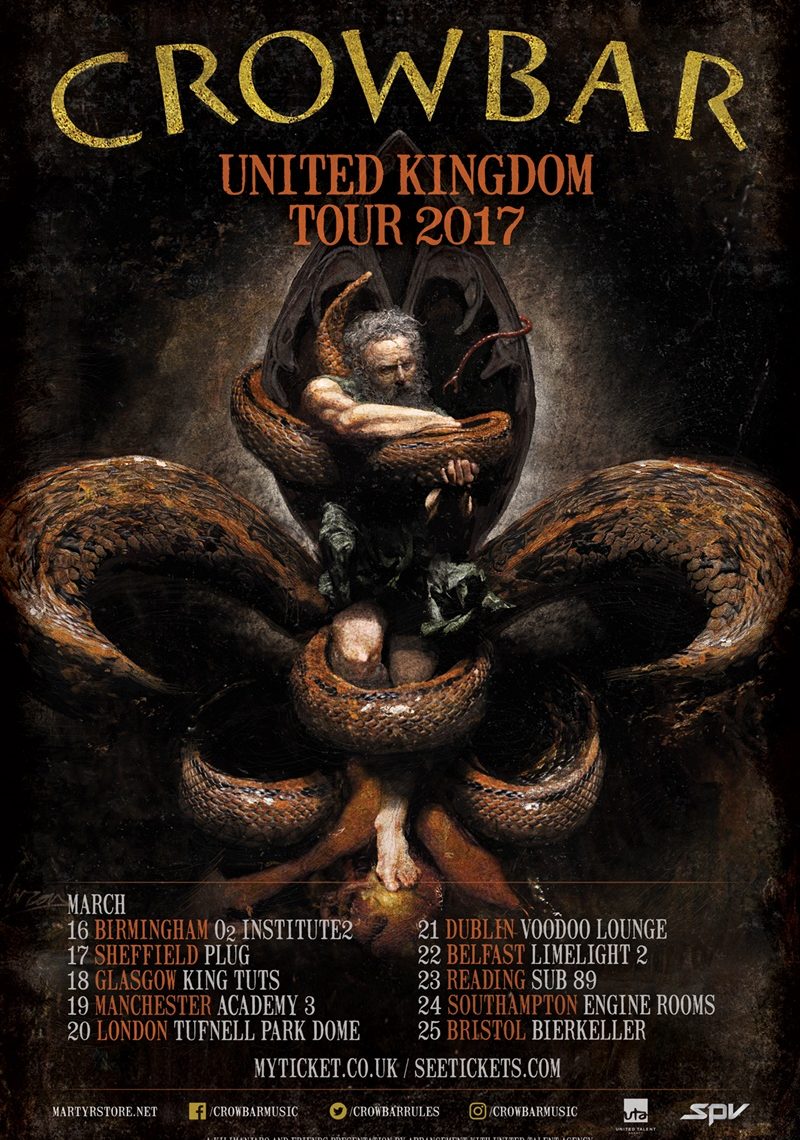 CROWBAR – BRISTOL BIERKELLER – 25TH MARCH 2017
28th March 2017
It had been an sunny day in Bristol, one the first of Spring. Metalheads were spread among the local pubs, drinking hard in the sunshine in anticipation of the return of New Orleans' finest, Crowbar. In contrast to the pleasant weather outside, the Bristol Bierkeller is a dark, grimy environment yet the sunshine vibe and drinking continued unaffected and unabated by the low light and sticky floor, because everyone knew what was coming. 
Without pomp or ceremony, Crowbar took the stage and wasted no time in giving the fans exactly what they wanted. The crushing, opening riff of fan favorite "High Rate Extinction" filled the 400 capacity venue and rumbled almost soothingly through the crowd, like an internal sonic massage. This is what we came for!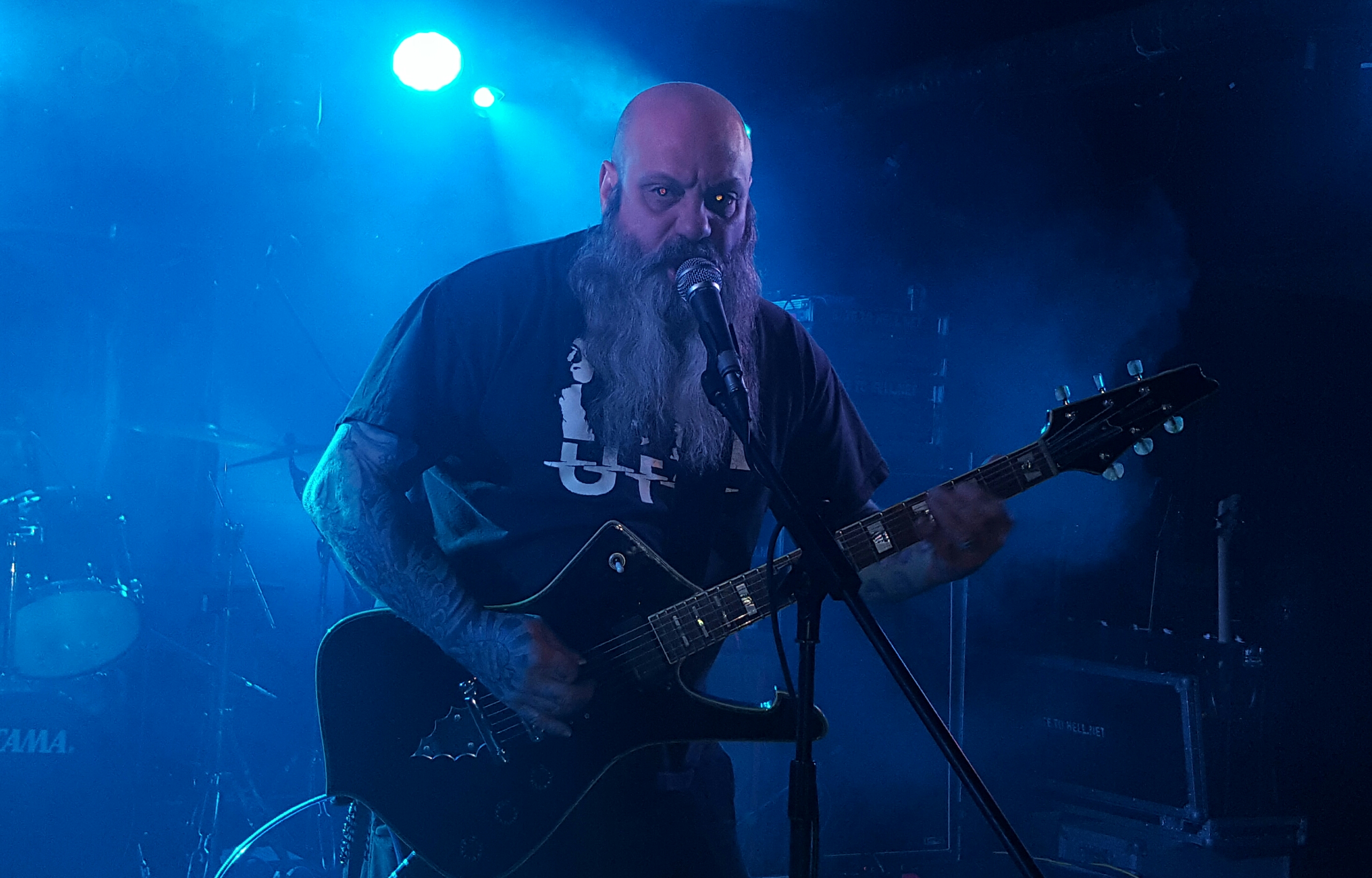 The thing that struck me about Crowbar, is the sense that they really wanted to be there. This tour is Crowbar's first time back in the UK since original bass player, Todd 'Sexy T' Strange, rejoined in June of 2016. As a result, there's an obvious and visible onstage chemistry between the members of the band that is reflected in the way that the set is presented. These guys are friends having fun and sharing what they love with the fans. There's no complacency or feeling of playing by the numbers, that often comes from bands that have been around this long. This show felt fresh and eagerly delivered like 20-year-old songs were being played live for the first time. 
The Bierkeller is notorious for poor sound quality and it's always more pronounced when bands play tracks you aren't familiar with because your brain's unable to fill in the blanks that a bad sound creates. Thankfully Crowbar didn't seem to be as badly affected as some bands I've seen. The mix was a bit muddy and the vocals were too low in the mix but on the whole, the songs came through as intended.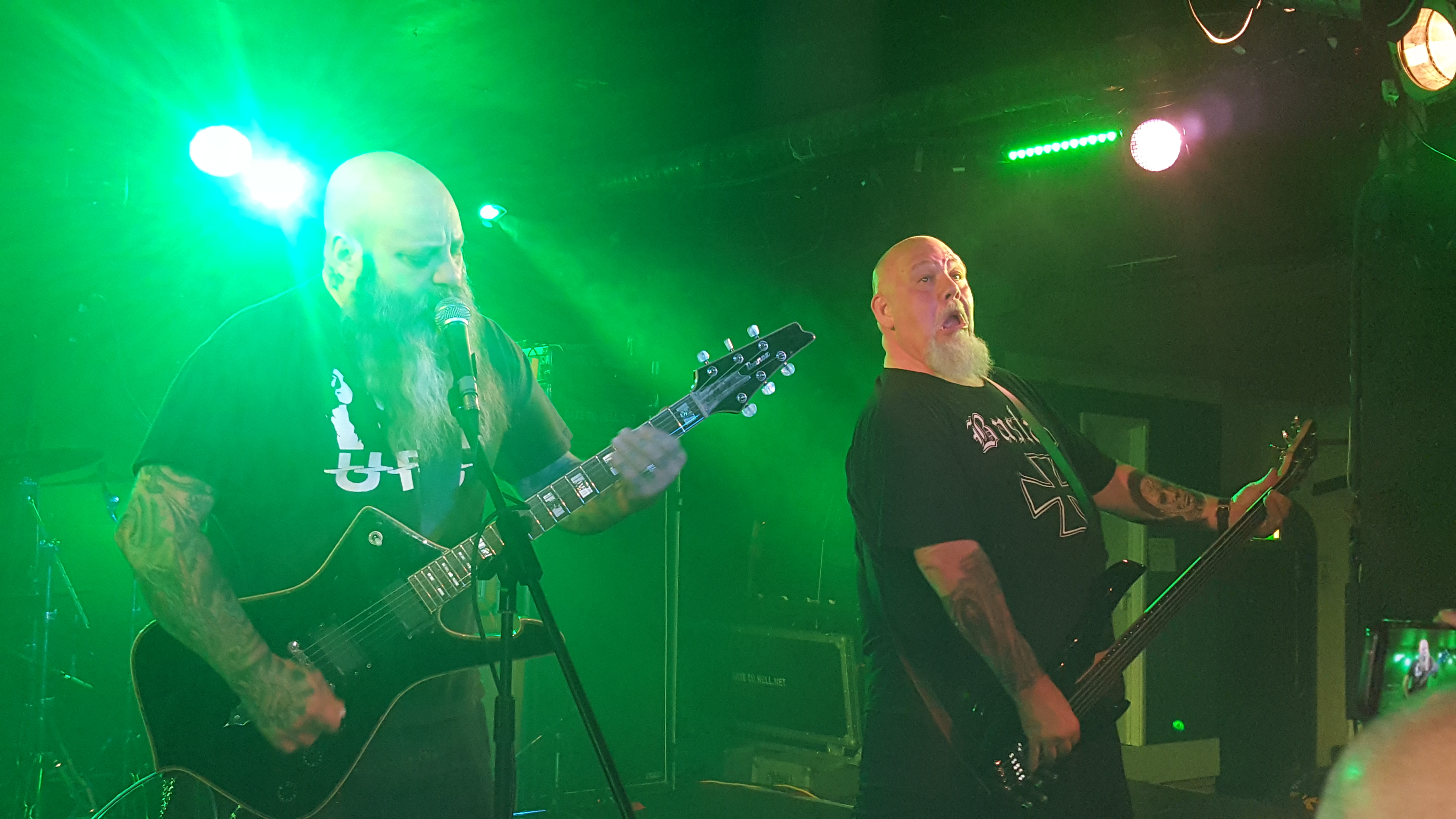 I expected Crowbar's set to be filled with tracks from their latest album 'The Serpent Only Lies', this is after all the tour off the back of that album. However, they only included one track, the classic Crowbar sounding, 'Plasmic and Pure', which was well received by the appreciative, cheering crowd and provided a personal highlight for me in what thus far has been an incredible set.
Crowbar continue dish out their perfect blend of slowed, crushing, Sludge/Hardcore and sweeping melody including more upbeat track 'Scattered Pieces Lay' followed by the soaring anthem that is 'Planets Collide', which made every hair on my body stand on end. All to soon Crowbar were leaving the stage, much to the disappointment of the crowd, who chant and scream for more. We were not left wanting as they returned to the stage to treat us to their cover of  Led Zeppelin's, 'No Quarter' as an encore. Then it was all done, bar the shouting, which continued along with heavy applause in thankful appreciation of a brilliant set. 
Kirk Windstein's humble yet charismatic personality makes you feel part of the show, like you're watching a mate's band playing at your local pub. Guitarist, Matt Brunson is a solid, cool and collected presence that contrasts perfectly with the quirkiness and face pulling of Todd Strange's onstage persona. This all backed by the tight, dependable and driving drums of Tommy Buckley, makes this one of the most authentic metal shows I've been to in many years. With a career pushing nearly three decades, Crowbar are at the top of their game in 2017, with what I hope are many years ahead of them. 
Set list
High Rate Extinction
Conquering
All I Had (I Gave)
To Build a Mountain
The Cemetery Angels
Walk With Knowledge Wisely
Plasmic and Pure
Scattered Pieces Lay
Planets Collide
Existence Is Punishment
Like Broken Glass
Encore: No Quarter