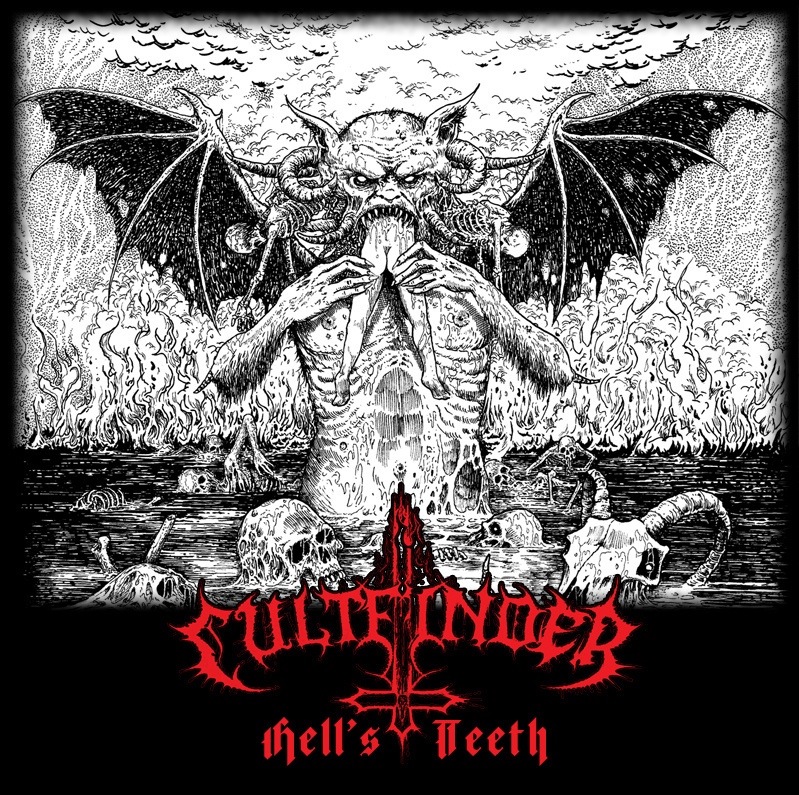 Cultfinder – Hell's Teeth
16th March 2014
Cultfinder
brings me back to the days of yore. Their music, while incorporating some more modern metallic tendencies aka the blast beat, has more in common with the 80's early death metal beginnings ala
Celtic Frost
,
Venom
,
Bathory
, and
Coroner
.The production is raw but intelligible and there is definitely a mood to the record that is missing from most albums these days.
Behemoth
frontman,
Nergal
, has been making headlines discussing it in interviews lately. Most extreme metal nowadays is not very extreme; it lacks depth, feel, and evokes no emotion. Bands have lost sight of creating an experience for the listener and are more focused on brutality or technicality trying to be extreme, but end up doing the opposite.. sounding impotent and hollow.
Cultfinder may not be take you to the depths of hell and back but their music does take me on a journey back to the days of jean jackets, back patches, fanzines, and tape trading. I found that the farther I got into this release the more I enjoyed it. Tracks like Drink to the Devil and The Scourging Angel have a cool mix of newer Darkthrone/"Diabolical Now" Satyricon with the stylings of all the older legendary bands I mentioned above.
Hell's Teeth is a pretty solid release for these Brits and Cultfinder are finding their way through the gaps of Hell's Teeth just fine.
SCORE – 7 out of 10
ALBUM INFO
Track Listing:
1.Heathen Visions
2.All Conquering Death
3.The Devil's Whore
4.Morbid Breed
5.Drink to the Devil
6.Unholy Orders
7.The Scourging Angel
Record Label:
Unsigned
Release Date:
20th February 2014
For Fans of:
Celtic Frost, Hellhammer, Darkthrone, Sodom, Aura Noir
Standout Tracks:
Drink to the Devil, The Scourging Angel