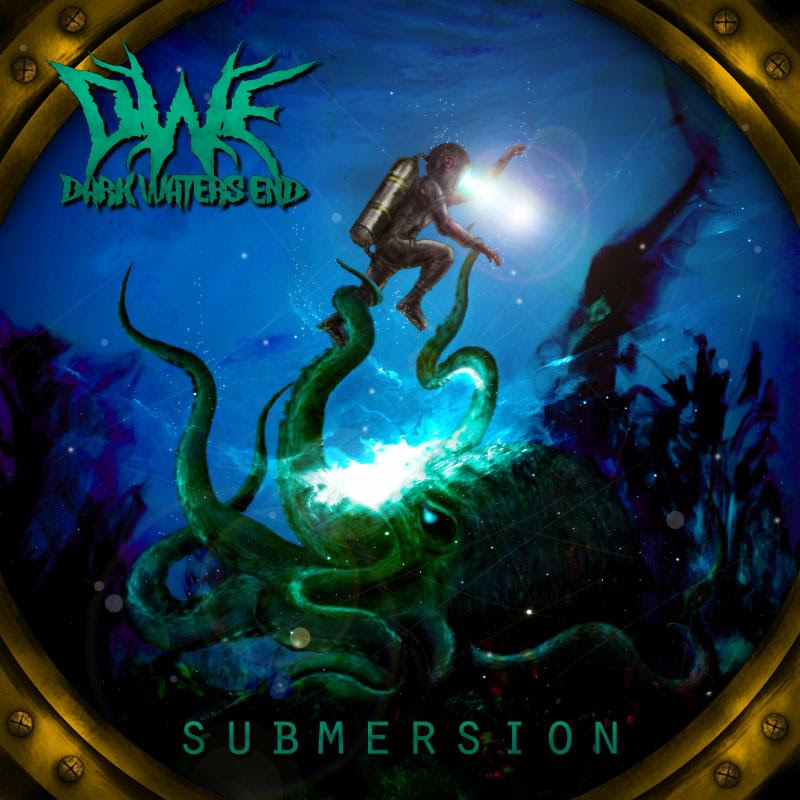 Dark Waters End – Submersion Album Review
18th September 2017
Philadelphia's Dark Waters End's mathy approach to progressive death metal makes for a mixed bag of an album, brilliant at its best, sadly quite poor at its worst. 'Submersion' is a competent debut effort that is sure to win over fans of challenging groove laden metal. There's no doubting their abilities as musicians here, the fault lies entirely on their songwriting credentials as much of the material verges on cringe worthy.  
A haunting radar echoes over the intro to opener 'Immortal Consciousness' before a bedazzling guitar riff takes centre stage. It's 7 minute length feels more than justified as this excellent opening gambit rattles on. Unfortunately many of the lyrical hooks during the record feel goofy and ill conceived; 'Death does not compute' on this track and the closing statement of 'Kill yourself' during 'Mass Grave' are the most shockingly ridiculous.
'Congenital Vice' is a constant barrage of displaced riffs and technical mastery that engages from start to finish. Boasting a bludgeoning breakdown toward its mid point. This is where you'd imagine the band would exist sonically. The decision to throw in the woefully executed 'Unquenchable' is mind boggling. A weak sloppy half baked attempt at an epic balled that in all reality just starts off like an unorganised practice jam. The muddiest of rhythm guitar tones builds to what is a jarringly out of place clean vocal.
The odd disjointed start to 'The Great Dirge' is indicative of this records problem, it all feels a bit unsure of itself. It's a shame as the end of the track is another brutal slab of extremity. 'Rat King' is definite highlight of the album with its devastating brutishness let down only by its odd whiny spoken word sections. When it shifts into a of mix of tom heavy drum patterns and underwater sounding guitars it adds a wonderfully atmospheric end to the track. The standout cut has to be 'Velocirapture', it's a swinging slug fest of groove metal glory. If every song could match these levels of quality we'd be talking about a very good debut record.
The albums greatest strengths are severely hampered by its painstaking weaknesses. Getting the balance right is the hardest part for most acts and at points during its 11 track length they really do to great effect. The power exuded from these riffs is palpable as is the skill of the players in question. With some silly lyrics and spoken word nonsense populating several songs, Dark Waters End need to show more control creatively next time out. As a straight ahead metal band there isn't much to complain about, in fact I have nothing but praise for them; however if the other elements are not of the same quality then should they even be adding them?
Score 6.5 out of 10
Submersion Album Info
Track List:
Immortal Consciousness
Eternal Skies
Mass Grave
Congenital Vice
Unquenchable
The Great Dirge
Rat King
Hell Can't Be Worse
Velocirapture
Bucket of Flesh
Up The Dose
Record Label
Self Released/Reverb Nation
Release Date
7th October