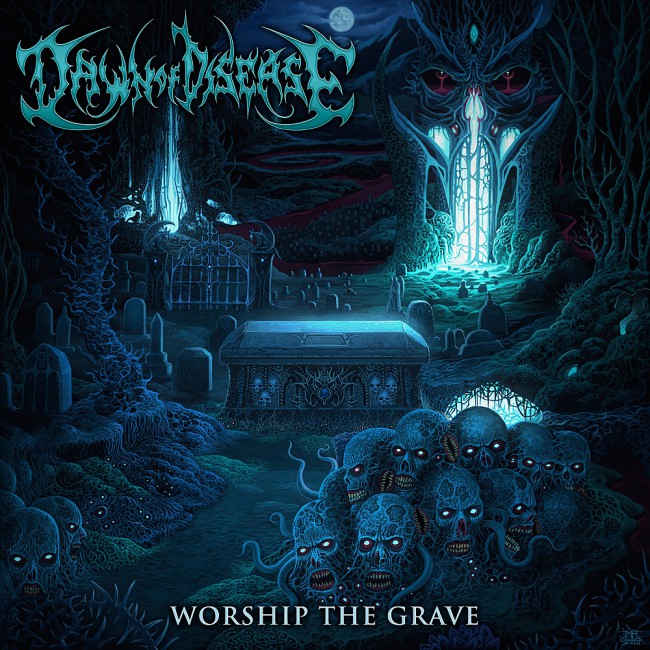 Dawn of Disease – Worship the Grave Review
17th June 2016
0
By
Fraser
If there is one thing you can rely on, it's that I will be all over a melodic death metal album like a rash the second it's available to me. I love melodeath. However, my adoration of a subgenre that so frequently produces bands of such a high quality has, unfortunately, lead me to be rather particular about my melodeath. Sub-par, or mediocre, or even decent is not good enough. Not every album has to be Slaughter of the Soul, I mean for Satan's sake my standards are not that high. But the subgenre is oversaturated with bands – and when there is so many of these bands releasing such quality work, I have little to no tolerance for imperfection. So when I stumbled upon a quintet from Germany called Dawn of Disease, I was both hopeful, yet pessimistic – too often do my hopes get dashed.
But Worship the Grave, the newest album from Dawn of Disease, did not dash my hopes, not in the slightest. Quite the opposite, in fact – the album as a whole surpassed my expectations completely. Worship the Grave is very Swedish in its sound – it's a little sprinkling of At The Gates, a pinch of Bloodbath, and a dash of Unleashed. This recipe comes together in a gory, melody drenched slab of deliciousness.
Musically, Worship the Grave is, from start to finish, simply brilliant. The guitar work is typically bordering thrash speeds, and the sound sways from almost chainsaw-like savagery to the melodic, yet heavy riffing we have come to know and love from melodeath. Throughout, the rhythm section focus both on groove, and sheer death metal brutality. Vocally, Tomasz Wisneiwski dominates the mic with growls that rival our genre's veterans. If he had a little more variety in his voice (higher screams to contrast the gutturals, for example) he would stand as once of death metal's most promising rising stars. That said, however, these gutturals are crystal clear and sound truly demonic.
Where Dawn of Disease truly shine, however, is in their choruses. The hooks in the riffing and vocal lines in many of the choruses are so catchy on this album, I've found myself whisper-growling them to myself in some ridiculous situations over the last week. Needless to say, whispering "Enwrapped in guts…" while cooking my girlfriend a steak got me a few worried glances in the kitchen.
Choosing standout tracks from Worship the Grave is a difficult one – the quality is so high throughout the album. However, the moments that really had me scraping my jaw from the floor were their most melodic, with the exception of the truly brutalising Enwrapped In Guts. Ashes is exceptionally melodic in the guitar work, yet still brilliantly fast and pounding. It is the most At The Gates worship-like song on the album, but that is certainly no bad thing. The Sky Is Empty stands as the album's best track for sure. Dark, beautiful and catchy, it has a bit of an Insomnium-ish sound to it. It dances between outstandingly fast and a-little-bit-less-fast effortlessly, and Tomasz's vocals are some of the best on the album. It will be interesting to see whether they take this more melodic sound forward and focus on it a bit more on future releases.

If you have heard Dawn of Disease before, and are worried about Worship the Grave stacking up to their last album, the awesome Crypts of the Unrotten, worry no more. If you are like me, a melodeath addict looking for their next high, look no further. Dawn of Disease embody all that is good in melodic death metal, and with a few more albums of this quality they will be branding their name into the history pages of the genre.
Score: 9/10

Album Info: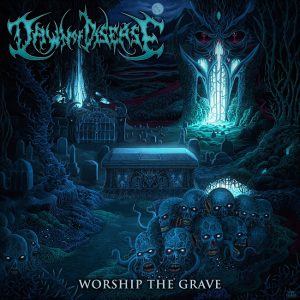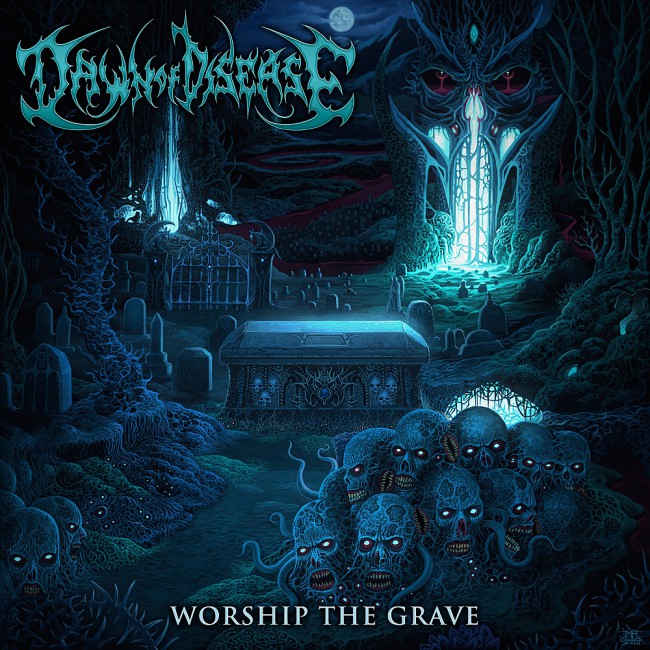 Track List:
1. Worship the Grave
2. The Saviour's Tomb
3. Ashes
4. On Trails of Death
5. Prayer for the Dawn
6. Cult of the Fading Light
7. Through Nameless Ages
8. Outsourcing the Brain
9. Enwrapped In Guts
10. The Sky is Empty
Release Date:
24th June 2016
Record Label:
Napalm Records
For fans of…
At The Gates, Unleashed, Bloodbath
How useful was this post?
Click on a thumb to rate it!
Average rating 0 / 5. Vote count: 0
No votes so far! Be the first to rate this post.
Related
About the author
This bearded wildman from North of the wall survives the harsh ever-present winter of Scotland on a healthy diet of thrash, death metal and beer.