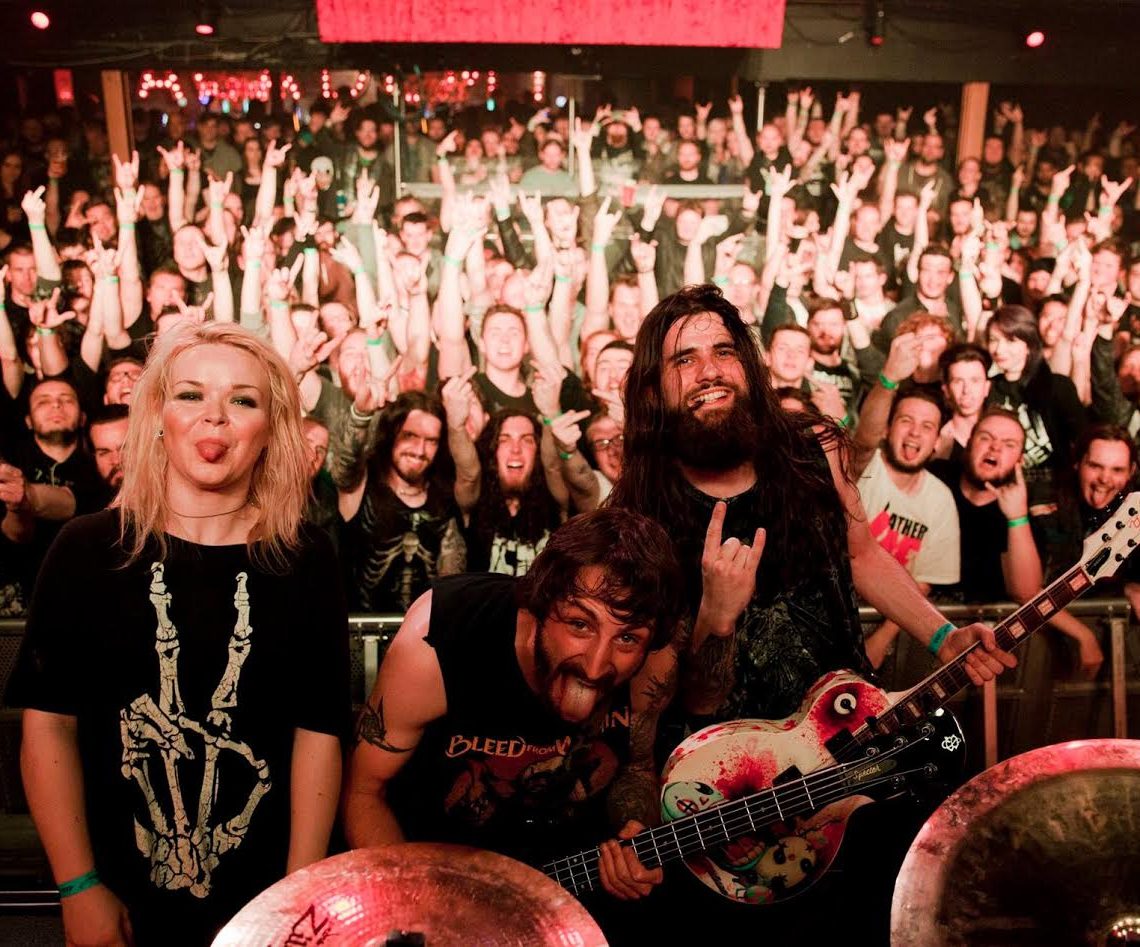 Dead Label: Claire Percival Interview
3rd October 2016
I managed to catch up with the woman behind the kit for Irish groove masters, Dead Label! Have a read of my chat with Claire below!
AATR: Cheers for taking the time to chat today! For anyone unfamiliar with Dead Label, can you introduce yourselves?
Claire: No problem. I'm Claire, I play drums. There is Dan on bass and vocals and Danny on guitar.
AATR: It's been a few months since Throne of Bones dropped – how has the response been so far?
Claire: The response has been crazy! We have had so many great reviews! We always expect some criticism as it goes hand in hand with putting your music out there but to be honest we haven't really gotten any! Everyone has been super into the album and what's better they got the tracks that were not so obvious. We are more than happy with the response!
AATR: Can you walk us through the creative process for the album?
Claire: Absolutely. So as it goes, we love writing. We are always writing. We wrote a lot of songs and demoed them, then we took them apart and rewrote them. Scraped a lot of songs and eventually got the album the way we wanted it! We love the process of writing and we never stop.
AATR: What were the lyrical concepts you wanted to explore with Throne of Bones?
Claire: There is a lot of concepts about the government not looking after its own people, that is what Throne of Bones is all about. Salvation in Sacrifice is about sacrificing to make a dream come true. Exhume the Venom is about users and people who use you for their own agendas.
AATR: How do you feel progressed as a band from your debut to this album?
Claire: Well, we have A LOT more touring experience. Playing a show, especially with big bands will teach you what works and what doesn't. You learn very quickly what you have to improve. We are also more mature. Technically we are all more proficient and we have a better idea of what we want to achieve musically.
AATR: While not unheard of, three-piece bands are certainly not the norm for metal – why have you chosen to remain as a three-piece? What challenges and benefits do you see in not bringing another member into the fold?
Claire: It happened naturally because of how hard it is to find people who are committed. We needed to make sure that we did not have anybody in the band who was not one hundred percent in it! There are many benefits! It is easier to travel! It is easier to make decisions and plans! It's not really on the cards for us to bring in another member, we are so tight as a unit that we would find it hard to let somebody else in.
AATR: You were signed to Rising Records for your debut, which has now become infamous in the UK with so many bands claiming to have been screwed over by them. How were your experiences with Rising?
Claire: It was definitely a situation of being young and naive. In hindsight, when we met Mark Daghorn initially, we should have seen that he was a snake, but we were so eager to move forward we ignored the glaring signs! However, we actually did get our relatively ok. We did get our album release before he legged it so we got to move forward. Some bands paid for recording and have not got their albums which would be so difficult. It was a terrible thing they did but we survived it, I just wish some of the other bands and people got out of the situation as lucky as we did.
AATR: You toured with Fear Factory last year – what was that tour like? Any brilliant tour stories?
Claire: It was one of the best times of our whole lives so far. Their crew and the band themselves are a very nice bunch and Once Human were super cool too. You get very close to people when you spend everyday with them. There were so many stories told that we can't repeat, but heard such cool stories from the days of Ozzfest etc! Our favourite story is when we played in Switzerland we all had beers and listened to music and it was just a really nice nit. Also, we played in Dublin after Danny's birthday and Fear Factory took him on stage and made him down a beer in front of the Irish crowd! That was very fun!
AATR: Are you still riding the Throne of Bones wave, or have you already begun work on a follow up?
Claire: We are always writing. Always working on new stuff, since before Throne of Bones was released. We love playing Throne of Bones so those songs will be in the set for a while!
AATR: Where do you find inspiration for your music and lyrics?
Claire: Dan writes all the lyrics. He gets inspiration from many different things. If something really angers him we usually get a beast of a song from it! Are You Ready is inspired by Rising Records!
AATR: Do you feel Ireland has a strong metal scene at the moment?
Claire: Yes. There are a lot of brilliant bands but the Bloodstock Metal to the Masses has done a lot for boosting the metal scene. It's giving it legs! There is always room for a better metal scene but it's alive and doing good!
AATR: What does the future hold for Dead Label?
Claire: We hope to tour as much as possible! We want to go to places we have been already n also go to new cities! We have tours in the works so watch out! We certainly want to return to Scotland!
AATR: Are there any underground bands you are really enjoying at the moment, both in Ireland and worldwide?
Claire: We have some awesome bands in Ireland, Red Enemy, Hero in Error, The Devil Wants Her Swagger Back, Aesect and loads more!
AATR: Thanks for chatting to me today! Have you any parting messages for our readers?
Claire: No problem! Keep an eye on our social media in November for something very cool!