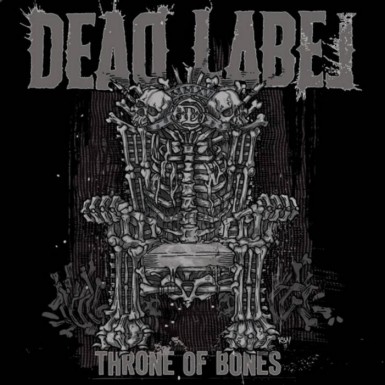 Dead Label – Throne of Bones CD Review
4th September 2016
Earlier this year Ireland's groove masters Dead Label returned to centre stage with their long awaited second album, Throne of Bones. Following their 2012 debut, Sense of Slaughter, and the attention it brought – including multiple festival appearances and a European tour supporting Fear Factory – Dead Label have something to prove with Throne of Bones. Was Sense of Slaughter a fluke, or do this Irish trio deserve the scene's undivided attention?
Throughout Throne of Bones, you are treated to absolutely crushing grooves that can only be described as infectious. Riff after riff of hooky yet devastating groove assaults the ears forcing at least a slight nod of the head – for most of us, however, we will find ourselves viciously headbanging ourselves into whiplash. The overall sound here feels like a bit of a throwback to bands found on Roadrunner Records in the early 2000s. There is a healthy amount of Machine Head and Lamb of God worship present, though still enough of Dead Label's own sound to make them unique and worthwhile. O'Grady's vocals are powerful and suitably savage, though at times the lack of variety in his voice can become a bit grating. This is a minor issue, however.
One of most to-the-point and pit-worthy tracks from Throne of Bones is Salvation in Sacrifice. After a soft, acoustic intro Dead Label dive into hooky, up-tempo groove that is set to be a live favourite. With The Birth of Suffering, Dead Label give listeners a lesson in savagery. Punishing and oozing with brutality, the only break we get is the closing notes of the track. Exhume the Venom sees Dead Label throw their punchy, hard-hitting sonic assault right in your face. There is no relenting, no let up, and no compromise to be found in Exhume The Venom, only fast, heavy groove.
A factor of Throne of Bones that is really enjoyable is the heavy use of acoustic guitars and symphonics to build the atmosphere – this adds a whole new dimension to Dead Label's music, and is something that absolutely must be carried forward to future releases. This is scattered across the whole album, but it is more prevalent than ever on the closing track, The Gates of Hell. Easily the strongest track on Throne of Bones, The Gates of Hell is a nine-minute epic that sees the strongest musical performances from every member of Dead Label. The piano can only be described as haunting, and it compliments the ferocity of the riff-work beautifully.
Though far from perfect, Throne of Bones is a solid release from a very promising band. Dead Label are still mastering their sound, but is this record is anything to go by, they are set to be Ireland's answer to Lamb of God. Throne of Bones is a collection of devastating yet hooky tracks, and is set to feature on more than a few end of year lists.
Score: 8 out of 10
Throne of Bones Information
Track List:
1. Throne of Bones
2. Salvation In Sacrifice
3. Ominous
4. The Birth of Suffering
5. The Cleansing
6. Exhume The Venom
7. Void
8. Gates of Hell
Record Label:
Nuerra Records
Release Date:
10th of June 2016
For fans of…
Lamb of God,  Bleed From Within, Machine Head
Check out Dead Label on Facebook, and order Throne of Bones here!