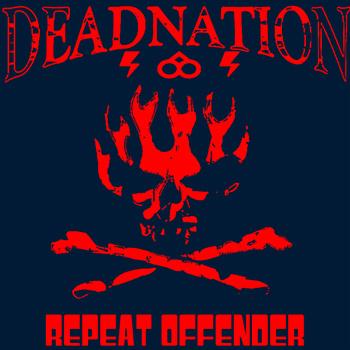 DEADNATION – Repeat Offender
3rd April 2014
It's sometimes funny how things work out.  A couple of months ago I got back into Ministry, and have since been trying to find other similar industrial artists.  Unfortunately, most of the stuff I found was a bit too EBM for my tastes and I soon gave up.
Then a couple of days ago John Balz contacted me about his band DEADNATION.  After a couple of listens on the group's bandcamp page I knew that this was exactly the sort of thing I'd been looking for.
DEADNATION describe their music as:
an all original combination of Metal, Electronic, Rock & Rap music collaborated into hard driving beats & offensive yet interesting lyrics & raging solos. We've been known to cross genres and follow no trends.  We're pushing the Envelope 1 step too far and pissing off all the wrong people.
… which sums up the music on Repeat Offender perfectly.  This is a 13 track album of hard hitting industrial rock n roll – the guitars are fast and furious, the beats relentless, and the vocals distorted.  The balance between the catchiness of the tracks and the wall-of-noise sound is spot on, and the overall sound and vibe reminds me of the Revolting Cocks or Ministry.
Some of the subject matter and lyrics are somewhat questionable (song titles include 'Lookin Thru Ya Window', and 'Dick In Your Ass', and 'Rock & Roll Psychopath' features the repeated lyrics "satan's gonna fuck your ass", for example) – but to be honest, that's part of the appeal.
If you're looking for some good time industrial metal athems with a heavy dose of attitude and not giving a fuck, then Repeat Offender is definitely worth checking out.  And best of all, DEADNATION have six albums available on their bandcamp pages – so if you like this, there is plenty to feed your industrial rock n roll habit.
Recommended!
Score: 8.5 out of 10
ALBUM INFO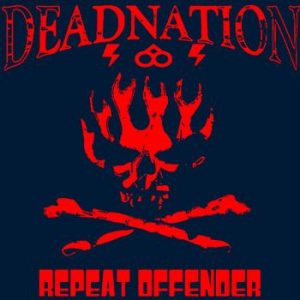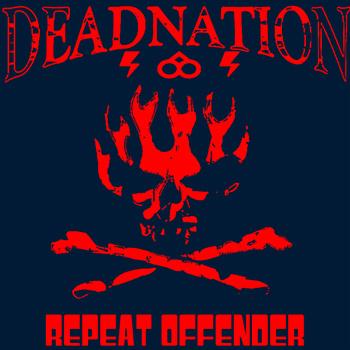 Tracklist

01.  Got Fire
02.  Rock & Roll Revolution
03.  Hypnotized
04.  Jack The Ripper
05.  Judy Hooka
06.  Dotted Line
07.  Dick In Your Ass
08.  Step In The Cockpit
09.  Let's Get Wild Tonight
10.  Lookin' Thru Ya Window
11.  Lock Him Up!
12.  Rock & Roll Psychopath
13.  Raygun
Release Date
Janaury 2012
Record Label
Self released
Links