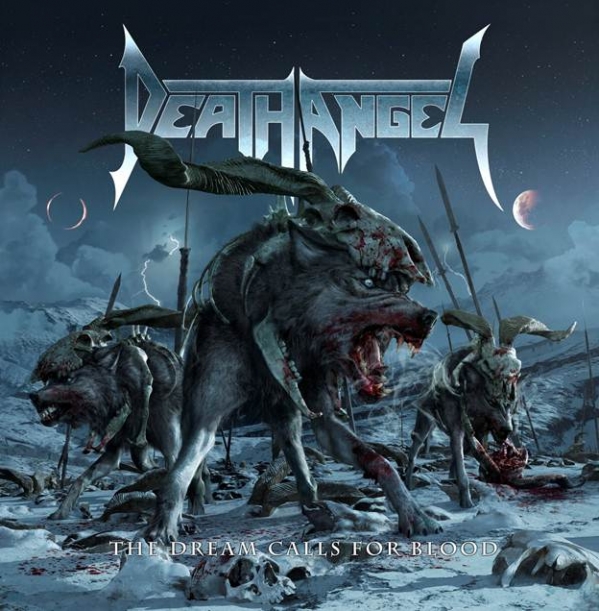 DEATH ANGEL | 'The Dream Calls For Blood' Track List Unveiled
19th August 2013
Three years have passed since the release of DEATH ANGEL's crushing Relentless Retribution album; three years of constant touring and on-the-road-songwriting. Now the Bay Area veterans have returned with yet another visceral slice of thrash! 'The Dream Calls For Blood' was recorded at AudioHammer Studios with Jason Suecof (TRIVIUM, AUGUST BURNS RED, THE BLACK DAHLIA MURDER, ALL THAT REMAINS, WHITECHAPEL, DEVILDRIVER), and once again features cover art by Brent Elliot White (JOB FOR A COWBOY, CARNIFEX, WHITECHAPEL).
"We are excited to reveal the track list of our upcoming release, 'The Dream Calls For Blood'," commented guitarist Rob Cavestany. "As we speak I'm about to board my flight home from 3 incredible shows in England, Belgium and Holland – after 3+ years of constant touring for our last album, 'Relentless Retribution'. At last the cycle has ended with our insanely hot and wild gig in Rotterdam last night! This means we begin the next phase, which is preparing to tour for the new record; it all kicks off in October! By looking at the song titles I guess it's obvious that angst and struggle is still a major part of our reality. Thankfully we have this outlet to vent and release aggression. That way we remain the happiest band in Thrash! (laughs) Hope these song titles intrigue you."
'The Dream Calls For Blood' will be released to the rabid masses on October 14th 2013, via Nuclear Blast.
'The Dream Calls for Blood' Track List:
01. Left For Dead
02. Son of the Morning
03. Fallen
04. The Dream Calls for Blood
05. Succubus
06. Execution – Don't Save Me
07. Caster Of Shame
08. Detonate
09. Empty
10. Territorial Instinct / Bloodlust
DIGIPAK BONUS TRACK
11. Heaven And Hell
DIGIPAK BONUS DVD
The Making Of 'The Dream Calls For Blood'
For more info please head over too:
www.twitter.com/deathangel
www.facebook.com/deathangel