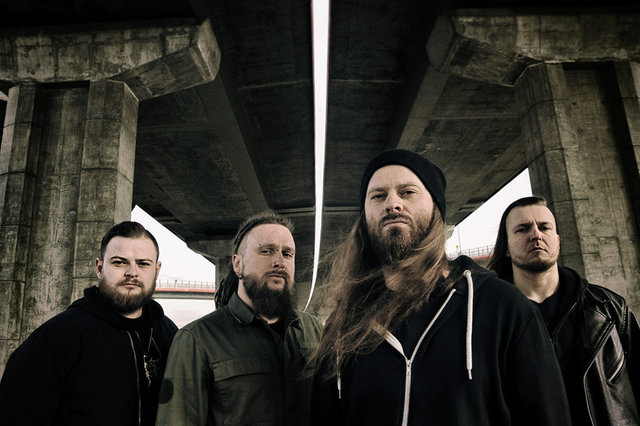 DECAPITATED | VOGG AND RASTA DISCUSS THE POLITICAL INFLUENCES ON NEW ALBUM ANTICULT – OUT NOW!
11th July 2017
Polish metal extremists Decapitated released their seventh album, Anticult, last Friday via Nuclear Blast. The 8 track slasher opens with the trail-blazing masterpiece 'Impulse' and doesn't let up until the closing track, 'Amen'. Thematically and lyrically, Anticult deals with the abstract idea of who and what we, as humans, are. Conceived and written by vocalist Rasta, it's existentialism at its finest. The lyrics discuss, as Rasta says, "the hourglass of life". As for the title, 'Anticult', it posits a world where everything has input in our lives. The forces of modern society have an impact on everything we perceive and do. The idea behind it is to rage against the so-called machine. To be an individual. And to stand up for yourself and define your own code. With this in mind, Vogg and Rasta discuss the political influences on the album in a new trailer

"You can find 'cults' everywhere and in everything we do", explains Vogg. "'Anticult', from one point of view, is a rage against all of these values. An impulse. It makes you think: 'What kind of world do we live in? Who or what pulls the strings? And what is our role here?' So think of the title as finding your own 'cult'. In that regard, 'Anticult' is, from another point of view, about illumination. Or Noesis."
In celebration of the release, the band have released new track One Eyed Nation 

Order Anticult:
Limited Silver & Clear Vinyl (inc signed insert):  http://nblast.de/DecapAnticultNB
Limited Digipack CD & Vinyl (inc signed insert):  http://nblast.de/DecapAnticultRS
CD or Black Vinyl (inc signed insert) from Recordstore.co.uk:  http://bit.ly/RSAnticult

Decapitated will be performing on the Ronnie James Dio stage at Bloodstock this year. Catch them on Friday the 11th – buy tickets:  http://bit.ly/BloodstockFest
ICYMI:
Watch the new video for 'Earth Scar' here:  https://youtu.be/yR7AnukIl8U | 
"We're really excited to release the second song from our upcoming new record Anticult – ​'​Earth Scar!' I have always drawn influence from all spectrums of metal and this song and​ our new​ record really reflect those influences. 
"​Much like 'Never,' ​this ​song ​has been designed to crush on a stage and we can't wait to add it to our set. Rasta wrote the lyrics with a lot of metaphorical content dealing with touring. The opposing lifestyles from the 'normal,' day-to-day of being at home vs. being on the road and seeing our 'tribe' interacting with the music and the almost restorative qualities of that! We hope you all enjoy it and we can't wait to see you all very soon!" – Vogg
Ahead of the release, the band premiered the throttling new song 'Never'. Watch and listen, here:  https://youtu.be/Dzsnunj-5gg 
Drummer Michal Lysejko showed off his chops in the drum playthrough for 'Never', which you can view here: https://youtu.be/X24bcfTLD7k 
Trailer #1: Watch Vogg and Rasta discuss the album, lyrical progression and the inspirations behind it:  https://youtu.be/0Rph_Ce8iEY 
Trailer #2: Watch Vogg and Rasta discuss the how the band's sound has evolved over the years:  https://youtu.be/EIaRbUnnpfg 
Trailer #3: Watch Vogg and Rasta talk about their favourite tracks off the new offering:  https://youtu.be/FejTM0xul-8 
ANTICULT  TRACK LISTING:
1. Impulse
2. Deathvaluation
3. Kill the Cult
4. One Eyed Nation
5. Anger Line
6. Earth Scar
7. Never
8. Amen
DECAPITATED ARE:
Rafał Piotrowski – Vocals
Waclaw "Vogg" Kieltyka – Guitars
Hubert Wiecek- Bass
Michal Lysejko – Drums