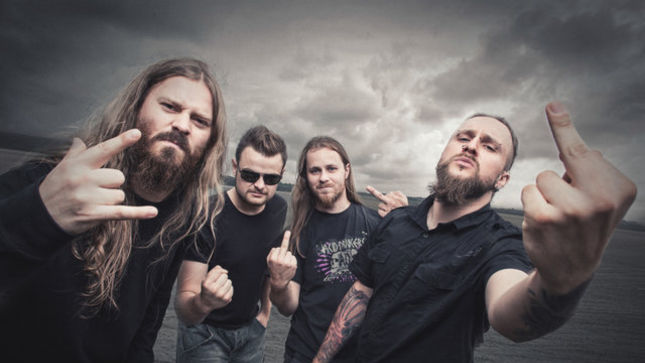 Decapitated: Wacław "Vogg" Kiełtyka Interview
23rd March 2016
A few weeks ago, I was lucky enough to catch up with the legendary Wacław Kiełtyka, also known as Vogg, from Polish death metal heavyweights Decapitated when they rolled through Glasgow on their UK jaunt with Sylosis. Have a read of our chat below!
All About The Rock: Thanks for taking the time to chat with me tonight, I really do appreciate it! So you were getting a couple of tattoos today, right? How was that?
Vogg: Hell yeah man! Yeah I got my daughters names, it's pretty bloody – looks likes someone's slashed my wrists haha! But yeah, Rock & Roll Tattoo, I'd 100% recommend!
AATR: Definitely man, I've had all of my right arm done at Rock & Roll! So it is early days on the tour, you've only played two dates, but how has it been so far?
Vogg: It's been so good man! I think we've got a really great tour package, and we've had a lot of people show up! Yesterday we had about 400 people in, and the day before in Bristol there was about 370, or something like that! We've been doing really well on this tour, and we have more shows that will probably be even bigger and better! The tour is shaping up to be a great success!
AATR: The last time you were here was with Behemoth, in 2014 right? How was it touring with them?
Vogg: That's right! Actually, no, in the summer we headlined a TechFest, that was very fucking cool! Touring with Behemoth was so good, I love those guys! They are one of the best bands in the world, some of the best metalheads in the world… I love them! We actually have a couple of guys from their crew on this tour, they just came from Behemoth's European tour.
AATR: So it's been about a year and a half since Blood Mantra was released, about a year a half right? How have you been finding the response to it since it's release?
Vogg: It was released in 2013… No, 2014? Fuck, time is running too fast! September 2014, so yeah a year and a half! I have to say we had a really, really good response to it. The album took us to a much higher level, and it brought in a lot of new fans for Decapitated! I saw a lot of good reviews, I saw a lot of reviews that weren't too enthusiastic because there was a bit of a change in style, as there always is with our albums. But on the whole, we had a really, really good response – for example, not just the new fans but thanks to that album we managed to get new management. We are with 5B Management, the same guys who manage Sylosis, and they do a killer job! I also think that with Blood Mantra, the songs from that album are some of the best live songs we've got!
AATR: So although the response to Blood Mantra has been awesome, like we said it's been over a year and a half since it dropped. Are you guys thinking of a follow up any time soon?
Vogg: Hell yeah! We have the studio booked for December, so we are going to start working on the album once we finish up all the shows from Blood Mantra. It will be May when we finish up, then we've got Russia and a bunch of festivals in the summer, then we will start writing the new material. I've already got a lot of ideas for some new songs, and we are talking about the next album all the time. It should be good though! I think this is a good time to release new material, after the response from Blood Mantra!
AATR: It's been almost 16 years since Winds of Creation was released, and in that time it has become one of the most important death metal records ever. I also fucking love that album haha! But do you think there's a possibility of maybe some anniversary shows or a tour? Maybe for the 20th anniversary?
Vogg: Hahaha, thanks so much man! We are doing our 20th anniversary tour in Poland, in October! It'll be about twelve or thirteen shows, and we'll probably do a CD or a DVD for that – maybe some live shots from this tour as well actually! But time is running so fast, and there's so many occasions to celebrate! We could do ten years of Organic Hallucinosis… This band has existed for twenty years, and we've released some really good albums, there's so many opportunities do celebrate something! But apart from our 20th anniversary shows in Poland, we want our focus to be finishing the Blood Mantra cycle and writing some new music, those are our goals just now. But maybe we could do something to coincide with our anniversary tour in Poland, maybe rerecord some older tracks with new production… Maybe even some stuff from Winds of Creation! We'll see, but it would be really cool to do something for twenty years of Winds of Creation when it comes around!
AATR: I don't know if this is a widely recognised thing, but in contrast to America's Big Four of Thrash I know quite a few people who refer to the Big Four of Polish Death Metal – Behemoth, Decapitated, Vader and Hate. If the opportunity arose, would you be on board for a tour package with all four of you?
Vogg: Of course! I'm really fucking into that idea! But with different managers and labels, it might be difficult… But if there's a promoter who is willing to run around all the different managers and labels to make it work, I'm 100% into that! I'm waiting for the emails and calls, someone make it happen haha! It would be fucking awesome to do a Polish death metal tour like that, across Europe or something, it would be huge! We actually have done one show, almost like that – it was us, Behemoth and Vader in Poland, in Bydgoszcz, it was the 666th anniversary of the city. It was a really good show, lots of people there, great sets from all the bands, and a lot of happy memories!
AATR: Fuck, I would have loved to have been at that gig haha!
Vogg: It was pretty fucking cool!
AATR: For much of your career, Decapitated have been quite an underground band – perhaps due to how technical your music is. I personally love scouring the underground for new bands, 'cause there's a lot of talent there. Are there any bands in the underground, either Polish or worldwide, that you are really enjoying at the moment?
Vogg: There is one band from Poland, Materia, they're touring right now. Those guys have a real talent, and they really remind me of my early days in Decapitated – not in a musical way, but in what they represent and their attitude. They maybe took part in too much, but they have a great atmosphere in the band, and they have a lot of potential. They're really good guys, we've toured with them a few times now and I'm really looking forward to their new material – I hope it'll be a little bit more original and coming from themselves. I've got my fingers crossed for them, they are excellent people! They sound a bit djenty, and they've got a big Meshugga influence, but I really hope they find their own path and their own style! What else… I dunno, Sylosis? We all love Sylosis!
AATR: Awesome, I'll definitely check out Materia! Before I let you go, have you got any messages for the Decapitated fans who will be reading this?
Vogg: I just want to thank all the Decapitated fans for everything, for buying our CDs, for showing up at gigs… It's amazing that sixteen years on from our debut we still have such an amazing support that keeps getting better! Just thank you!